National Bloody Mary Day | Bloody Mary Garnish
Happy New Year! Welcome to 2014 and the first day of my National Food Holiday Challenge! In case you are just tuning in, I have imposed a challenge on myself. I'm all about celebrations and so I wanted to celebrate food every day of the year. Every single day is a national food holiday (sometimes there are 2 or more on one day). I'm not sure how each "holiday" got its start, but I don't need to know. You want me to celebrate spaghetti? I'm all for it. You want to celebrate oatmeal cookies? I'm on board.
This challenge is going to be a hard one, but I'm ready for it. For every single national food holiday, I'm making a new recipe (either an original or adapted from and inspired by others, which will be noted) and then sharing the dish with all of you. For every single food holiday, which ends up being over 400 for the year. Is it going to be hard? Absolutely. But, why not try?
So, to start the year off right, how perfect is it that National Bloody Mary Day is today. Enjoy day one of the National Food Holiday Challenge and I hope you'll come back tomorrow for National Cream Puff Day. 🙂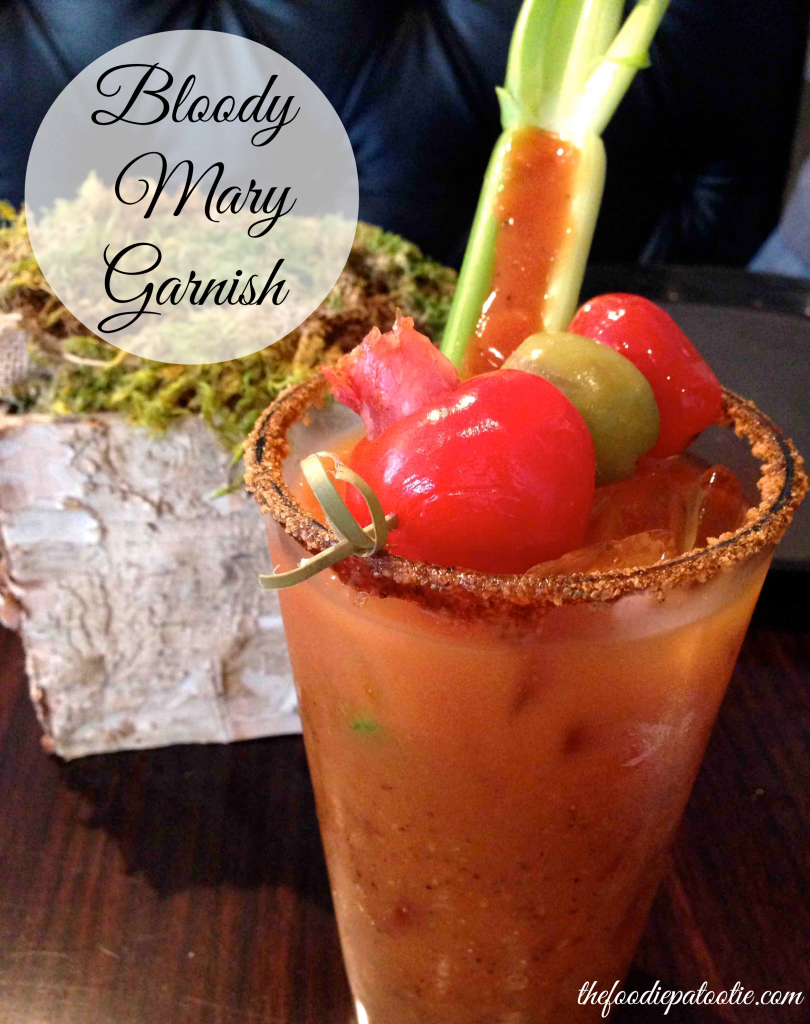 I've never made a Bloody Mary in my life until now. I haven't made it at home and I haven't made it at any brunch bar. I've tried Bloody Marys that my friends have made and it's always taken me a couple of seconds to swallow my sip because the taste is just not okay. Blech.
A couple of months ago I visited Piquant in Tampa's Hyde Park as a stop on a Tampa Bloggers Brunch Tour I was a part of with a couple of other ladies. Although we were able to pick a number of items from the menu to try, we were each also given a Bloody Mary to enjoy.
Well, imagine my initial disappointment. I was nervous that here I was at one of my favorite restaurants ever and I would have to politely finish this Bloody Mary that I was certain I'd hate just like the ones before it. I would have preferred a mimosa.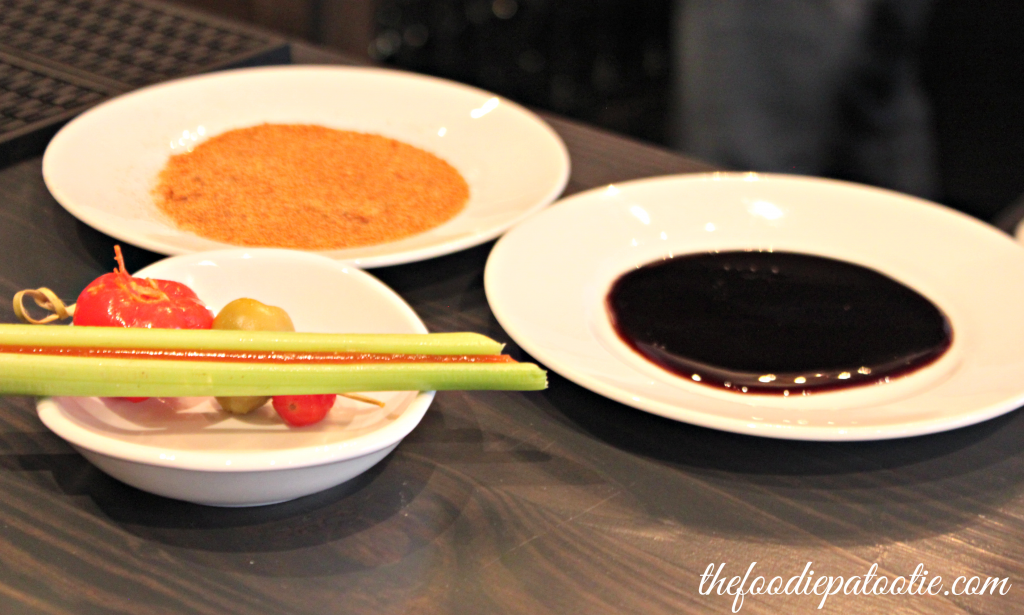 BUT, I can honestly say this day provided me with one of the great food shocks of my life thus far. This Bloody Mary was…dare I say it…tasty! I now realize that there is a Bloody Mary out there for everyone and Piquant's is mine. Of course there is tomato juice and vodka, but there is also a balsamic and Cajun seasoned rim and lots of spices. It's spicy, makes my lips tingle, and is perfect.
For National Bloody Mary Day, there was no other option for me than to enlist Piquant's help. The owners and chefs, Rosana Rivera and Ricardo Castro, are some of the most generous and wonderful people in the world, and jumped on board when I asked for their help in this food adventure.
Yes, that's right. Piquant has an edible Bloody Mary in the celery stalk's groove. I don't understand how it's done and I prefer to not know so I can be wowed each time.
While I can't share Piquant's exact recipe (that's proprietary info, y'all), Piquant has wonderful garnish that I'm happy to describe the process and provide the recipe for. I've been told by Bloody Mary aficionados that a garnish can make or break this drink.
I'm so incredibly grateful to Piquant for allowing me into their bar area, teaching me how to make this drink, and allowing me to share their garnish recipe with all of you. If you are a Tampa resident or visitor, be sure to visit Piquant!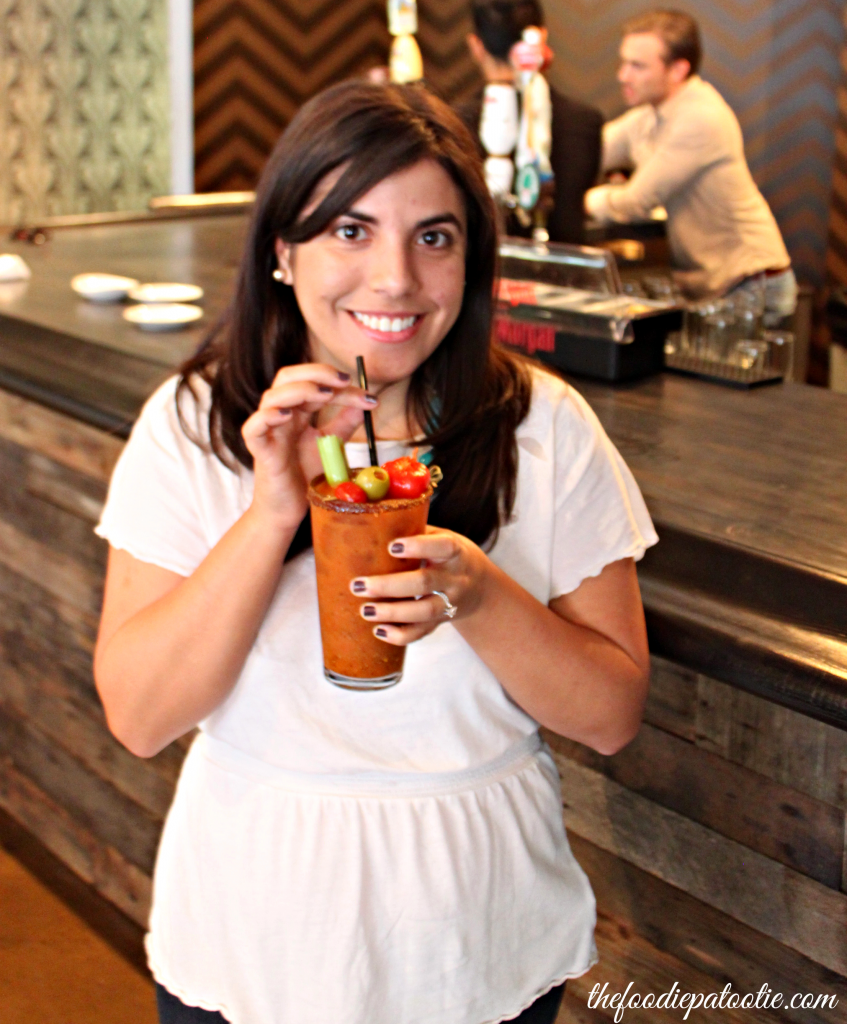 National Bloody Mary Day | Bloody Mary Garnish
Recipe Type: Drinks
Author:
Prep time:
Cook time:
Total time:
Serves: 1
Ingredients
[b]Pickled Grape Tomatos:[/b]
Cherry tomatoes
1.5 cups apple cider vinegar
1.5 cups filtered water
2 tbsp salt
2 tbsp sugar
4-8 garlic cloves, sliced
A pinch of coriander
4-6 peppercorns
[b]Bloody Mary Drink[/b]
2 tbsp Balsamic Glaze
1 tbsp Sriracha Salt
Cajun seasonings
Bloody Mary mix (vodka, tomato juice, other spices)
Celery stalk
Cocktail olive
Pepper stuffed with Chorizo Cantimpalo, cut into small squares
Instructions
[b]Pickled Grape Tomato[/b]
In a small pot, combine the ingredients. Bring the mixture to a boil for 3-5 minutes. Remove from heat and allow to cool to room temperature.
Poke 2-3 holes through your tomatoes with a skewer. (This allows the brine to seep in.) Place the tomatoes in a sterilized jar.
Pour the brine into your jars over the tomatoes. It's enough for 3-4 pints.
Cover the jar with a sterilized lid and screw the ring on. Put in the refrigerator and let them sit for at least 24 hours.
[b]Compose the drink:[/b]
Pour the balsamic glaze onto a small plate. Combine the salt and Cajun seasonings and place onto another small plate. Rub the lip of a pint glass in the balsamic glaze. Roll the outer edge in combined salt until fully coated. Fill with ice and set aside.
Prepare juice by combining all Bloody Mary ingredients you have, including tomato juice (can include pepper, paprika, Worcestershire, etc), but not the vodka.
Pour vodka into shaker and add approximately 10 ounces of prepared juice. Shake gently.
Strain into prepared glass. Garnish with celery stalk, olive, pepper, and pickled grape tomato.
DID YOU KNOW: The Bloody Mary cocktail is the most popular breakfast drink and is supposedly named after Queen Mary I of England (Mary Tudor) because of her execution of Protestants. It's often called the world's most complex cocktail.
Tomorrow: National Cream Puff Day
27 Responses to "National Bloody Mary Day | Bloody Mary Garnish"

Trackbacks/Pingbacks

Leave a Comment