Five Tampa Bay Restaurants to Consider for Cinco de Mayo 2013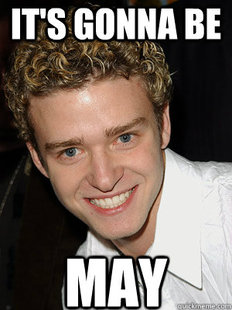 No, Justin, it IS May and it means that one of my most favorite days of the year is coming up- Cinco de Mayo! Living in a large city such as Tampa, with an active nightlife, pretty much ensures that you can find something to do for any holiday involving libations and good ethnic food. If you don't have Cinco de Mayo plans yet, this post is for you. As for me, I'm going to brunch with some food bloggers and then my food baby and I will be out by the pool, attempting to catch a tan and sipping on a Spicy Strawberry and Cilantro Margarita (recipe courtesy of my friend, Leslie!).
If you are looking for a place to be, here is my top 5 list of restaurants to consider in Tampa for Cinco de Mayo 2013:
5. Miguel's Mexican Seafood & Grill
In true Cinco de Mayo fashion, Miguel's will not disappoint. Starting at noon, Miguel's will offer food and drink specials, as well as live entertainment. If you are looking for some of the best food in the Bay, you'll make a stop here and try their fajita tacos. During my time at Best of Tampa Bay, I tried so many restaurants and the standout was Miguel's. 
Miguel's is located at 3035 W. Kennedy Blvd., Tampa, FL 33609.
4. Casa Tina in Dunedin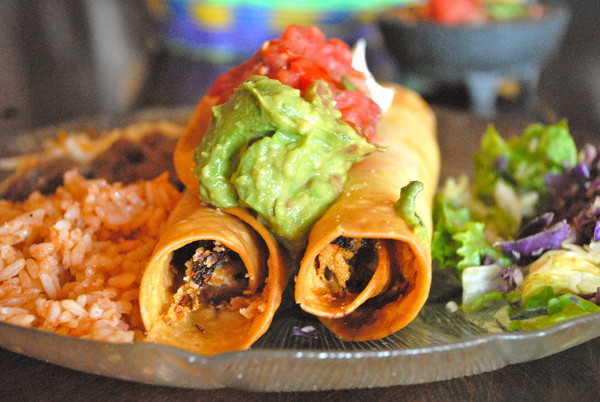 (via)
I visited Casa Tina for the first time back in March and absolutely loved the ambiance. The dining guests can be heard from the parking lot and all of the décor and music promises a good time. I definitely want to go back and I encourage everyone to visit, especially on Cinco de Mayo! Casa Tina opens at 11am on Sunday, but the street party begins at 5pm.
What does the street party entail, you ask? Well, not only are you guaranteed choice Mexican food and booze, but Orquesta Infinidad, the 13-member salsa band, will be out providing all partygoers with something to dance to. If you are like me and not at all confident in your dancing abilities (or lack thereof), Simone Salsa will be around to teach you! Additionally, there will be a giant paper mache puppet parade and folk ballet dancers.  
Casa Tina is located at 369 Main St., Dunedin, FL 34698.
3. Tres Amigos Cantina in Brandon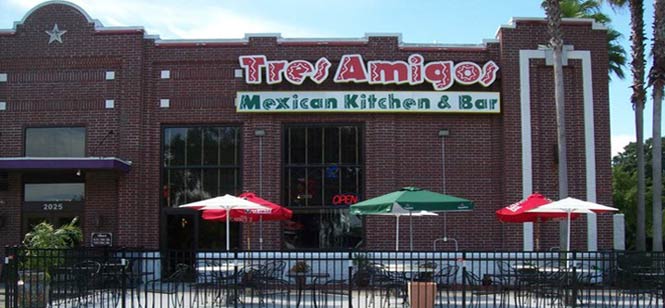 (via)
Tres Amigos in Brandon is promising the best Cinco de Mayo party in Tampa Bay! Starting at 11am, and sponsored by Corona, this restaurant will have specials, live music, games and prizes. 
Tres Amigos is located at 2025 W. Brandon Blvd., Brandon, FL 33511.
2. Taps & Tequilas in St. Petersburg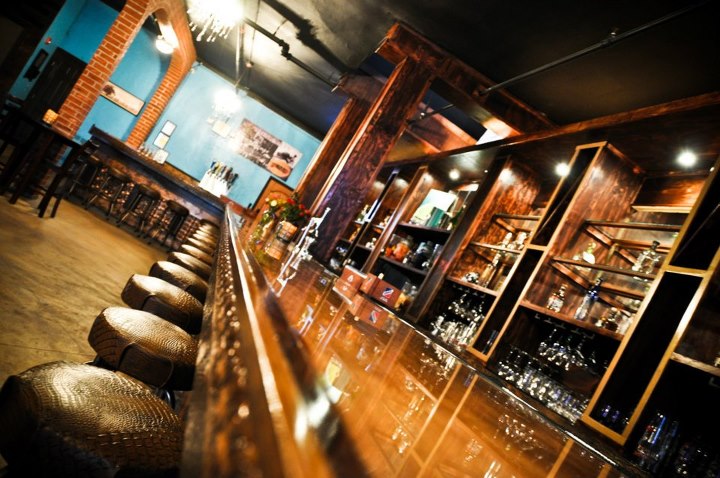 (via)
For those of you who are already on the other side of the bridge, or hope to be this Sunday, consider checking out Taps & Tequila, a Beer Garden Tequila Lounge located in St. Pete. At 8pm, the celebration begins with a keg party and Mariachi band. Chihuahua Races will take place for a $5 donation, with all proceeds going to the Humane Society. The best part of Taps & Tequila's Cinco de Mayo bash is the $12 Sneaky Ritas and Corona buckets, all to be enjoyed while entering into a drawing for a 3-day vacation to Cancun! 
Taps & Tequila is located at 1235 Central Ave., St. Petersburg, FL 33705.
1. Green Lemon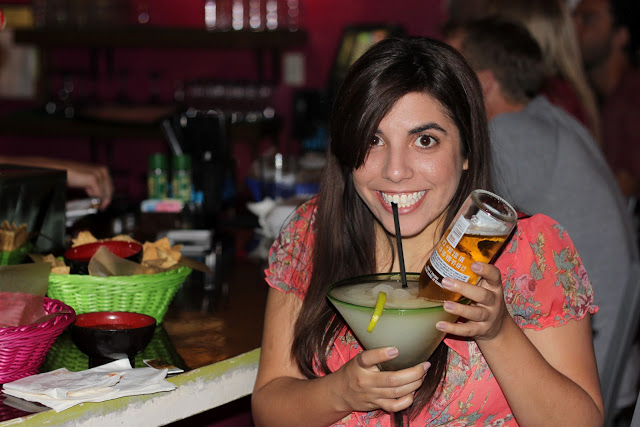 As a mega fan of Green Lemon (formally, The Lime), they take the number one spot in my list. In fact, I have an inkling that they always will. Not only do I frequent Green Lemon for dinner more than any other restaurant in Tampa, but I'm having them cater my wedding too. Truth. And just because there was a name change doesn't mean that the quality, service or fun has ever decreased. In fact, having spoken to the owners and managers of the restaurant, I know how much this place means to them and how dedicated they are to their spot in SoHo.
If you've never been to a party at Green Lemon (for any occasion), you've been missing something in your life. They go big and it seems like they'll never go home. Win-win, every single time. This year, celebrate Cinco de Mayo all weekend long with Green Lemon, starting on Friday. There will be free shots, a mustache content on Saturday (winner gets $100), DJs, Nacho Libre making an appearance, brunch, drink specials and, as always, their fantastic food. 
And there you have it! Where will you be celebrating Cinco de Mayo?
9 Responses to "Five Tampa Bay Restaurants to Consider for Cinco de Mayo 2013"

Leave a Comment