Sushi and Sake at Takara Sushi in New Tampa (giveaway)
**Scroll all the way to the bottom of the post for the giveaway!**
Thanks to the immense generosity of Takara Sushi & Sake Lounge in New Tampa, I was invited in with some other bloggers to taste some offerings on the new Ladies Night menu launching this evening. Ladies Night will take place every Thursday from 7pm to close with half priced soup and salads (Miso Soup, House Ginger Salad, Kani Su), half priced appetizers (Garlic Edamame, Chicken Tatsu-age, Pork Pot Stickers), the new Sushi Tacos, and $8 select sushi rolls.  That doesn't even begin to break the surface as Takara also has wine and sake deals. Keep in mind that Takara has a daily happy hour from 5pm-7pm.
For the ladies, Takara has just become a premier spot to spend your evening with good girl friends. Here are a handful of the menu items that I hope you'll enjoy soon:
This Chicken Tatsu-age is made with 7-spice Japanese seasoned chicken served over spicy mayo for out of this world flavor.
Kani Su is made with crab, scallions and sesame seeds in a cucumber salad with vinaigrette dressing. This was a crowd favorite, providing a refreshing quality.
The Crab Tacos are pictured above, but Takara also offers Tempura Grouper and Spicy Tuna tacos. All tacos are served with avocado, red onion, cucumber and Asian mango salsa in the most crispy, delicious shell ever. Sushi Tacos are only available on Ladies Night.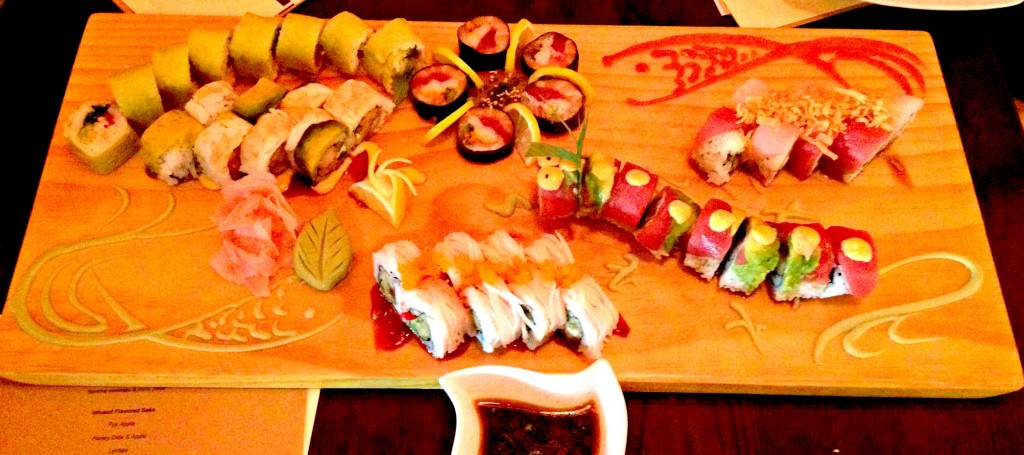 Next, it was time for mounds of sushi. Takara sure knows how to lavish and as my eyes got wide with the idea of many sushi bites, I dug in.
Along with all of the above, we were treated with dessert and plenty of sake. Lots and lots of sake. The sake we had included Ozeki Hana Awake (Sparkling Sake), infused-flavored sake, Shirakawago Nigori, Bunraku Junmai Ginjyo, and Gekkeiken Horin.
My first time visiting Takara Sushi was phenomenal and this second visit was as well. The good people of Takara are also supplying me with a $25 gift card for one lucky reader. Enter using Rafflecopter below. The giveaway ends next Tuesday, just in time for you to make Thursday night plans. 🙂
15 Responses to "Sushi and Sake at Takara Sushi in New Tampa (giveaway)"

Leave a Comment