Fruity Aguas Frescas for #SundaySupper's Cinco de Mayo Party
Happy Cinco de Mayo, everyone!
One of my most coveted days of the year is finally here and I hope you all have fun plans and enjoy your day. This Sunday the Sunday Supper team is bringing you drinks and dishes to have on this Mexican holiday and I've decided to make Aguas Frescas, one watermelon and one cantaloupe.
For this drink duo I looked to our local Taco Bus for inspiration. When I first tried my favorite Taco Bus location, a food truck turned stationary outdoor restaurant, I was blown away by the authenticity and have loved cabbage in my tacos ever since. Along with these famous tacos, I ordered a Watermelon Agua Fresca upon the recommendation of some friends and the fine people at Taco Bus. "Aquas Frescas" translates to "fresh waters" and these drinks can typically be found for sale on the streets of Mexico.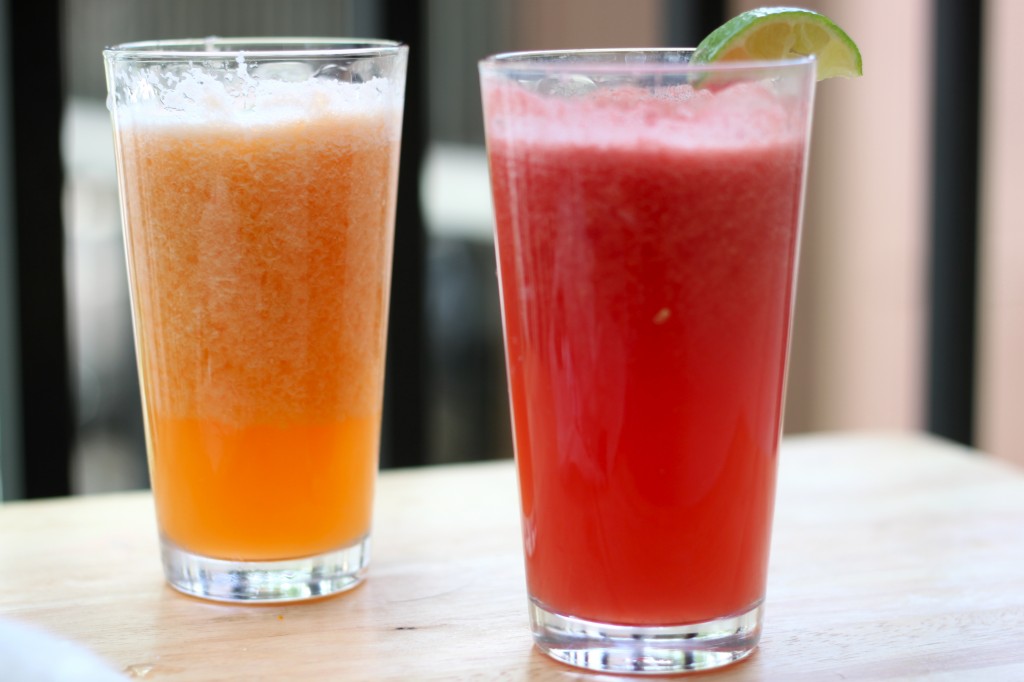 Fruity Aquas Frescas
Ingredients: 
1/2 cantaloupe, diced, or 1/2 watermelon, seeded and diced
1 cup water
1/2 cup club soda
2 tbsp sugar
1 tbsp lime juice
Lime for garnish
Splash of your favorite liquor, optional
Directions:
Puree fruit, water, sugar, lime juice and optional liquor together. Pour liquid through a sieve to prevent chucks in your drink. Add club soda and enjoy!
When it comes to refreshing drinks that remind me of being poolside, I like simple drinks that are quick to make. Why put off the fun any longer than you have to, right?
Below you'll see what the other Supper Sunday participants are serving up. Let us know if you try any of the recipes!
Cinco de Mayo Appetizers & Sides {Aperitivos}:
Cinco de Mayo Main Dishes {Platos Principales}:
Cinco de Mayo Desserts {Postres}:
Cinco de Mayo Drinks {Bebidas}:
58 Responses to "Fruity Aguas Frescas for #SundaySupper's Cinco de Mayo Party"

Trackbacks/Pingbacks

Pingback: Duck Carnitas #SundaySupper - The Girl in the Little Red KitchenThe Girl in the Little Red Kitchen

Pingback: Peanut Mazapanes | Pies and Plots

Pingback: Oven Baked Beef, Bean, and Cheese Chimichangas #CincoDeMayo #SundaySupper : In The Kitchen With KP

Pingback: Yucatan Pollo Pibil and Corn Tortillas for #SundaySupper - MarocMama

Leave a Comment