Clean Eating Day 13: Baked Spinach
Eating healthy means you're going to be purchasing a lot of fresh produce, but it also means you'll race the clock to get all that food down before it goes bad in your fridge. My husband and I try to go to the grocery store twice a week so that we only buy exactly what we need for the next several meals. We pride ourselves on throwing away very little produce throughout the year. That said, I also have a Costco membership and sometimes I just can't resist the allure of buying in bulk. Pantry and stomach space be damned– I will have that crate of apples!
This is how I came to purchase a 1-lb tub of spinach even though I was going out of town in just a few days. That's almost three times as much as you get in those little pre-packaged bags at the regular grocery store. I was throwing a few handfuls into my morning smoothies, but I hadn't even made a dent in it by Wednesday night. Once I decided it had to go, I knew I'd be making creamy baked spinach.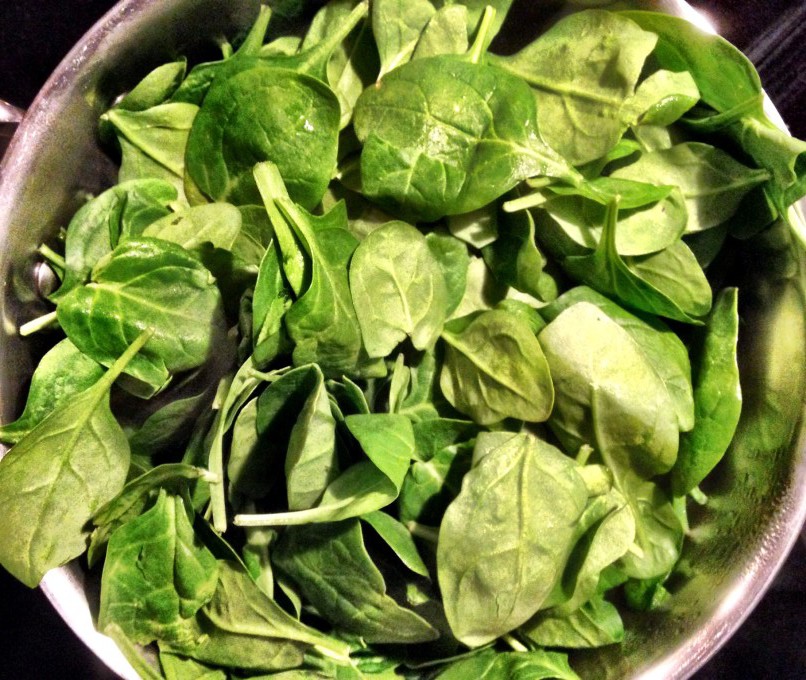 When I make baked spinach, I almost always follow the Smitten Kitchen recipe because, well, it's perfection. It also calls for 3lbs of spinach. Notice how I was just complaining that I had too much spinach in the fridge? Cooked spinach reduces so much that it seems not only manageable, but borderline paltry by comparison. The recipe I'm sharing today is a pared down version of SK's recipe with some adjustments based on what I had on hand. I also decided to make individual servings in ramekins because I was preparing such a small batch. Serve with fried eggs for dinner and you'll feel victorious.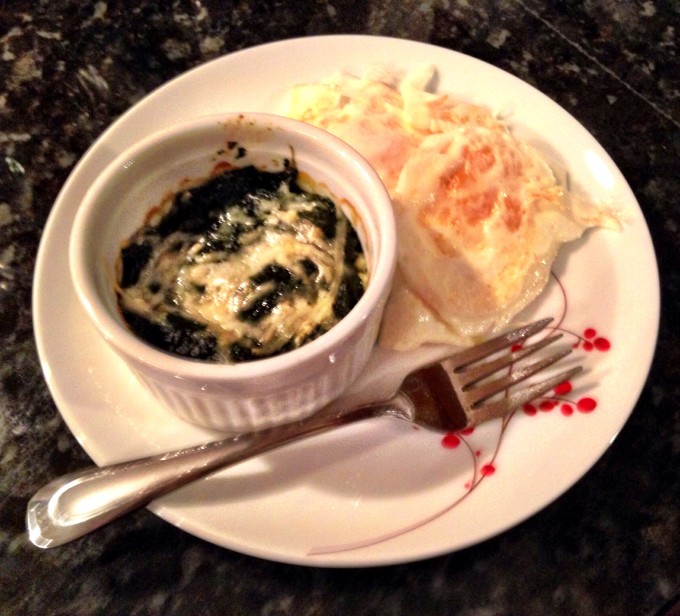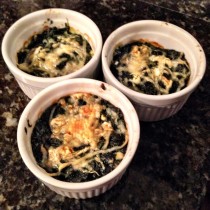 Creamy Baked Spinach
Ingredients:
1 lb raw baby spinach
1 tablespoon unsalted butter
Salt and pepper
2 teaspoons flour
1/2 cup stock, nondairy milk, or skim milk
1/2 feta cheese
2-3 tablespoons shredded Parmesan cheese
Directions:
Preheat oven to 375 degrees. Prepare 2-3 ramekins with cooking spray and set on a baking sheet.
Heat a little water (just a few tablespoons, really) in a large saucepan or pot on high. Place as much spinach as will fit and cover with a lid to steam. As spinach begins to cook down, stir the cooking greens and add more raw spinach, then cover again. Keep adding spinach until all of it is cooked down, about 5 minutes.
Transfer to a colander and rinse quickly with cold water. Let it cool enough to handle and then squeeze as much water as possible from the spinach. You can do this with your hands or with a towel. Chop the spinach coarsely.
Wipe out pot, then melt butter over medium-high heat and stir in the spinach. Cook for 2 to 3 minutes. You'll know the spinach is dry enough when it begins to stick to the pan slightly.
Lower the heat, add the flour, and stir for 2 minutes. Add 2/3 of your stock or milk, a tiny bit at a time, scraping up any stuck spinach as you do.
Once the liquid is added, simmer for another minute or two, stirring frequently to prevent sticking. If needed, add all or part of remaining liquid.
Stir the feta cheese, along with salt and pepper if desired, into the spinach. Divide among your prepared ramekins.
Top each ramekin with 1 tablespoon shredded Parmesan cheese.
Bake until heated through and slightly brown on the top, about 20 minutes.
Adapted from Smitten Kitchen
One Response to "Clean Eating Day 13: Baked Spinach"

Leave a Comment