FAQ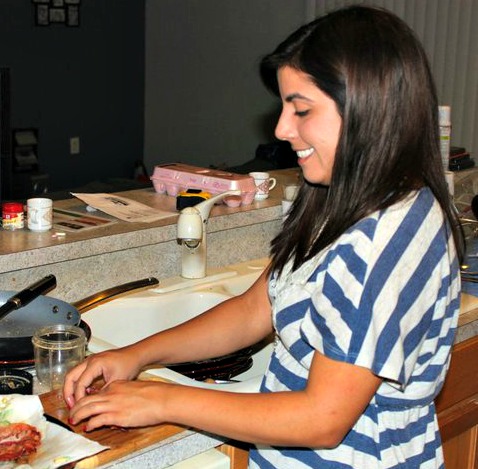 Let's be friends! I'm open with friends.
Now that we're biffles, no one has formally submitted these questions to me. Rather, they have just asked me these questions (well, some of them, while others I just made up because I would like to answer them) in passing. Some of them were clearly rhetorical like "Why the national food holiday challenge?" because it was asked like, "Why are you crazy?".
Anyway, enjoy!
WHAT/WHO ARE YOU INSPIRED BY?
I'm inspired by a lot. Like, a lot, a lot. I choose to be inspired by damn near everything. In my mind, every dinner, every casual hangout, every event will form a memory in the future, no matter how small it may seem in the present. Also, I'm very inspired by my family. Oh, and I'm inspired by correct spelling and grammar because it makes me see that I am not the only wanna be stickler for the stuff in existence. I'm inspired all the time by really great food photography, the likes of which you'll find on some of my favorite food blogs: Love & Olive Oil, Love & Lemons, My Name is Yeh (whom I forgive for not using capitalization because when you're reading her posts and looking at her photos, you want nothing more than to be her best friend), Two Red Bowls, and I Am A Food Blog.
WHAT IS YOUR CULINARY BACKGROUND?
I don't have a professional culinary background, although if I had my way, culinary school would be in my budget, just for funsies, and I would spend my days learning more and more about cooking (and baking because I could use some help there).
Everything I know I've taught myself, but more often, I've learned from my family where making and enjoying a meal together is a top priority. I'm lucky to have been surrounded by really fantastic home cooks my entire life.
HOW DID YOU START BLOGGING?
Do you have a year to sit down and read my entire answer? 'Cause it's a long one. I'll keep it simple(r) here to spare you the agony. I don't remember how I started blogging. All I know is that we had AOL dial-up service and I was a 13 year old who was allowed to use the internet and had stuff to say. Throughout my years, I had a blog on Diaryland (and I'm very upset that everyone's content was deleted unless you kept up with it or went through the archive process), LiveJournal, Blogger, and now, WordPress. All in all, I've been blogging, in one capacity or another, in different stages of maturity and awesomeness, for about 16 years now.
Oh God, I just aged myself.
This is bad.
And anyway, I also wrote a resource guide and "How to Become a (Food) Blogger" post. (COMING SOON)
WHY THE NATIONAL FOOD HOLIDAY CHALLENGE?
Because why not? I set out to complete this national food holiday project to challenge myself. I use the national food holidays as a guideline because I can (and have!) learned a lot from this project I've taken on. It's mostly a matter of convenience to have something to follow that'll make me cook things I never have before, and do so on a consistent basis. Following the food holiday "list" takes the guesswork out of what I'll make next while at the same time forcing me to do something different than my norm. 
I'm going to be honest with you, though, while baking more has made me better at it, I know now more than ever before that I would always rather be cooking.
Also, I will never love chocolate, no matter how many food holiday recipes I make involving the stuff.
And, while we are at it, I honestly will be so glad when it's over because it's a ton of work, too much for this lazy broad.
HOW DO YOU FOOD BLOG AND STAY SO SVELTE?
Okay, I admit it. This isn't a real question I've received because no one has ever called me svelte. I have been asked how I don't weigh 500 pounds given everything I make (because people assume I then eat it all). My answer is this: I don't eat every morsel of food I cook, I love sharing my food, and I've recently taken up this thing called working out. I'm starting slow with one time a week for approximately 30 minutes, or until any combination of my hair in my face, heavy breathing, sweat, and my hot condo, becomes too much to bear. Also, I'm very distracted by TV and if a Real Housewives episode is on, you can bet that I have my workout video on my laptop in front of the TV, pretending to pay attention to Jillian Michaels, but really wondering when Carole is going to tell Aviva off.
HOW MANY TIMES DO YOU COOK EACH RECIPE?
Well, I'm lucky to have recipes that are tried and true, and that can be made the same every single time, or close to, so I don't have to remake a lot. Before I embarked on the food holiday project, I didn't have a lot of recipes on my blog, but I had been cooking for quite a long time which resulted in recipes that work.
With that being said, I have still remade a number of recipes that you can find on my blog. And I've had two flat out fails that I chose to publish anyway because I was far too frustrated and lazy to figure out where the dish went wrong. (I plan on remaking those and being like a comeback kid, by the way.)
Especially when it's a stellar recipe, I remake it often and add it to my meal plan (as if a thing exists).
DO YOU HAVE A LOT OF LEFTOVERS?
Yes. So many leftovers. Please come by my house and take some.
SO YOU DO THIS "FOOD BLOG" THING FOR A LIVING?
Why, yes, yes I do!…when I'm daydreaming. It would be wonderful to be a recipe developer/blogger/eater of all the foods for a living, but I actually do have a full-time marketing job with a local credit union that I am loving!
ARE YOU MESSY IN THE KITCHEN?
This is really hard to answer because the answer is no, but my kitchen is messy. Sounds like the conundrum of the century, huh? Let me explain. I am not messy in the kitchen. I clean as I go, as best I can. I don't spill much and those things I do, I make sure to wipe up fast. However, my kitchen is teeny tiny and poorly designed by the oh-so-lovely condo contractors. Seriously, I don't even have a pantry of any sort. We use open shelves.
Because of the size of my kitchen, it's a perpetual mess. You know that song by the Backstreet Boys called "I Want it That Way"? That's me, but like the opposite, and about my kitchen. My kitchen is the worst.
Cheers to house hunting (and probably building from the ground up) within the year!
WHAT ARE YOUR FAVORITE AND LEAST FAVORITE FOODS?
To cook, or to eat? There exists a difference.
I don't really like cooking fried foods because I always get splattered with oil. Seriously, WTF is wrong with me. Also, some fried foods are pretty delicate! Take my Pancake Batter Buttermilk Onion Rings, as an example. They were easy, but I had to be incredibly meticulous about the coating and the placement in the pan to get the damn things to look perfect. But fried foods? If eating them wasn't such the antithesis of healthy eating, I would eat them all day.
I love to make pasta, durrr.
I love making and eating salads. You can switch it up so much!
WHERE'S YOUR FAVORITE PLACE TO EAT?
I get asked this a lot from fellow Tampa residents. I don't have a favorite place to eat because Tampa's restaurant scene is getting to be so freakin' awesome. I love a lot of restaurants. If you are looking for a specific recommendation, just let me know and I'll do my best to help.
As for other parts of the country, any and everything in Seattle is amazing. Check out my Seattle trip recap post for recommendations. If you are traveling to Washington, DC, you're really missing out if you don't eat at Graffiato.
WHAT KIND OF CAMERA DO YOU USE?
Prior to about April of this year, I used my iPhone camera most often (and I received compliments on my photos, believe it or not!). I've owned my DSLR for years, purchasing it when I realized that everyone was doing it and I wanted to learn a new gadget and be up to speed with my fellow bloggers. I have a Canon T1i that I use unless I'm making food elsewhere and have forgotten my camera. Then, you'll find an overexposed iPhone photo because the lighting usually stinks. Peeyew.
I used the 18-55mm kit lens to begin with, but have since jumped to the 50mm 1.8. At some point, I'll not only upgrade my camera, but I'll get the lens of my dreams
.
If you're wondering what photo editing software I use, my answer is PicMonkey. I want to learn Photoshop, Lightroom, and whatever the hell VSCO filters are, but my time is very limited. Anyone know of some sweet tutorials that'll just insert into my brain with the click of the play button?
CAN I USE YOUR PHOTOS AND/OR RECIPES?
You certainly can. All I ask is that you link back to my post(s) where you found the recipe. It would also be nice if you contact me and let me know that you used my stuff. I love sharing and will probably retweet, comment, like on Facebook, etc. for you. Thanks for thinking my posts are good enough for your piece of the interwebs!
DO YOU ACCEPT PARTNERSHIPS AND ADVERTISING ON YOUR SITE?
I do. I have an advertising page you can check out, and I will partner with your brand, especially if it relates to an upcoming food holiday. You would really help me cut down on my grocery bill and in return, I will showcase your brand on social and all over the relevant blog post. Let's scratch each other's backs, shall we?
Oh, and contact me if you'd like a copy of my media kit. I gots one of those!
YOU'RE AWESOME. HOW DO I CONNECT WITH YOU ON SOCIAL?
Easy! Follow me at the links below. Let me know you did so.
Facebook
Twitter
Instagram
Pinterest
Google+