4 Important Tips for Staying Hydrated
This shop has been compensated by Collective Bias, Inc. and its advertiser. All opinions are mine alone. #StopSpills #OnTheGoWithContigo #CollectiveBias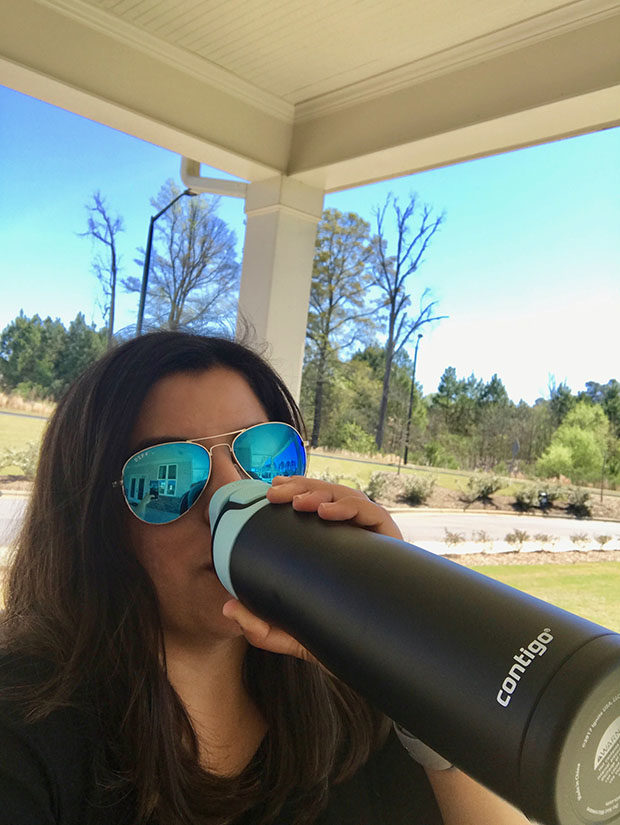 There was a time when my water intake was really low. So low that when the subject happened to come up, I'd inflate the amount of water I was drinking. I'll be honest now. The majority of days I would drink no more than 30 ounces of water. I just didn't like the taste and I didn't like flavored water either.
I steadily got better, but really made a huge improvement when I became pregnant. The first appointment with the doctor they tell you the ideal amount of water to have everyday while "with child" is a gallon. That was about seven times more than what I was accustomed to. It wasn't easy, but it was necessary. Now, it's second nature to drink the recommended amount. Here are my tips:
KEEP A WATER BOTTLE WITH YOU AT ALL TIMES
I started carrying a water bottle everywhere. It may seem like that could be an inconvenience because of spills, not true. The Contigo AUTOSEAL® Chill Bottle, for instance, has this incredible auto seal technology that makes this bottle leak and spill proof.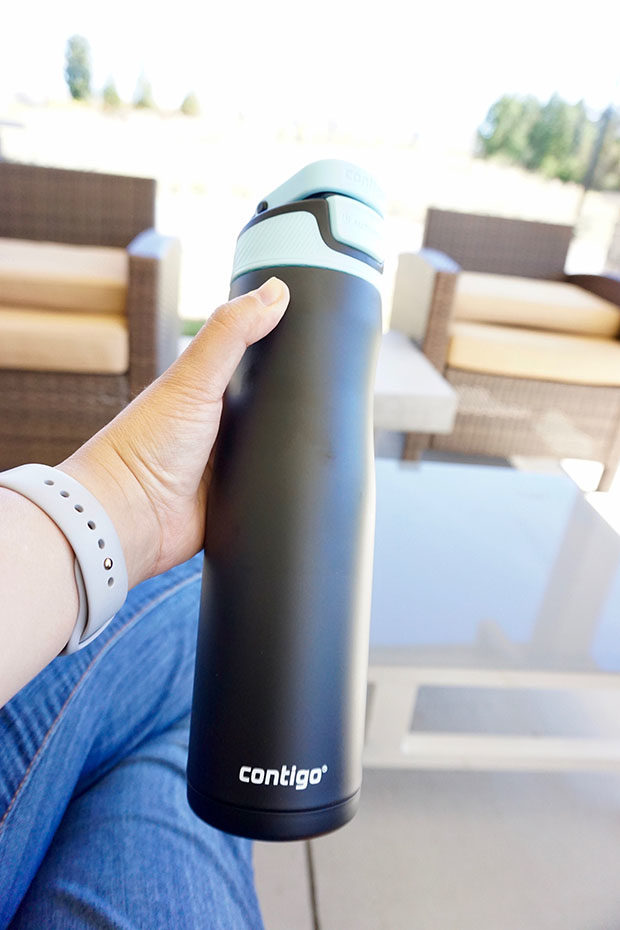 And then, especially when you're a mom on the go as I am, any bottle that allows you to use just one hand is ideal. It's a matter of making it easy to drink water. Otherwise, it won't happen. The Contigo water bottle works for me because you press a button that then opens up the spout for you to drink from. Release the button and the spout is closed up again. Just like I said: easy.
I make sure to take my water bottle with me when I'm running an errand, taking Max for a stroller ride around the neighborhood, even when I'm sitting in the living room and relaxing. Before, I would keep my water bottle in the kitchen or somewhere else that wasn't within arms reach and guess what? I never got up to get anything to drink. Maybe at the end of the two hour movie I was watching, maybe. But now I make sure to have a water bottle, literally, next to me at all times and that's made all the difference.
USE A FUN TRACKING SYSTEM
I discovered the Water Minder app just by reading an article about some of the best apps to have for body and mind health. Things like exercise apps and meditation apps and…a water app. I actually enjoy logging my water intake in the app. It's almost like a challenge that I'm meeting and exceeding and, in some ways, a little bit like a game too. I have the app on both my phone and my Apple Watch. The app syncs between my two devices, so if I'm not around one of the other, I have another option for entering in the water I'm drinking.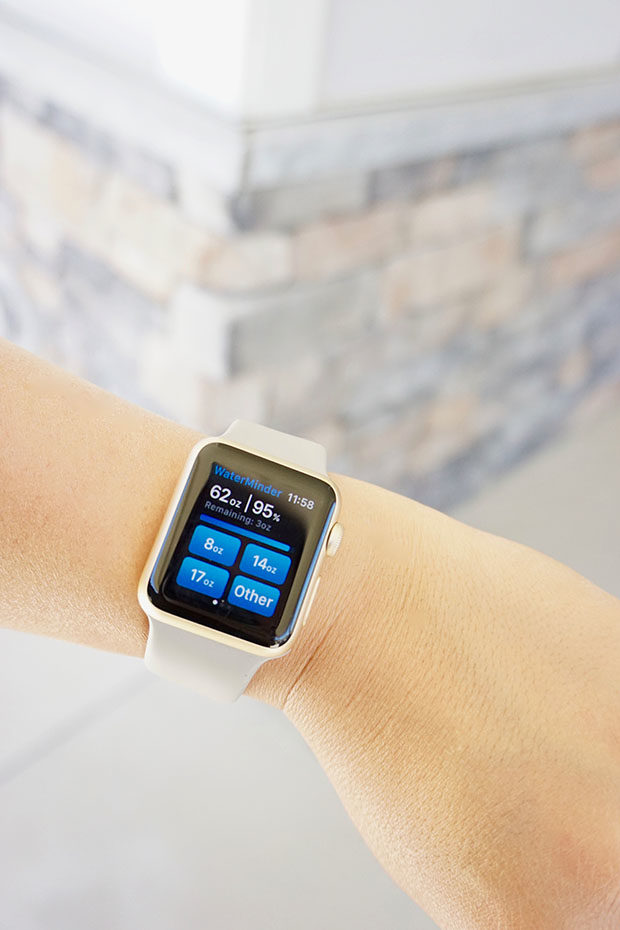 I have the app on my home screen on both devices so whenever I look at my phone I see that app logo looking back at me and it serves as a constant reminder to keep track and keep my water consumption at the forefront of my mind.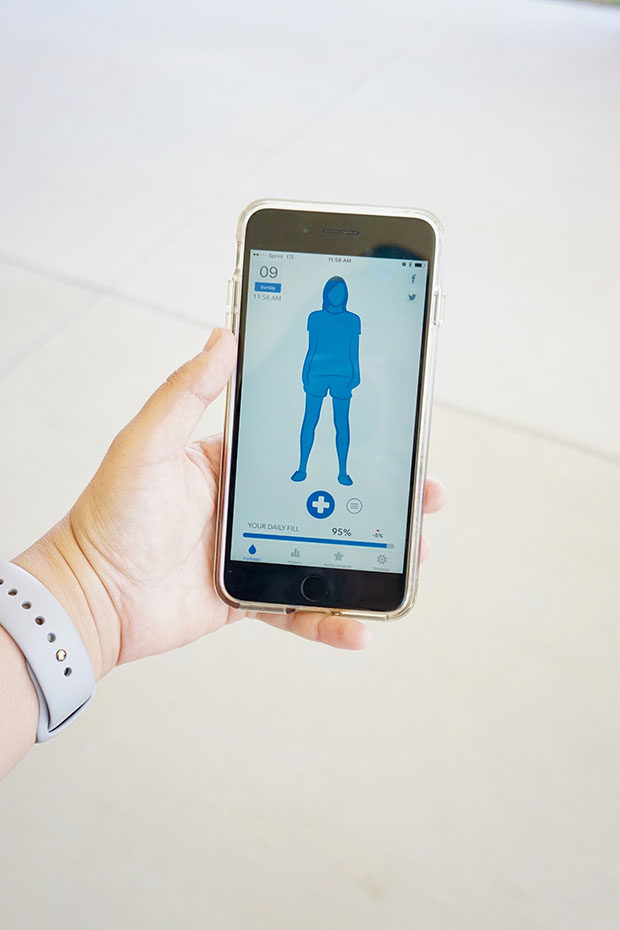 KEEP YOUR WATER COLD
I'm happy to be able to say that whether ice cold or room temperature, I get my daily recommended water intake in, but my preference (and, so I'm told, the preference of many) is to have colder water. Before I found that I would drink less water when the water wasn't cold. If I added ice cubes, I would drink the water a lot more. Especially when I happened to be outside, the colder water just quenches your thirst a lot more. The Contigo water bottle keeps water cold for up to 28 hours. This is perfect for those neighborhood walks, those times when my husband and I go to the berry farm and pick some blueberries, when we have long road trips.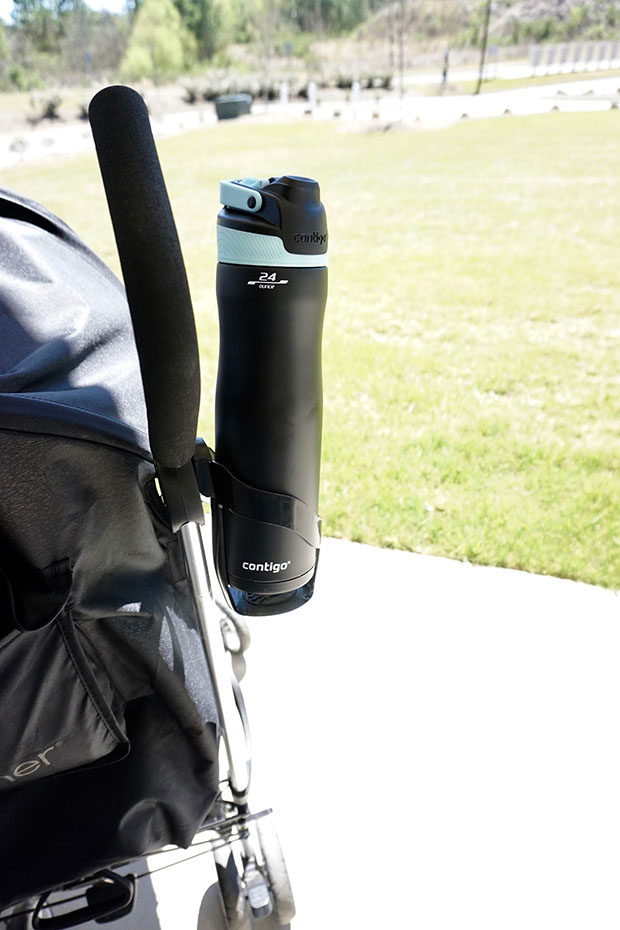 Sometimes I'll even put my water bottle next to my bed when I go to sleep and, waking with thirst, I reach over and am instantly satisfied by still-cold water. It's the best.
By the way, the Contigo water bottles are available at Target where you can find three colors that are exclusive to the store: Matte Black with Iced Aqua, Stainless Steal with Monaco, and Very Berry.
GET INSPIRATION
Contigo has a really wonderful social media presence on Instagram and Facebook. See designs and places others take their water bottles. Get tips for staying hydrated and see the creative ways Contigo fans are using their bottles.
Don't get discouraged if it's not an overnight change for you. It's never easy to start a new habit, but through perseverance it's worth it and you can absolutely get there! Now, through building this habit, there's no other liquid I'd rather consume. I crave water all the time, I love it. And I never thought I'd say that.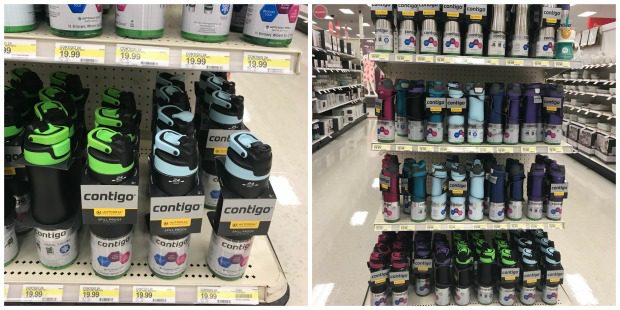 What are your tips for increasing water consumption?
4 Responses to "4 Important Tips for Staying Hydrated"

Leave a Comment