Sautéed Cobia with Tomatoes and Capers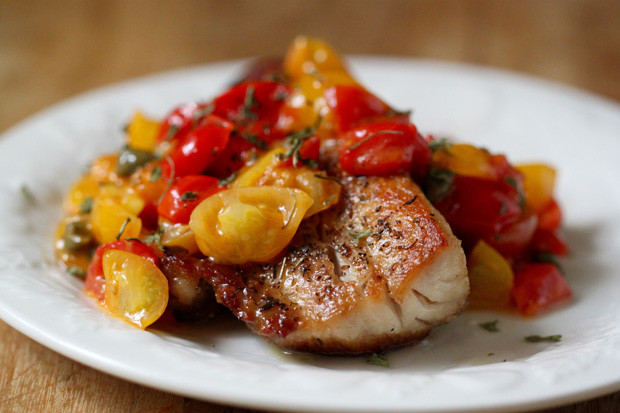 Confession: Up until a couple of years ago, the only fish you'd ever witness me eating is shellfish. You know, the typical. Lobster, crab, shrimp. There was something about other fish that I just wasn't comfortable with. This is very weird because I live in Florida, for God's sake, where there's fish everywhere.
It could've been because I don't like the ocean water (again, why do I live in Florida?). I especially hate feeling seaweed and little fish all copping a feel on my legs. I cannot even take it. Not to mention, I've heard one too many stories about sharks. Nooooo thanks.
But now? Well, I'll at least eat what comes out of the ocean, even if I won't go in the water.
And here I am sharing a fish dish that I love. I prefer any white flaky fish so this Cobia completely fits the bill….or…gill? 😂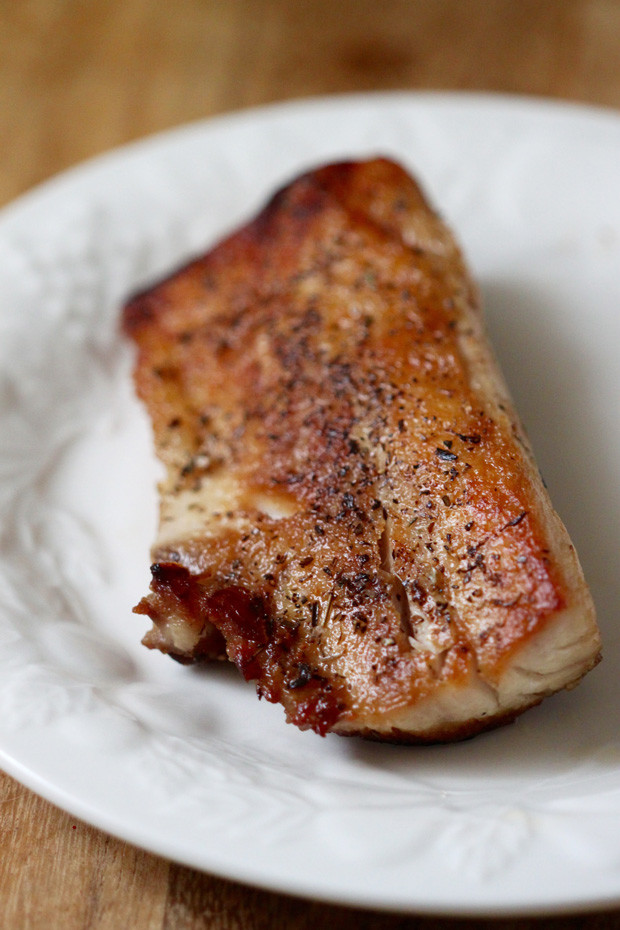 It's a pretty flavorful fish on its own so you can skimp on the spices and just do something simple like I did: salt, pepper, and oregano. I then topped the fish with a medley of red and yellow grape tomatoes, capers, and a butter and wine sauce, which was then all squeezed over with fresh lemon. I truly believe that you have to keep it simple when it comes to delicate fish.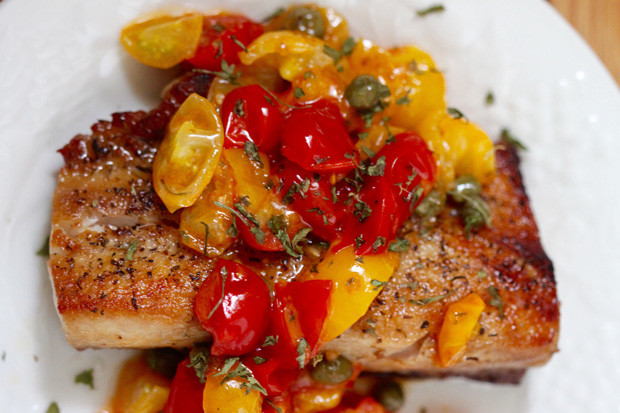 By the way, this recipe is also my official entry into the Open Blue™ contest. They are selecting five bloggers as finalists for a cook-off taking place in South Carolina next month! The winner of that cook-0ff gets a trip to Panama to check out Open Blue's open ocean platform, tour Panama City, and have dinner with the founder.
From the website: Open Blue™ is dedicate to providing our fish with the best environment possible with the least impact to the ecosystem. We believe a healthy environment produces healthy fish, and ultimately healthy people. Now THAT'S a dedication I can support and I would love the chance to be a part of it.
The fish at Open Blue™ have plenty of room to grow and Open Blue™ is the single largest supplier of fresh cobia to the US. Weeee!
So treat the fish with respect, mmkay?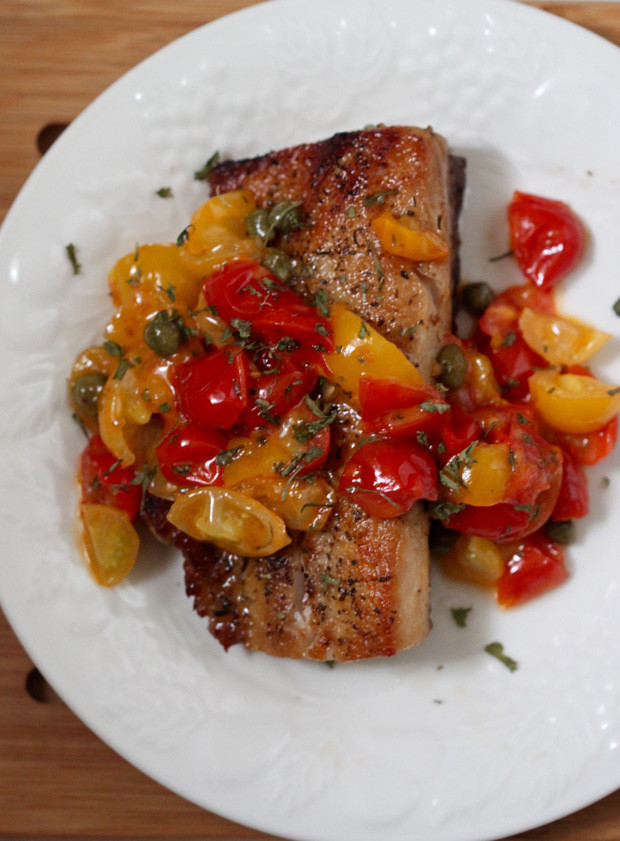 This is why I believe simplicity is wonderful for a dish like this. I was able to form a nice crust on both sides of the cobia, all done in approximately 4 minutes. Then with the bursts of juice from the tomatoes, the saltiness from the capers, and this terrific velvety sauce with the butter, it's almost complete. I say almost because everything, I repeat everything, tastes better with a squeeze of fresh lemon juice, amirite??
Try this dish today and prepare to be amazed!
UPDATE all thanks to a reader comment: Whole 30 variation in recipe below. See note section.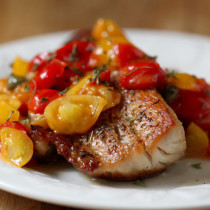 Sautéed Cobia with Tomatoes and Capers
Cobia is a flaky and delicate white fish that demands a simple preparation and simple topping, but when you taste this dish all together, you'll be wowed.
Ingredients:
1 Open Blue™ Cobia fillet
Salt and pepper
2 teaspoons dried oregano
2 tablespoons extra-virgin olive oil
3/4 cup red grape tomatoes, quartered
3/4 cup yellow grape tomatoes, quartered
2 tablespoons capers
Splash dry white wine
1 tablespoon unsalted butter
1 teaspoon dried parsley
Juice of 1 lemon
Directions:
Season both sides of the cobia with salt, pepper, and oregano. Salt and pepper is to taste, but just have a nice coating on either side.
Heat olive oil in a medium saute pan over medium-high heat. Add cobia. Once cobia has formed a nice crust, about 3 minutes, flip and cook for an additional minute, or until other side of the cobia fillet has formed a crust and the fish is opaque throughout. Remove cobia from pan and set aside on a plate.
Reduce heat to medium and add tomatoes and capers. Saute together for a minutes, or until tomatoes just start to break down. Add wine and continue to cook and stir occasionally until wine has reduced by half.
Remove from heat and add butter, swirling to allow butter to melt. Carefully pour mixture over cobia fillet.
Sprinkle parsley over top and finish with the squeeze of lemon.
This recipe is for one, but you can easily double or triple the ingredients to serve more! Whole 30 variation: Substitute a little bit of chicken stock and white vinegar for the white wine and use clarified butter instead of regular!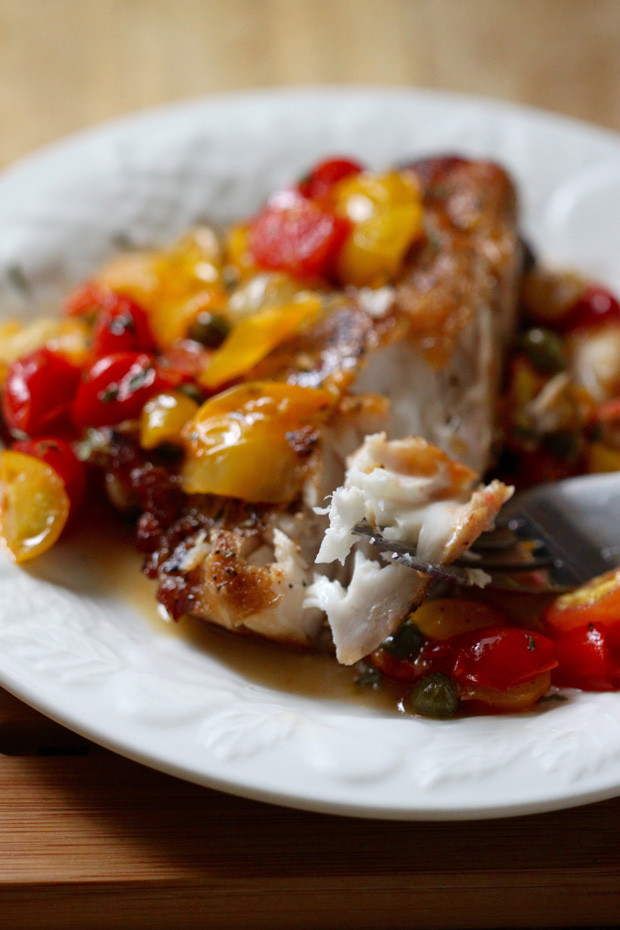 6 Responses to "Sautéed Cobia with Tomatoes and Capers"

Leave a Comment