Summer Stone Fruit Crisp
This shop has been compensated by Collective Bias, Inc. and its advertiser. All opinions are mine alone. #MayfieldFamily #CollectiveBias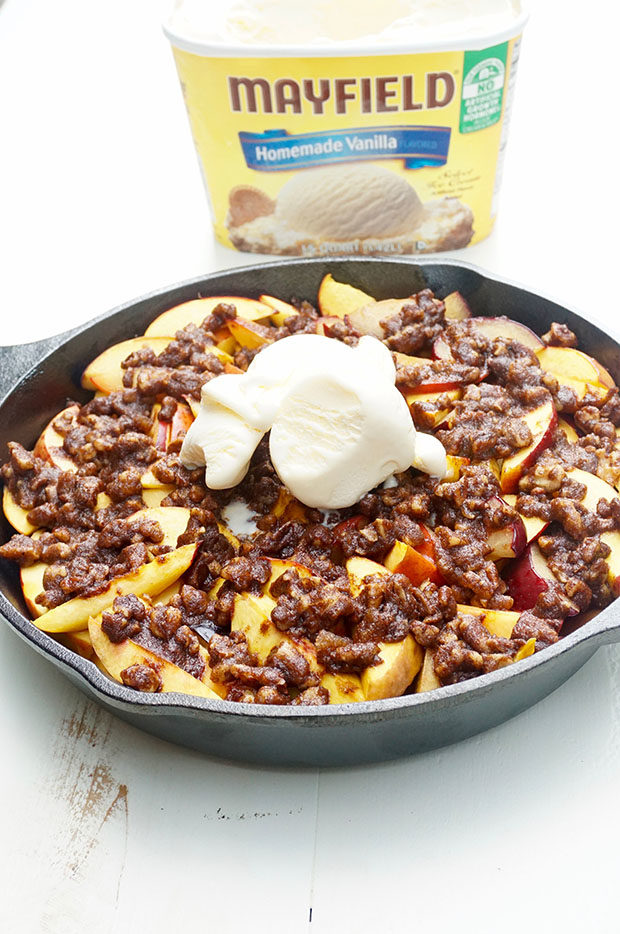 I really like the idea behind southern hospitality. It's a feeling I strive to give to all guests who enter my home. To do so is to show warmth to visitors, welcoming them into my house and feeding them with my food. I was reading Michael Pollan's latest book and something he wrote stood out to me: "For is there any practice less selfish, any labor less alienated, any time less wasted, than preparing something delicious and nourishing for people you love?"
Well, this recipe is all about that. What says southern hospitality more than a warm stone fruit crisp (with PEACHES!) and some Mayfield Homemade Vanilla ice cream. Mayfield Dairy started their ice cream in 1923 with a family recipe and southern hospitality is their jam (<— see what I did there? Jam. Southern. Heh.) So what happened is this recipe is created and then the ice cream, being creamy and rich, grew in popularity and the brand became iconic for delivering these delicious ice cream flavors. Now here I am today, able to enjoy that same ice cream with a super summer recipe right out of the oven.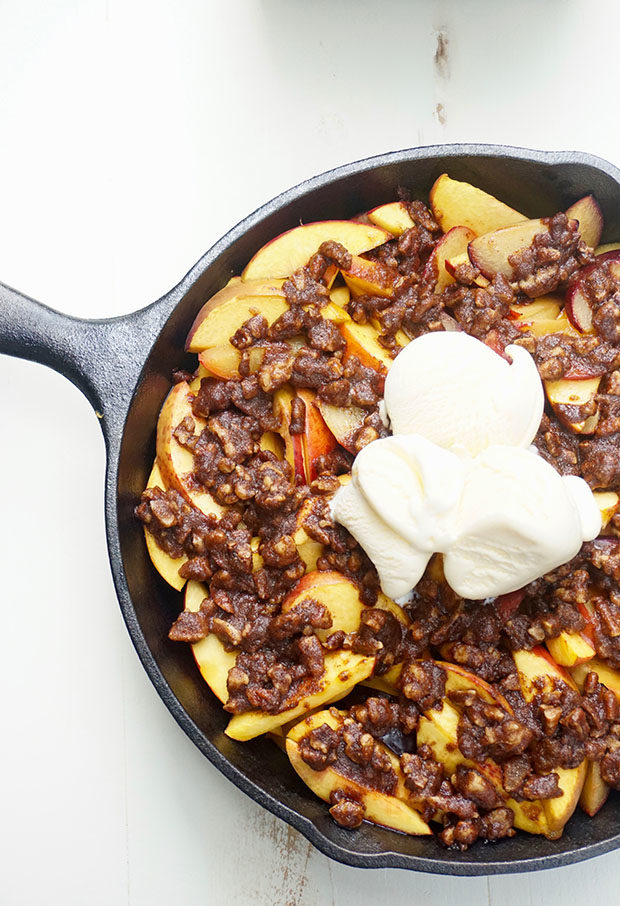 The thing about crisps is they are perfect for those who aren't big fans of baking (me), but yet want a dessert. The ratio of all ingredients doesn't have to be exact and everything will still come out great. For this crisp I chose the summer stone fruits because I love using seasonal ingredients and I happen to think the summer fruits are some of the best. Peaches, nectarines, plums and apricots make up this dessert with a nice mixture of nuts and sugar sprinkled on top.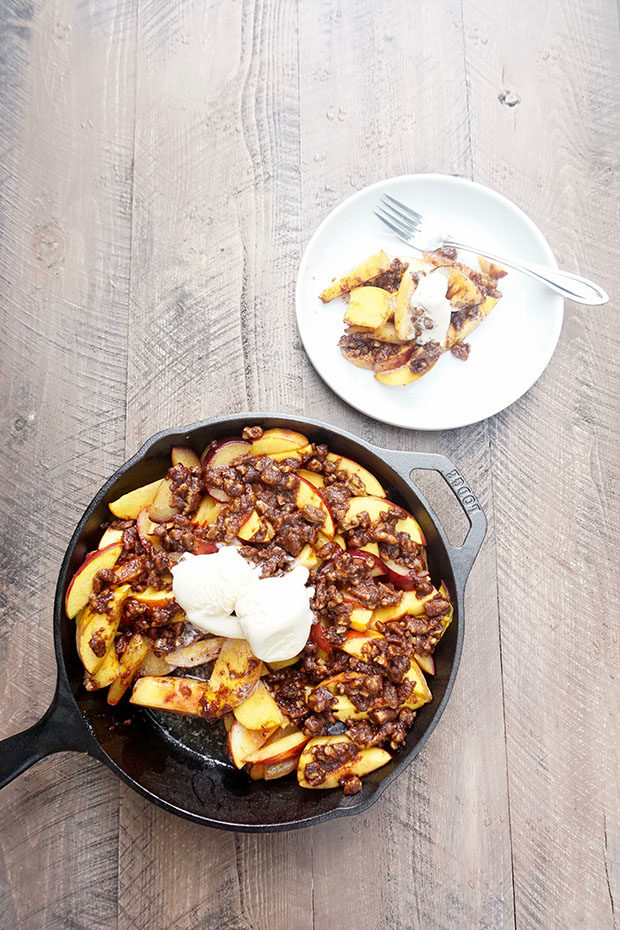 Of course the crème de la crème here is the ice cream. The combination of the hot crisp with the ice cream is perfect. I've always enjoyed desserts more with ice cream on top and Mayfield is some of the best I've had. New at Walmart, I purchased the homemade vanilla flavor because it was so ideal for what I was making. I love that Mayfield Dairy uses fresh cream in their ice cream and that fresh cream comes right from their own dairy and bonus: has no artificial growth hormones. My family thanks you, Mayfield.
Speaking of family, you can join the Mayfield Flavor Family! Because Mayfield really does care. And they treat their customers like family, just like a good southern company should. They make it a point to let consumers know that they enjoy receiving any and all feedback and want to continue to make special products for everyone to enjoy and make a part of their home and their table. If you want to join the Mayfield Flavor Family there is something in it for you!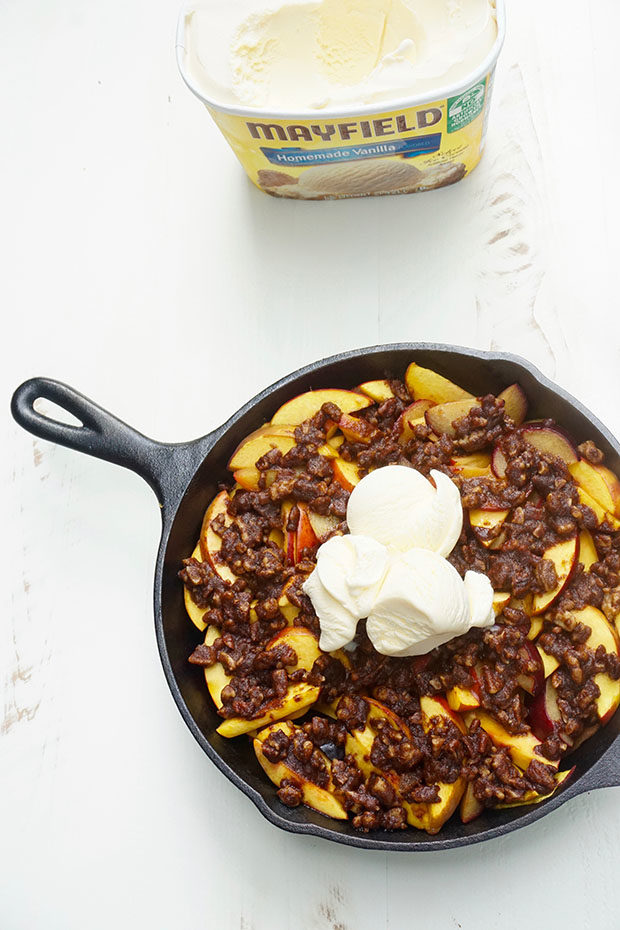 You'll be the first to know about new flavors and the first to receive special offers, get inside info about Mayfield's latest flavor innovation and even recipes and fun family ideas. Then, because you're bound to love Mayfield so much, you'll spread the goods through word of mouth. And then your friends will become Mayfield lovers and host dinners where magically some Mayfield ice cream appears. And then their guests will do the same and so on and so forth until everyone in your community has Mayfield ice cream adorning their dinner tables during dessert.
It's that good.
Are you an ice cream lover like me and can't wait to try Mayfield for yourself? Which flavor would you love to try?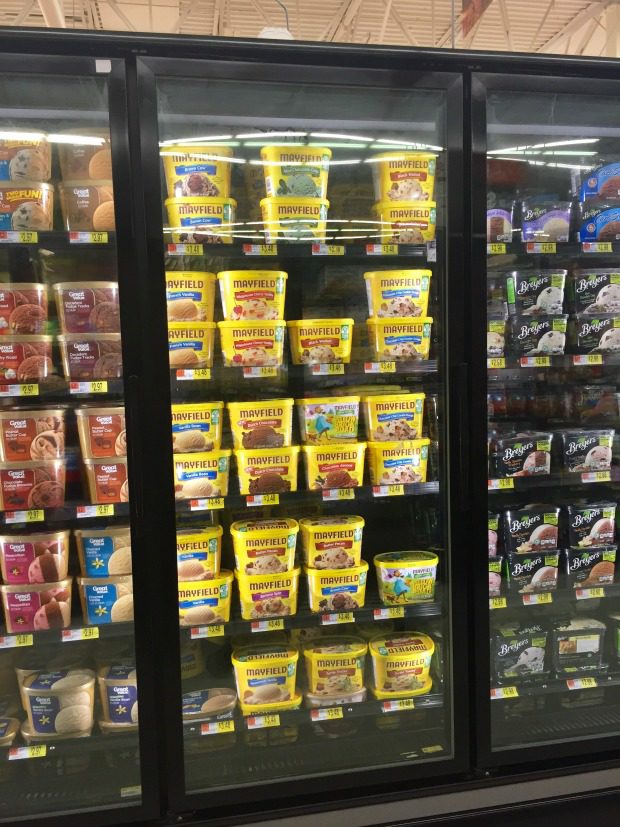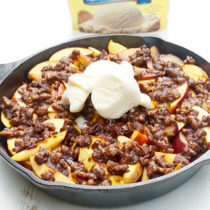 Summer Stone Fruit Crisp
Enjoy this classic southern dessert with a helping of creamy, rich, delicious Mayfield Homemade Vanilla ice cream on top!
Ingredients:
3 peaches, sliced
3 nectarines, sliced
3 plums, sliced
3 apricots, sliced
6 tablespoons light brown sugar
3 tablespoons unsalted butter, melted
1/2 cup pecans, roughly chopped
1/2 cup walnuts, roughly chopped
1 1/2 teaspoons cinnamon
1 teaspoon nutmeg
1 teaspoon salt
Directions:
Preheat the oven to 350°F and grease a cast iron skillet with canola oil.
In a medium bowl, combine the sliced fruit so they are all mixed up. In another bowl, stir butter and brown sugar together until well incorporated. Add pecans, walnuts, cinnamon, nutmeg and salt to the bowl and stir to combine everything.
Place fruit, and any juices, at the bottom of the skillet. Make sure it's an even layer. Use less fruit if there ends up not being enough room for the topping.
Sprinkle the nuts mixture evenly on top. Bake 15 minutes.
Top with Mayfield Homemade Vanilla ice cream!!
3 Responses to "Summer Stone Fruit Crisp"

Leave a Comment