National Sandwich Day | Meatball Sub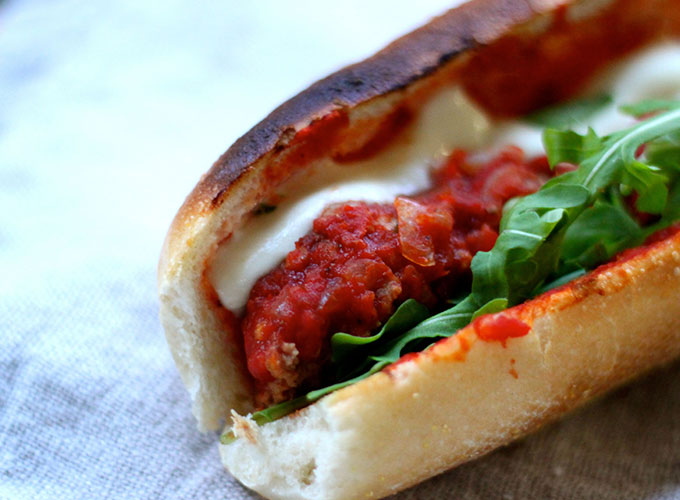 Go ahead and jump on the bandwagon with National Sandwich Day by making this Meatball Sub recipe! I've seen about a trillion National Sandwich Day posts today, which makes me so excited that people are celebrating! I started this national food holiday challenge because I noticed that people, or rather, more brands and restaurants than anything else, would mention the holiday and it got great response. I figured there was an audience for it.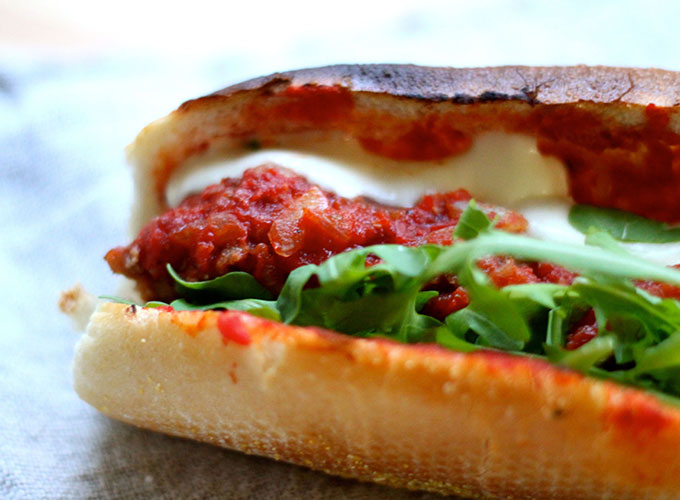 Fast forward to now and I see brands mentioning the food holidays even more. And National Sandwich Day? Well, it's one of the more popular ones I've seen!
Of course, when it comes to sandwiches, you can't go wrong. Okay, I take that back. It's possible to screw up a sandwich, but damn if it isn't hard. There's an added bonus when making a meatball sub in that anything between two slices of bread is awesome, but also, take the bread away and these meatballs, and the sauce, are still awesome. The day after I made this (because I make my food holidays about a week in advance), I took some meatballs, sans bread, to work for lunch.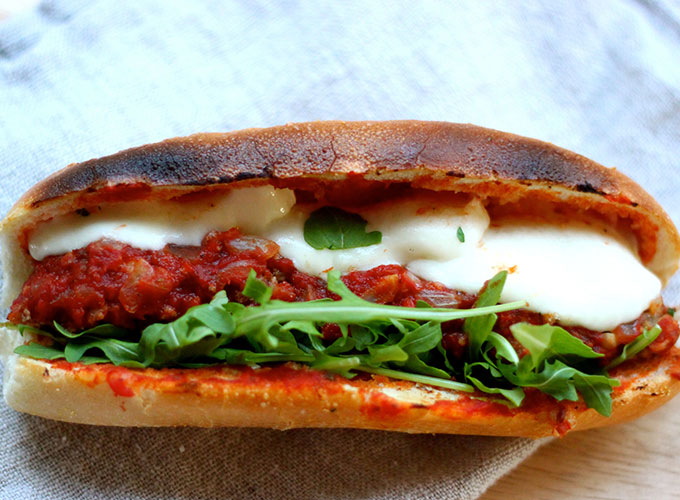 Also, pasta is your friend and my friend and the world is a happier place with pasta in it. So basically, top with spaghetti with this sauce and meatballs for a hearty dinner.
Ooo ooo, OR you can use this sauce/meatball combo on pizza! Just add some mozzarella and, if you like spice like I do, some sautéed onions and hot peppers.
Win-win-WIN with this recipe.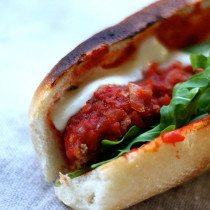 Meatball Sub
Ingredients:
Meatballs
1 large onion, peeled and minced
1 Tbsp olive oil
2 cloves garlic, peeled and minced
1 lb ground beef
1 lb ground pork
3 large eggs
1/2 cup grated Parmesan cheese
1/2 cup fresh flat-leaf parsley, chopped
1 Tbsp dried oregano
1/2 Tbsp Italian seasoning
2 teaspoons salt
Pinch ground black pepper
2 cups dried Italian breadcrumbs
3/4 cup milk
Sauce
1 medium onion, minced
1/2 Tbsp Olive oil
2 cloves garlic, minced
1 large can crushed tomatoes, along with the juice
1/2 Tbsp tomato paste
Pinch salt
1 tsp dried oregano
1 tsp red pepper flakes
1 bay leaf
1/4 teaspoon sugar
Sub
Sub rolls
Fresh mozzarella with slices at 1/2 inch thickness
Handful of arugula
Directions:
Meatballs
Preheat oven to 350*F. Line two baking sheets with parchment paper; set aside.
Heat the olive oil in a medium saute pan over medium heat. Add the onion and saute with salt and pepper until translucent. Add garlic and cook another 1-2 minutes more, until garlic is fragrant. Remove from heat.
In a large bowl, combine ground beef, ground pork, eggs, cheese, parsley, oregano, Italian seasoning, salt, black pepper, breadcrumbs, and milk. Add onions/garlic once cool. Use your hands to mix everything together throughly.
Using a melon baller, scoop two per meatball. Place evenly apart on the baking sheets and bake 20 minutes, to until interior of meatball is cooked through. Remove meatballs from oven and layer the desired amount in the tomato sauce, tossing to coat.
[i]**Note: This recipe makes about 45 meatballs. What you don't use can be frozen for a future use.**[/i]
Sauce
In a large saucepan over medium heat, heat up the olive oil. Add minced onions and a pinch each of salt and pepper and cook, stirring frequently, until the onions are slightly translucent. Add garlic and continue to cook for a minute.
Add the can of crushed tomatoes, tomato paste, salt, oregano, red pepper flakes, bay leaf, and sugar. Reduce heat to medium-low and cook for 15 minutes.
Sub
Slice open sub roll(s). Per sub, slice 5 meatballs in half and place evenly within the sub roll. Top with desired amount of sauce and three slices of mozzarella cheese.
Heat under the broiler until cheese melts. Top with handful of arugula.
Trackbacks/Pingbacks

Leave a Comment