National Raisin & Spice Bar Day | Raisin & Spice Bars
When I decided to commit to this food holiday challenge back in November, which didn't really leave me much time to get ahead what with Thanksgiving, Christmas, and life in general, these bars were one of the first things I made. At first, I didn't know how I'd feel about them. I've had a number of recipes that were 'spiced' that were a little too much. There's somewhat a delicate balance when combining spices like clove, cinnamon and allspice. Too much is not a good thing.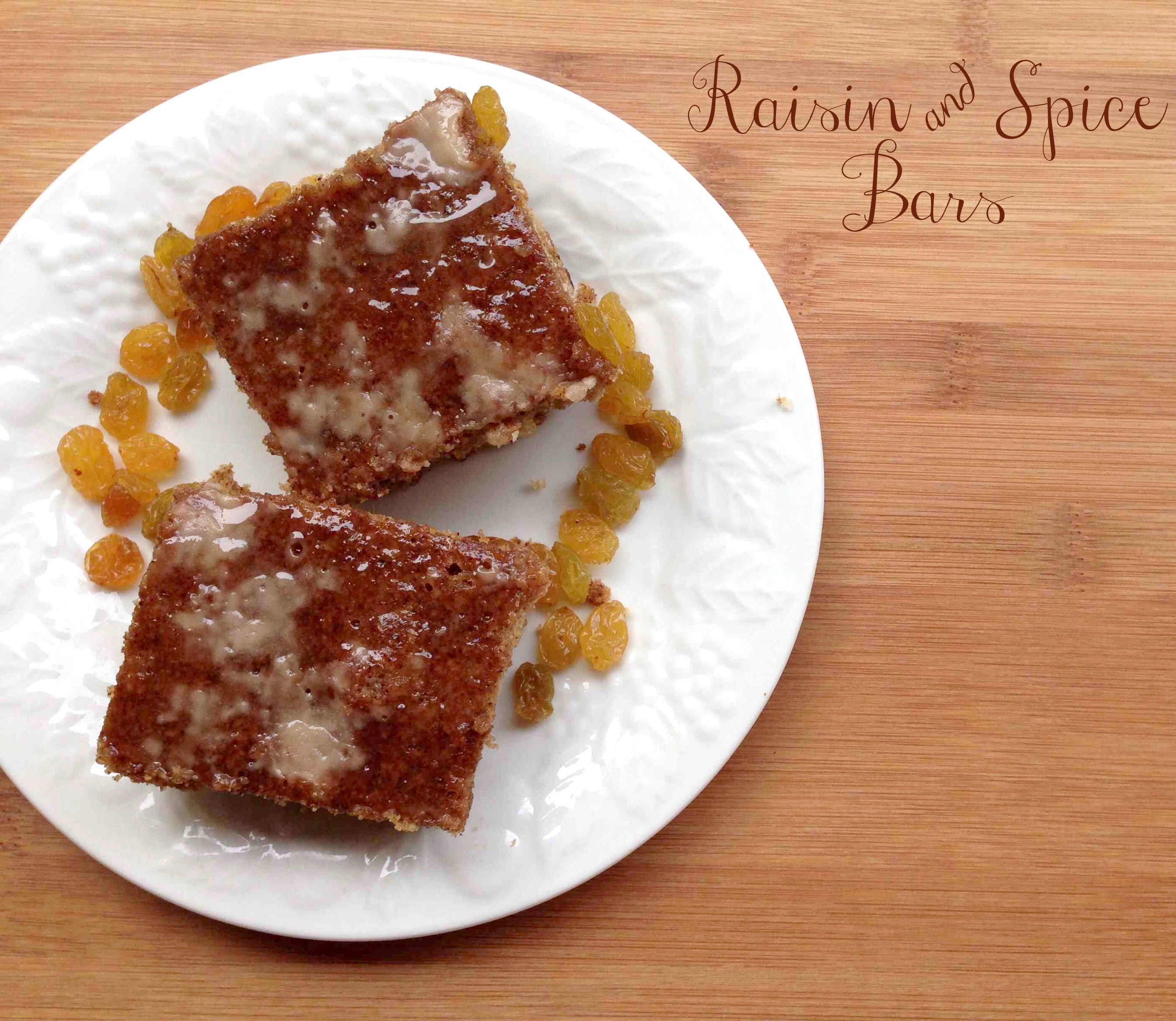 Also, I wanted to make sure I got this just right, so this recipe is adapted from Just a Pinch.
Well, I can say without a doubt in my mind that you will love these bars. We ate them in record time, a little embarrassing really because it speaks to our gluttony, but they are SO GOOD.
I didn't want to share with anyone. You won't either.
National Raisin & Spice Bar Day | Glazed Raisin & Spice Bars
Author:
Prep time:
Cook time:
Total time:
Ingredients
1/2 cup golden raisins
1/2 cup dark raisins
2 cups water
1/2 cup butter
1/2 cup white sugar
1/2 cup light brown sugar
2 cups all-purpose flour
1/4 tsp salt
1 egg, beaten
1 tsp ground cloves
1 tsp allspice
1 tsp cinnamon
1 tsp baking soda
Instructions
Preheat oven to 350*F.
Boil half of each kind of raisin (1/4 cup golden and 1/4 cup dark) with the 2 cups of water for 3 minutes. Drain juice and save.
Cream butter with both sugars. Add flour and salt; mix well.
In a separate bowl, mix beaten egg, cloves, allspice, cinnamon, and baking soda. Add to the flour mixture along with 1 cup of the raisin juice and mix well. Stir in leftover raisins (1/4 cup golden and 1/4 cup dark) after that is mixed.
Spread dough to corners of greased 9×13 cake pan or a greased cookie sheet. Bake for 25 minutes or until done.
Frost while hot with a powdered sugar frosting or cream cheese frosting. Enjoy!
Notes
Adapted from [url href="http://www.justapinch.com/recipes/dessert/cookies/raisin-spice-bars.html" target="_blank"]Just a Pinch[/url].
Tomorrow: National Caramel Popcorn Day
2 Responses to "National Raisin & Spice Bar Day | Raisin & Spice Bars"