National Caramel Day | Caramelized Bananas
You guys, I had so many ideas in mind for National Caramel Day. You don't even know. The one I was sticking with up until just yesterday afternoon was to make homemade Sugar Daddy candies. But, I procrastinated in buying some kind of mold so it would come out right so I got slightly creative and went with these Caramelized Bananas instead.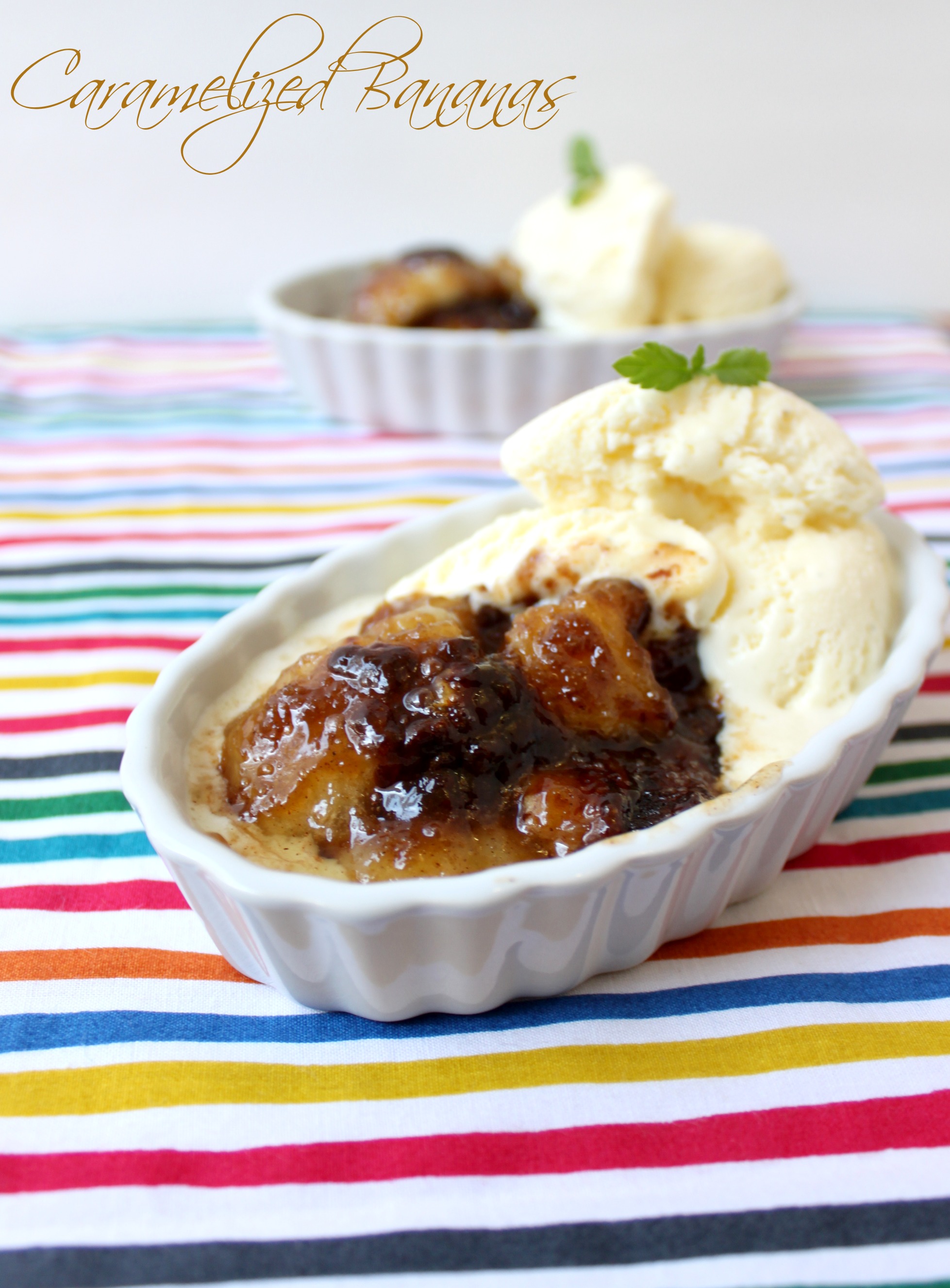 You all probably think I'm a liar. On multiple occasions on this blog, I've stated that I really do not like bananas. And then I have a bunch of exceptions to my rule, like this recipe…and banana bread…and banana smoothies…and banana milkshakes…and banana cream pie.
So, I've come to the conclusion that really, I like the taste of bananas, but I don't like the texture of actually eating them in their natural form, right out of the peel. ICK.
Never more shall I say that I detest bananas because it's just not true. If I had more than one banana in the house when making this dessert, I would have made quadruple the amount and eaten it with gusto.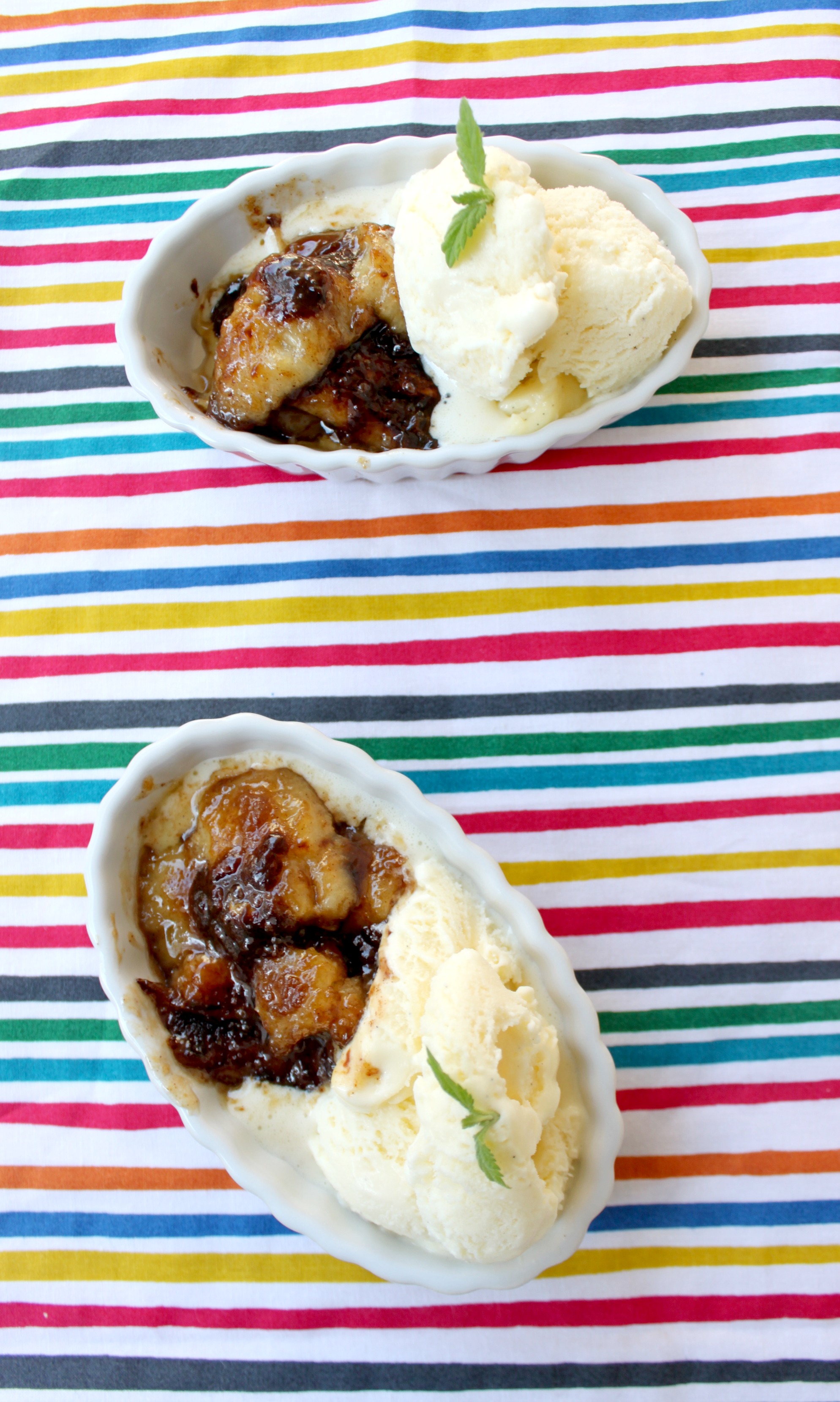 I first had caramelized bananas at the local Texas de Brazil. When it's dessert time, out come these shareable (or, rather, they are supposed to be shareable- I just hoard my own and give devil eyes to anyone who tries to get a bite) caramelized banana desserts. The aroma is the first thing that sets you off. It's a warm cinnamon scent with brown sugar. Then, you eat it and POW, just like that you need to eat it all.
And that's how I feel about caramelized bananas. When you serve it straight from the skillet alongside some vanilla ice cream, it's worlds better because who doesn't like a dessert with both hot and cold elements? I certainly do.
The recipe below only serves two, and that's assuming you only want a little bit, just half a banana, to keep a trim figure. Me? Well, like I said, I would've devoured more if I had more bananas. It's probably a good thing that I didn't.
National Caramel Day | Caramelized Bananas
Recipe Type: Dessert
Author:
Cook time:
Total time:
Serves: 2
Ingredients
1 banana, peeled
1/2 tbsp unsalted butter
1-1/2 tbsp light brown sugar
Splash of dark rum
1/8 tsp ground cinnamon
Vanilla ice cream
Instructions
Cut banana in half lengthwise, and again in thirds.
Melt butter in a nonstick skillet over medium-high heat. Add brown sugar and lay the banana slices on top, cut side up. Cook for 30 seconds, then add rum and cinnamon. Cook for another 10 seconds, and then flip bananas.
Cook bananas on the other side for about 1 minute. Divide evenly into small dessert cups, pour remaining sauce from skillet over them, and serve with a scoop (or two!) of vanilla ice cream.
Tomorrow: National Caramel Popcorn Day
One Response to "National Caramel Day | Caramelized Bananas"

Leave a Comment