National Cordon Bleu Day | Chicken Cordon Bleu
TGIF takes on a whole new meaning when you don't work on Fridays. I'm happy to always have a 3 day weekend because today is filled again with cooking. The thing is, I have to cook often because I don't have the time to cook every single night (I have a full-time job outside of the home, after all) and there are upcoming weekends that I won't be able to cook so I have to get a head start now.
Things like the American Pie Festival, Taste of South Tampa, my husband's birthday and graduation, my nephew's birthday (my best friend's baby, but it counts!), and more. I'm so incredibly busy that I don't even know what to do with myself. But it's AWESOME all at the same time!
Although I spend my day off every week cooking a multitude of dishes for the food holidays, I still feel very relaxed. I wake up when I want, I cook whatever dish I feel like, I sometimes take a nap, and most times, my husband and I go to lunch together. I'm genuinely happy to be cooking off and on all day long. If only I could do this in my home for a living…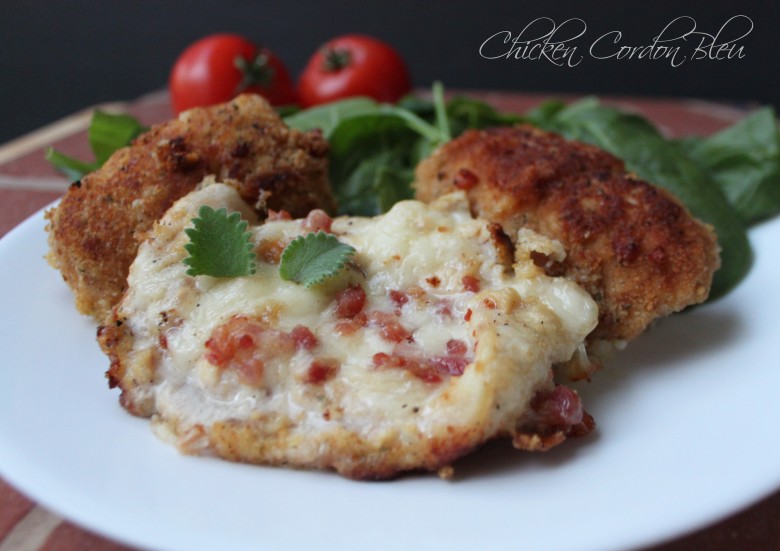 I'm so excited for this Friday in particular because it's National Cordon Bleu Day. Chicken Cordon Bleu is the one dish I remember being very hesitant about when I was younger. I've never liked swiss cheese, but I soon discovered that when melted, swiss cheese tastes different enough to actually be good! Really good.
We would melt swiss cheese on jerk chicken and on sandwiches, and it was all because of a random Chicken Cordon Bleu dish.
Well Chicken Cordon Bleu, traditionally made with swiss cheese and ham, is good, but I wanted to do a little bit of a twist. Instead, I used provolone cheese and pancetta. Pancetta happened to be on sale and I thought, That sounds amazing.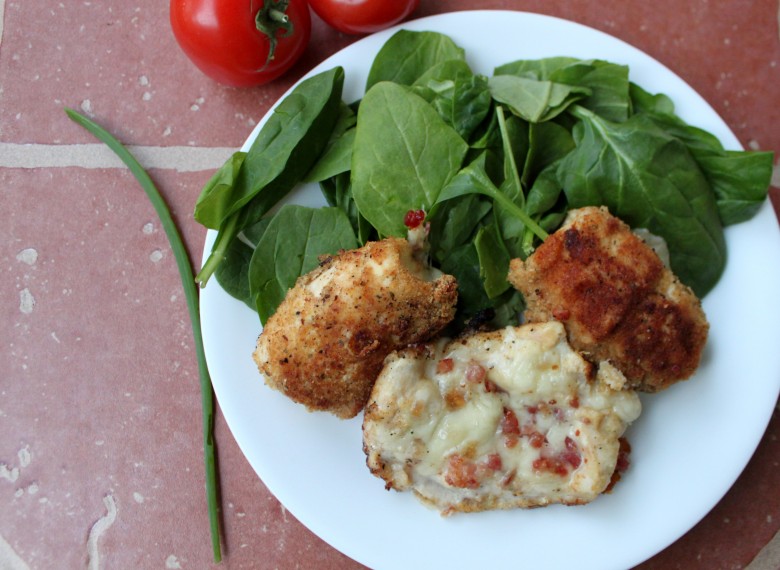 And of course, it was. Because how can a provolone cheese and pancetta combo stuffed inside breaded chicken not?
By the way, the chicken in the front…well, I'm calling that one an Open-Faced Chicken Cordon Bleu (as if I meant for it to open back up).
National Cordon Bleu Day | Chicken Cordon Bleu
Recipe Type: Poultry
Author:
Prep time:
Cook time:
Total time:
Serves: 4
Ingredients
4 boneless, skinless chicken breast halves
4 ounces diced pancetta
4 slices Provolone cheese
1/2 cup all-purpose flour
Pinch of salt
Pinch of pepper
1/4 tsp paprika
1 egg
2 tbsp whole milk
1/2 cup seasoned breadcrumbs
1 tbsp canola oil
1 tbsp butter, melted
1 tbsp lemon juice
Instructions
Preheat oven to 350*F.
In a small saucepan, cook diced pancetta. Remove from heat and set aside.
In a shallow bowl, combine the flour, salt, pepper, and paprika. In a separate bowl, whisk the egg and milk together. In a third bowl, add the breadcrumbs.
Heat canola oil in a saute pan over medium heat to prepare for browning the chicken.
Top each piece of chicken 1 slice of cheese and 1/4th of the cooked pancetta. Roll up and secure with a toothpick. Dip chicken in flour mixture, followed by egg mixture and then breadcrumbs.
Place chicken, seam side down, into heated skillet. Brown chicken on all sides and then transfer to a square baking dish that's been coated with cooking spray.
Bake for 20-25 minutes, or until chicken is cooked through. Drizzle with melted butter and lemon juice.
Tomorrow: National Caramel Day; National Raisin & Spice Day
61 Responses to "National Cordon Bleu Day | Chicken Cordon Bleu"

Leave a Comment