National Chocolate Mousse Day | Eggless Chocolate Mousse
I have chocolate again today. I feel like I make chocolate more often than anything else, and it's the thing I enjoy least. But that's okay- the whole point of this project is to bring you guys recipes for the food holidays. These holidays aren't up to me, and also, who am I to argue? I'm the crazy person who doesn't like chocolate.
So, this is for all of you who do. And for my mom, who is the biggest fan of chocolate I know. And for my best friend Jackie who helped me make this mousse, taste-tested it, and gave final approval for texture and the perfect, rich chocolate flavor. She also told me to use clear sprinkles, which is always appreciated. Now sprinkles I LOVE.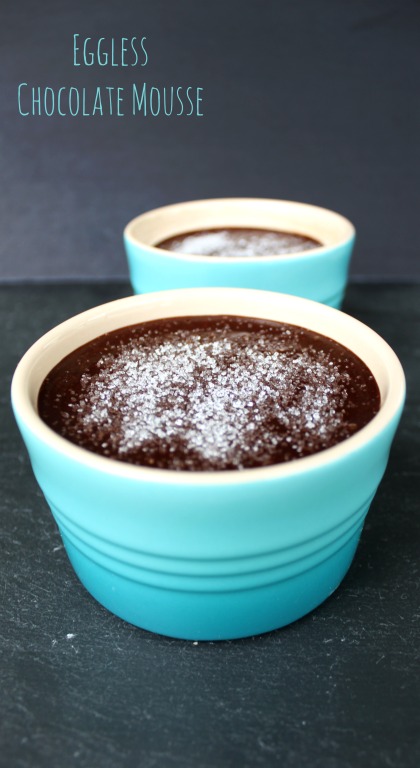 This was my first foray into the world of mousse. I've never made it before, and didn't really know where to begin. In consulting the ever-knowledgeable interwebs, I found a lot of chocolate mousse recipes that used egg whites, just whipped and folded into the chocolate creation. Well, that kind of stuff continues to freak me out now and again.
Just a couple of months ago, my friends and I got together for dinner at one of our places and we had a french silk pie for dessert. French Silk Pie incorporates uncooked egg whites, but I felt okay about it at that moment. With this Chocolate Mousse, I did not. What can I say? Thus begun the search for an eggless variety. And I found it!
Approved by one of the biggest chocolate fans you'll ever find, this recipe will make any chocolate lover happy, happy, happy!
National Chocolate Mousse Day | Eggless Chocolate Mousse
Recipe Type: Dessert
Author:
Prep time:
Cook time:
Total time:
Serves: 2
Ingredients
1 cup mini marshmallows
1/4 stick soft unsalted butter
4 oz good bittersweet chocolate chopped into small pieces
2 tbsp hot water
1/2 cup heavy cream
1 teaspoon vanilla extract
Instructions
In a heavy-based saucepan over medium heat add the marshmallows, butter, chocolate and water, stirring occasionally until melted. Remove from the heat.
As the chocolate is cooling, whip the cream with the vanilla extract until thick, and then fold into the cooling chocolate mixture until you have a smooth, cohesive mixture.
Pour into 2 ramekins, and chill until you want to eat.
Notes
Adapted from [url href="http://www.nigella.com/" target="_blank"]Nigella[/url]
Tomorrow: National Cordon Bleu Day
23 Responses to "National Chocolate Mousse Day | Eggless Chocolate Mousse"

Leave a Comment