Bananas "Fall"ster Milkshake
It's fall!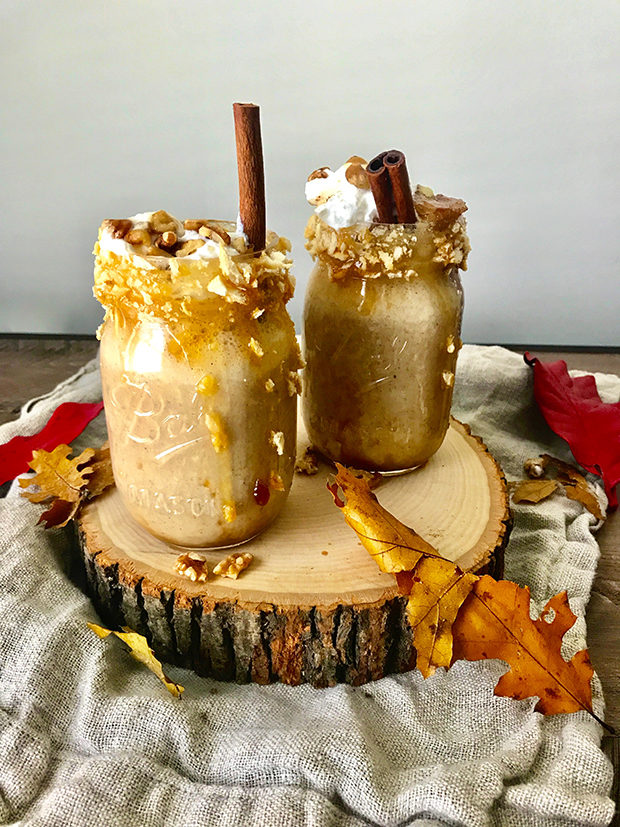 One thing that's truly great about living in North Carolina is the fall weather, that fall weather that you simply don't get in the same quantity or quality in Florida. It's been in the 60's here for the majority of the day, sometimes rising into the 70's, but mostly always with clear skies and a cool breeze. I find that I want to spend so much more time outdoors!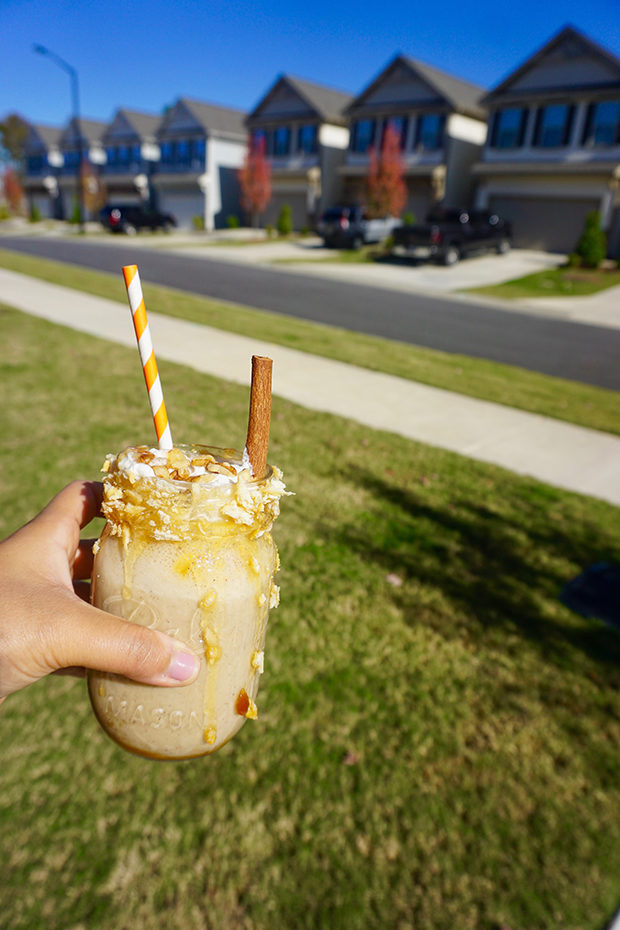 But, I really believe that no matter the weather – it could be way too hot or snowing – everyone loves milkshakes. I mean, maybe you don't want to drink them outside in 40* weather, but if you're nice and cozy with your wool socks on in the comfort of your living room, why not, right?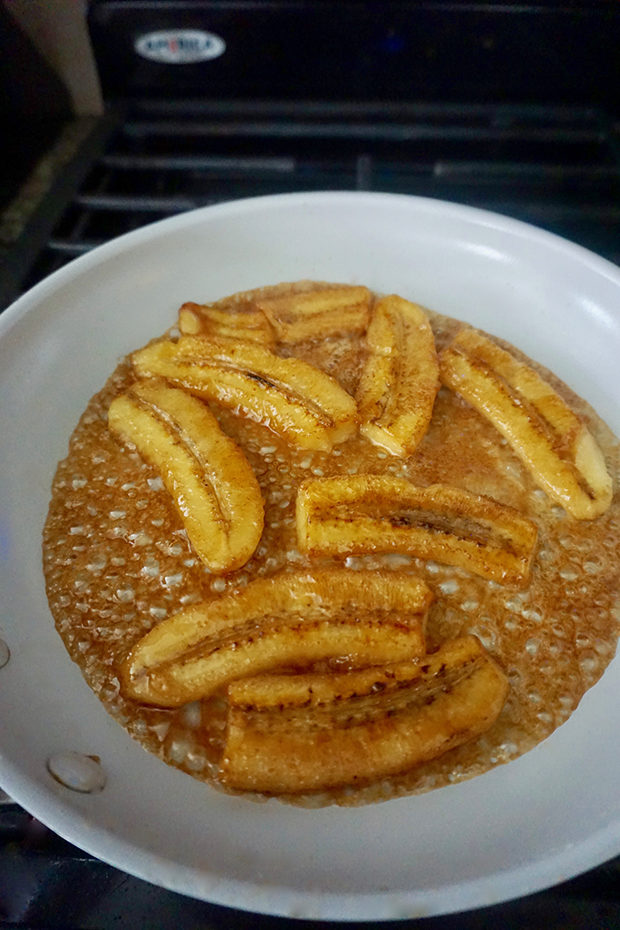 This fall has me feeling the love toward pumpkin pies and apple cider and this milkshake. My pregnancy cravings are all about the sweets (I'm having a girl for those wondering.)
I don't love raw banana, but I'm a true fan of banana pie, banana pudding, banana chips, and banana milkshakes. One of my favorite desserts is a Bananas Foster, one of the reasons being that you all get that rum in there and flambé it and that's a spectacle because who doesn't like a display of fire. And it's delicious. Those caramelized bananas that are both crispy and a little soft, the brown sugar, the sweetness, it's all part of the wonders of a Bananas Foster.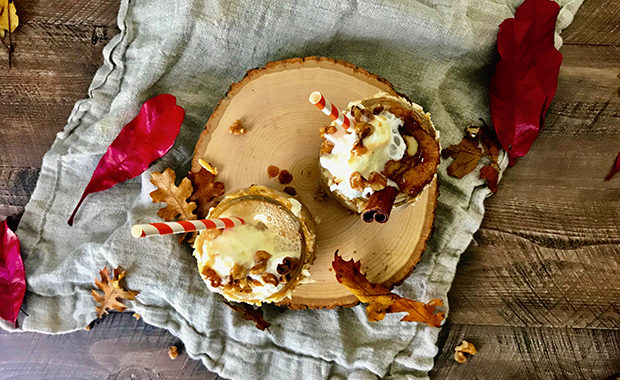 Today's milkshake is inspired by this dessert. We have a base of banana milkshake mixed with fall flavors like nutmeg and cinnamon and then, because milkshakes should be pretty too, we have a caramel-rimmed glass with RITZ crackers (yes, it's true because that salty component makes all the difference) and then everything is topped with whipped cream and those flambéd bananas plus a cinnamon stick to basically make this a Bananas "Fall"ster Milkshake – see what I did there?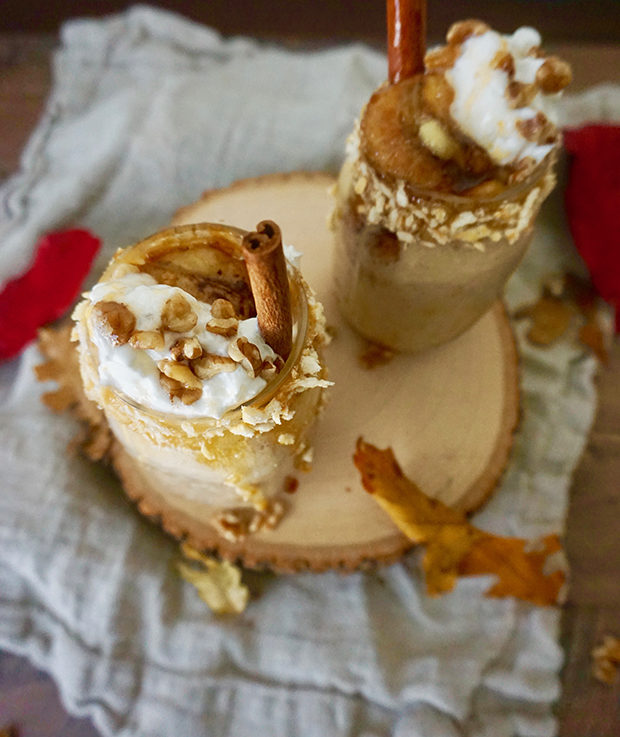 I actually ended up cutting down on some of the sugar that I would normally use because I used Fructevia, a blend of sweeteners from Steviva. It's low calorie and low carb and because it's sweeter than sugar, you only need half the amount as you'd normally use! It's perfect for when you still want the browning and caramelizing elements there in your baking or cooking or, you know, flambeing! I was so impressed with this product so be sure to read more about them and follow them on their social media handles as well: Facebook, Twitter, Instagram, Pinterest, Google+.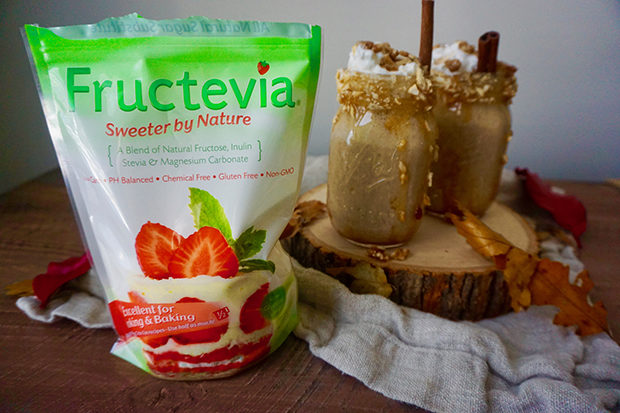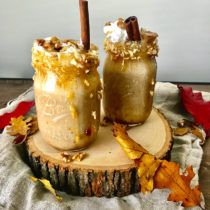 Bananas "Fall"ster Milkshake
Bananas "Fall"ster Milkshake is a banana milkshake with nutmeg and cinnamon in a caramel-rimmed glass with RITZ crackers, whipped cream and flambéd bananas!
Ingredients:
Banana Milkshake
3 bananas (1 of which can be frozen for the best texture, although this is optional)
4 large scoops vanilla ice cream
1 cup sweetened almond milk
1 tablespoon Fructevia by Steviva
1/2 teaspoon ground cinnamon
1/2 teaspoon ground nutmeg
Flambéd Bananas
2 bananas, cut in half lengthwise and crosswise
1 tablespoon unsalted butter
1 teaspoon brown sugar
1 teaspoon Fructevia
1/2 teaspoon vanilla
Splash of rum
Sprinkle of cinnamon
Topping
Caramel sauce
RITZ crackers, crushed or ground
1 cinnamon stick
Whipped cream
Walnuts, chopped
Directions:
Banana Milkshake
Combine all ingredients in a blender and blend over medium until you achieve a milkshake consistency.
Store in fridge until ready to assemble.
Flambéd Bananas
In a small pan over medium heat, melt butter. Add both sugars, vanilla and rum. Once sugars are dissolved, add banana pieces and cook on each side for about 2 minutes, or until bananas are caramelized and slightly crispy. Remove from heat, sprinkle with cinnamon, and stick into prepared milkshake glasses.
Topping
Pour caramel sauce along inside of glass, as well as along outside rim. Press ground or crushed crackers onto caramel sauce that's on the outside rim of the glass. Pour milkshake into the glass, add flambéd bananas, a cinnamon stick, whipped cream and chopped walnuts.
Serve immediately and ENJOY!
Leave a Comment