Spaghetti Squash "Pasta" a la Vodka with Al Fresco Chicken Sausage and Columbia Crest Wine (Giveaway)
*Scroll down for the giveaway!*
In an attempt to eat healthier, I've been trying to substitute spaghetti squash for regular ol' pasta. Small changes like this will ultimately make a difference in my diet and overall health. You want to know what else will? Chicken sausage. Many many years ago, I would've balked at the use of chicken sausage (I know, what was wrong with me?), but now I love the stuff, especially the all natural al fresco brand, which just happens to be America's #1 chicken sausage brand. Many months ago, at the advice from a friend (Krystal from Krystal's Kitsch), I purchased a bunch of different flavors of cooked chicken sausage to enjoy. I tried Apple Maple, Roasted Pepper & Asiago, Sweet Apple, Chipotle Chorizo, and Sundried Tomato. I told you, I love the stuff.
al fresco and Columbia Crest Grand Estates wines are partnering together and, lucky for me, I now have the opportunity to receive some product from both brands and bring a giveaway to you all for some pretty sweet items. But, first, I'll show you a fantastic dish that requires minimal effort on your part to make. The most time anything takes is the spaghetti squash to roast, but the 40 minute wait is totally worth every second. Spaghetti squash is one of the loveliest things in the world to enjoy.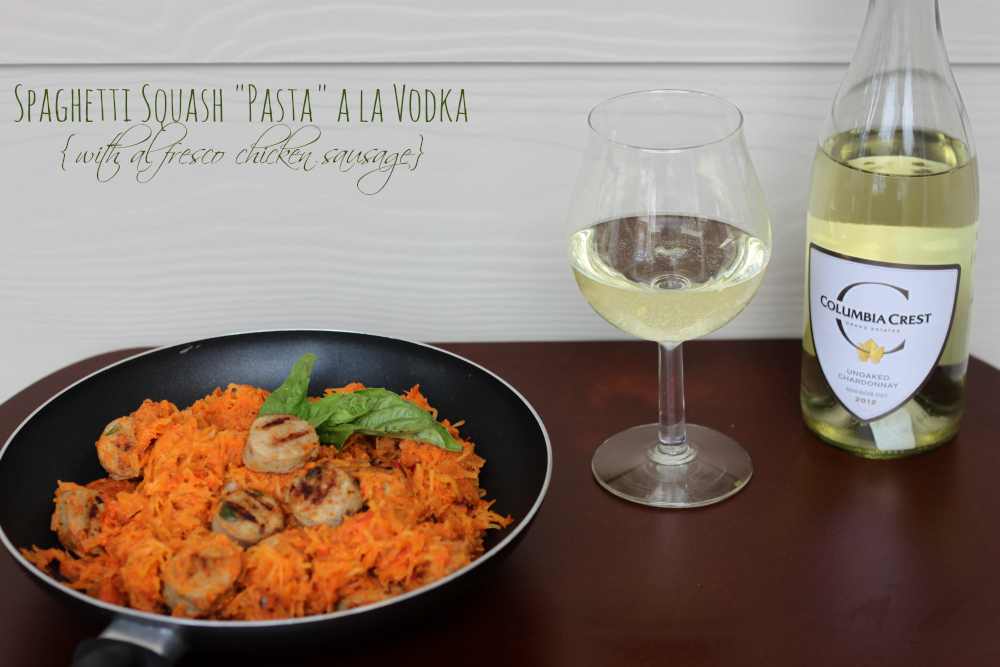 Doesn't this look lovely? Due to my intense appreciation for al fresco, I wanted to simply grill the chicken sausage and top on the spaghetti squash "pasta". This time, it was the Sweet Italian flavor with red and green peppers. Quite possibly my favorite chicken sausage flavor to date, it was a perfect pairing with a spaghetti squash a la vodka.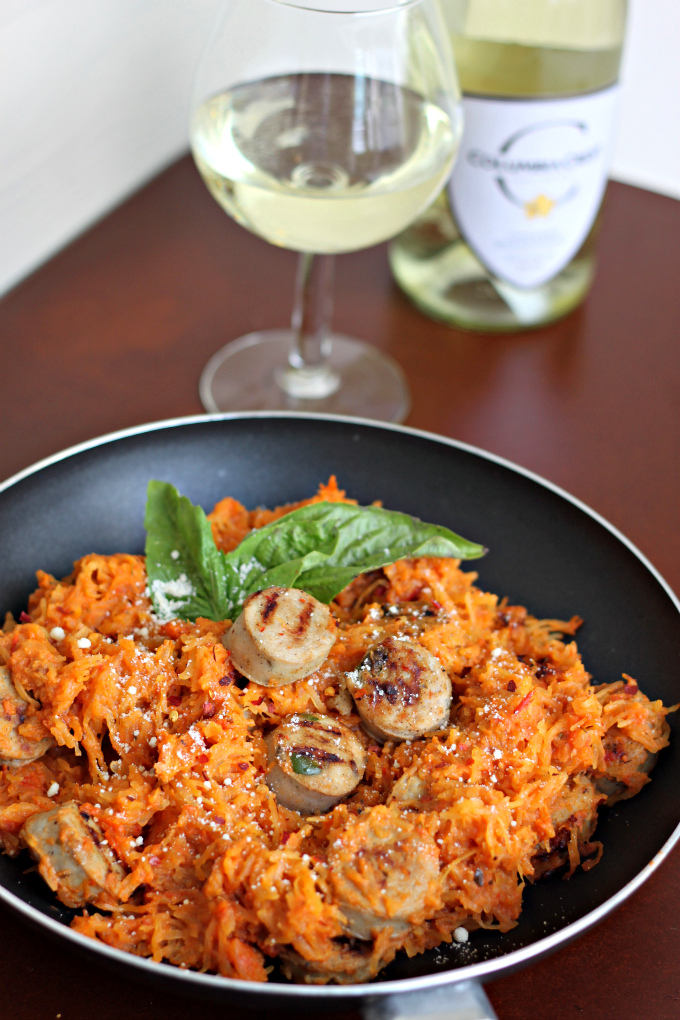 And let's not forget about Columbia Crest wines. I never claimed to be a wine pairing expert, and admittedly I didn't know if the Unoaked Chardonnay or the Cabernet Sauvignon would pair better with this dish, but I came to the conclusion that either would work and opted for the Chardonnay. Although, I did open the Cabernet Sauvignon bottle a couple of days later and paired it with another recipe – this time with al fresco's meatballs! (Recipe coming soon.)
This dish is perfect for lunch and dinner, and really, I'd be lying if I said I didn't warm up leftovers for breakfast on a lazy Saturday morning. 🙂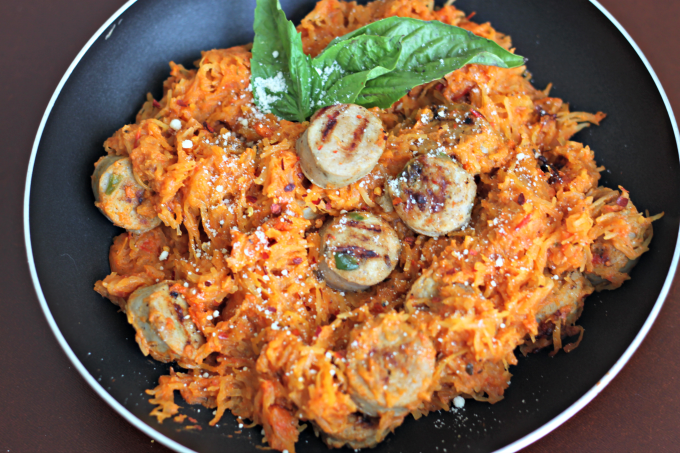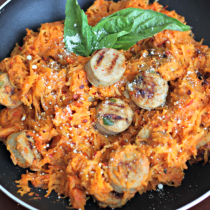 Spaghetti Squash "Pasta" a la Vodka with Al Fresco Chicken Sausage and Columbia Crest Wine
Ingredients:
1 spaghetti squash
Your favorite jar of vodka sauce, or make this one (my quick go-to)
1 package of al fresco chicken sausage in Sweet Italian flavor
Salt and pepper
1/2 cup freshly grated Pecorino Romano cheese
2 Tbsp red pepper flakes
4 Tbsp dried Italian seasoning
Directions:
Follow The Kitchn's instructions for roasting spaghetti squash.
When the spaghetti squash is in the process of cooling slightly so you can handle it, cut the chicken sausage and grill over medium heat. Set aside.
Scoop spaghetti out of the squash, place in the still-hot grill pan and spread out so a lot of the spaghetti squash hits the pan. Pour vodka sauce on top, and also top with salt and pepper, Pecorino Romano cheese, red pepper flakes, and Italian seasoning. Start to stir everything together, allowing different areas of the spaghetti to get slightly grilled in the pan.
Add the chicken sausage back into the grill pan to allow to heat up again.
When you've reached desired grill texture of the spaghetti squash, remove from heat, top with additional cheese and spices to your liking. Serve with Columbia Crest Unoaked Chardonnay.
Now for the giveaway! First, the al fresco-Columbia Crest promotion pairing is doing a giveaway of their own. Head on over to the al fresco Facebook page, 'like' the page, and be entered to win an ALL-EXPENSE PAID trip to the Columbia Crest Winery in Washington State! How awesome is that? You get me over to the winery and I may never come back, I loved Washington so much when I was there. Go enter there now and then come back here for my giveaway!
al fresco and Columbia Crest have supplied me with the following goodies to give away to readers: a grand prize of al fresco coupons for (2) free products, al fresco trivet, spatula, grilling brush, and Columbia Crest wine opener and bottle stopper. A runner up will win (5) coupons for free al fresco products. Who doesn't want free chicken sausage, is what I say! Enter using the Rafflecopter widget below and please reach out to me if you have any issues. I'll select a winner on Sunday, July 20th. Good luck!
7 Responses to "Spaghetti Squash "Pasta" a la Vodka with Al Fresco Chicken Sausage and Columbia Crest Wine (Giveaway)"

Leave a Comment