National Vichyssoise Day | Potato & Leek Soup
I love me some snark. My favorite writers and bloggers are the ones who are super articulate, but also the kind of snarky that makes me LOL. That's exactly why I added Anthony Bourdain's Kitchen Confidential to my to-read list and then purchased it to enjoy during the long drive to Megan's wedding in New Orleans. Well, some of the book was interesting, but in general, I was bored and thought the book was poorly structured.
I have more confidence in Anthony's cooking, however. I'll admit that I had zero idea what a vichyssoise was, but a quick Google search came back with a first page riddled with a Les Halles recipe for Potato & Leek soup. Well, why didn't they just say so! In case you don't know, Les Halles is Anthony Bourdain's restaurant and vichyssoise is a pretty popular dish on the menu. Plus, it's so simple, I didn't know how else to change it up to truly make it my own.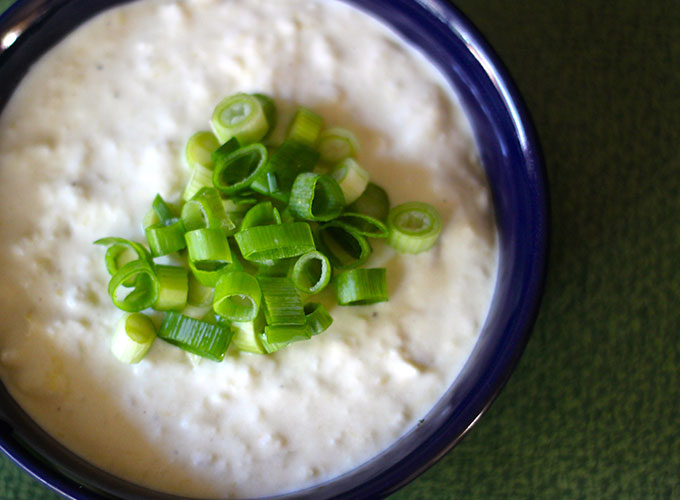 Have you ever smelled leeks sautéing in some butter? It's heavenly. When I started the process, I heard angels singing, I swear. They were singing, with a very coaxing voice, to stick my hand into the pot and steal all leeks for my own consumption. And I would've done it if I hadn't realized the greater good of this soup.
The original recipe instructs to slowly add, and in small batches, the soup and blend it up. Instead, I used my immersion blender (for the first time!! It was awesome) and left it with a little more texture than just straight pureed. It's better that way, I'm sure.
Also, the recipe says to serve it cold, but I prefer warmed up so that's exactly what I did. Hmpf. Enjoy!
Happy National Vichyssoise Day!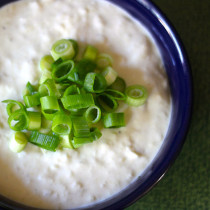 Potato & Leek Soup
Ingredients:
4 Tbsp butter
8 leeks, white part only, cleaned and thinly sliced
2 medium Yukon Gold potatoes, cut into small cubes
2 cups chicken stock
2 cups heavy cream
Pinch of ground nutmeg
Salt and pepper, to taste
Scallions, to garnish
Directions:
Melt butter over medium-low heat in a large pot. Add the leeks and sweat for 5 minutes, making sure they do not take on any color. Add potatoes and cook for a minute or two, stirring a few times.
Stir in the chicken broth and bring to a boil. Make sure the potatoes are covered with the chicken stock. Reduce heat to a simmer. Cook on low heat, gently simmering for 35 minutes, or until the leeks and potatoes are very soft. Allow to cool for a few minutes.
Very carefully use an immersion blender to puree the soup, allowing some texture to remain.
Whisk in cream and nutmeg. Season with salt and pepper. Return to a boil, reduce to simmer and cook 5 minutes. If you want to thin soup out, add more broth, if needed.
Remove from heat. When soup is at room temperature, cover in plastic wrap and put in tthe refrigerator to cool.
Check seasoning and garnish with scallions before serving.
Adapted from Anthony Bourdain's Les Halles recipe
One Response to "National Vichyssoise Day | Potato & Leek Soup"

Leave a Comment