The Blind Tiger Cafe: Cafe, Tea, & Textiles in Ybor City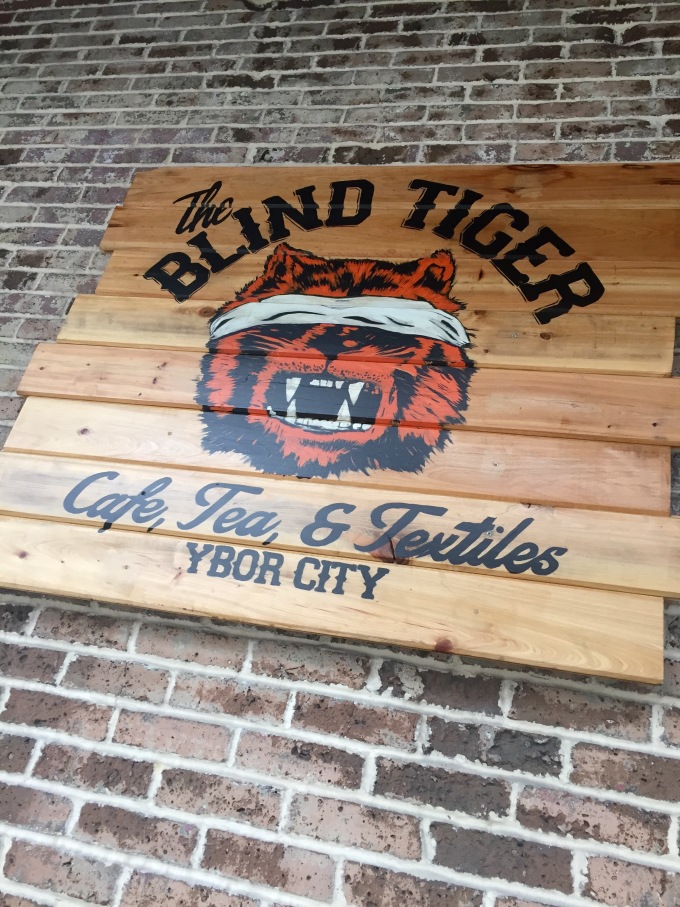 It's one of about 10 cold days in Florida and I spent yesterday in Ybor with some coworkers for a creative day out of the office. Cold wind whips with each turn of a corner or walk across a side street as we go to lunch at Columbia and finish our work day at The Bunker, and while usually a cold wintry day for this Florida girl, who decided leggings would successfully battle 40 degree weather, would make me embittered, I was peppy and excited instead. Because when you experience a new favorite spot, and you realize it's a new favorite just by the feeling you get when you walk in the front door, you know it's going to be a good day.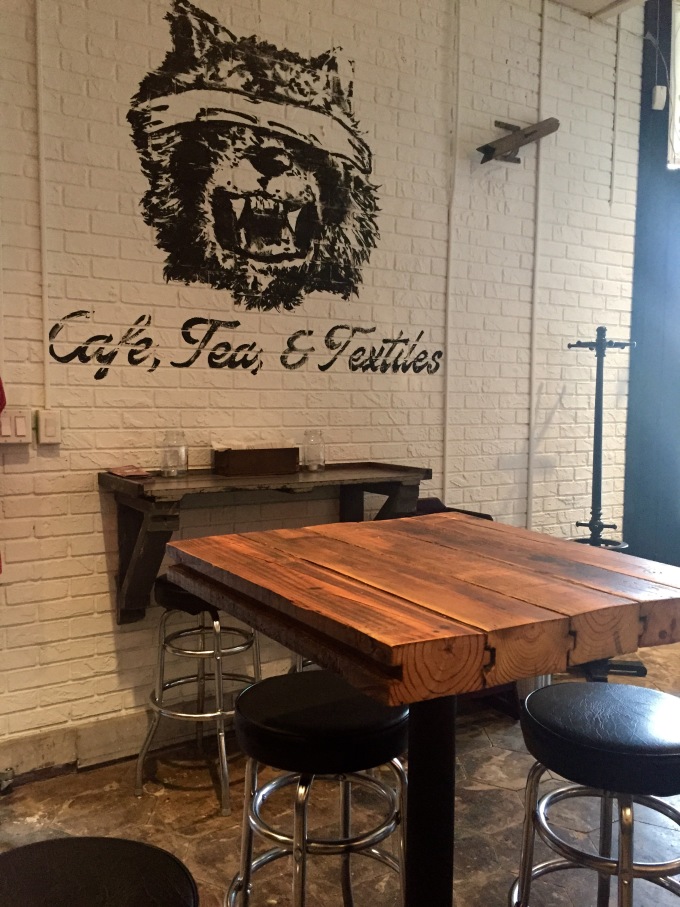 I'm lucky in that my job allows us to work outside of the office, as a break from the usual grind and also to hone our creativity. After all, you can't confine marketing professionals! To be out and about is our best kind of medicine. One of my coworkers discovered The Blind Tiger Cafe in Ybor, sent me an invite to like their Facebook page, and when our creative day came around, we knew a trip to the newest (and dare I say best?) cafe in Ybor was needed.
On the corner of 7th Avenue and 19th Street, The Blind Tiger stands out. Yes, it's on 7th, where many a bar, tattoo shop, and restaurant reside, but Blind Tiger with it's grrrrreat (sorry, I had to, hehehe) logo – no, really, I want many a coffee mug with this logo – draws an eye. I've been the unfortunate one, driving up and down 7th Avenue, trying to spot the business that's my ultimate destination so I can determine where best to park, and the little thing of being able to immediately spot Blind Tiger is not such a little thing after all. It's something I can truly appreciate.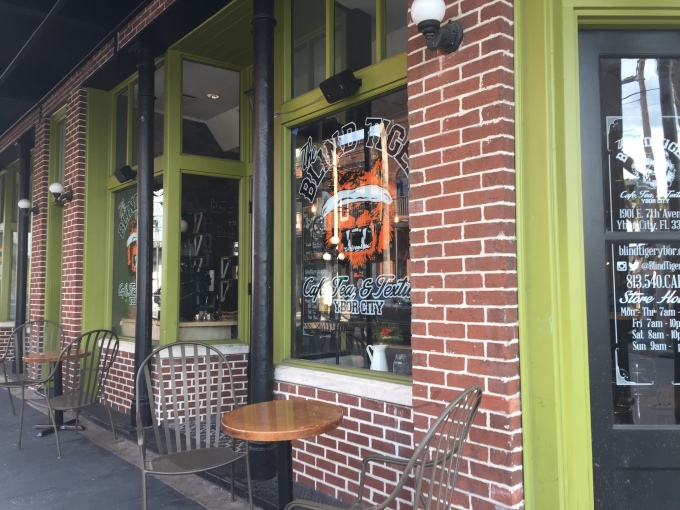 My day started at 8am at Blind Tiger, where I walked in to find one of my coworkers planted in a big comfortable chair, and a girl, writing on a chalkboard sign to be taken outside in front of the cafe. I learned that the girl is the manager, Veronica, and she was having to redo the sign because of the torrential downpour we had here just the night before (Florida weather is cray cray, you all). Although Veronica was on a mission to finish this sign, she was very welcoming and friendly, and I immediately felt right as home as I lounged on the couch, and took out my laptop to settle in. Honestly, I did everything but put my feet up on the massive trunk that doubled as a center table for what would eventually hold our coffee and tea flight.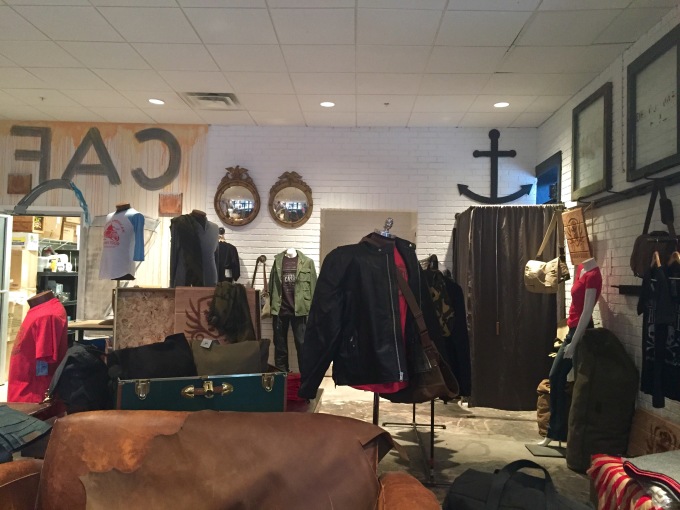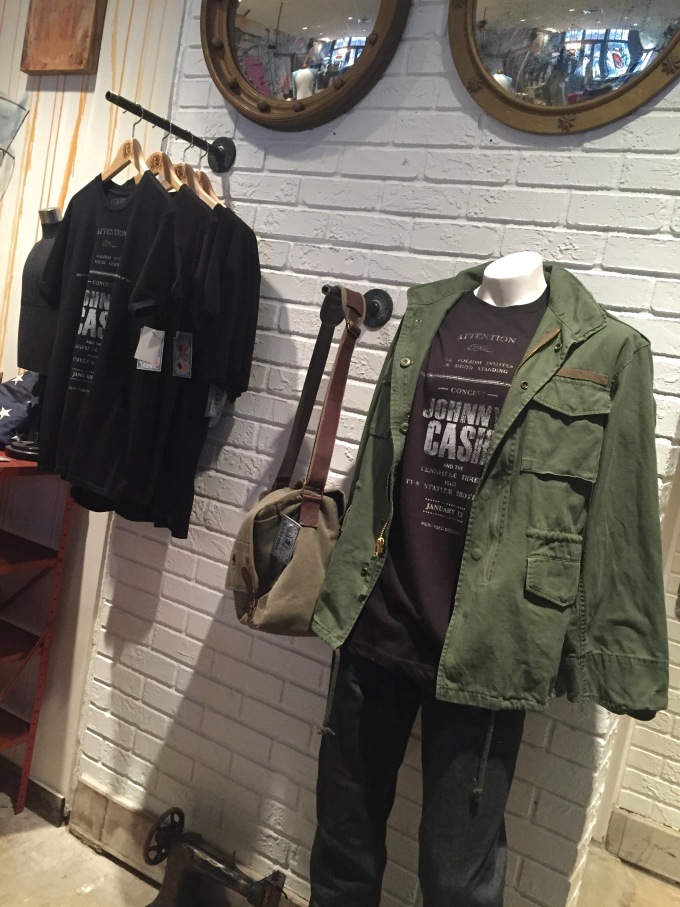 The Blind Tiger Cafe is more than just a coffee and tea shop, however. Half the location is for shopping! Not just any clothing either. Blind Tiger houses Black & Denim Apparel, a company started by Roberto Torres (who is also the founder of the cafe part of Blind Tiger Cafe, which makes me wonder if this man is a genius), and leather goods by Fortenberry, both of which are locally designed, manufactured, and distributed. There are cool tees, jackets, bags, and more, as a quick walk around the store had me ticking off all of the items I wanted to buy for my husband. Black & Denim is inspired by Americana, Music, and the Urban lifestyle.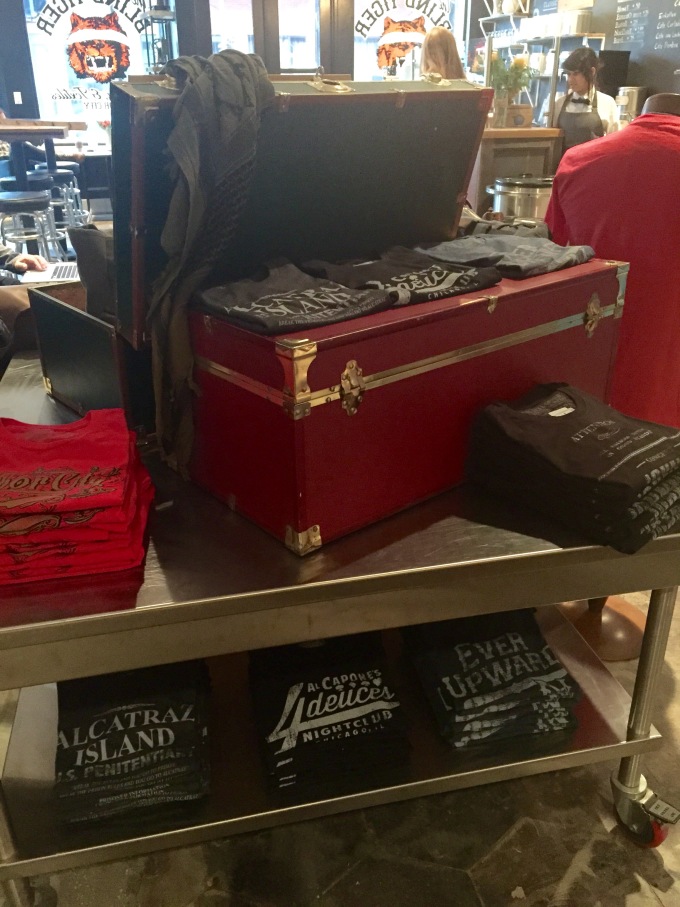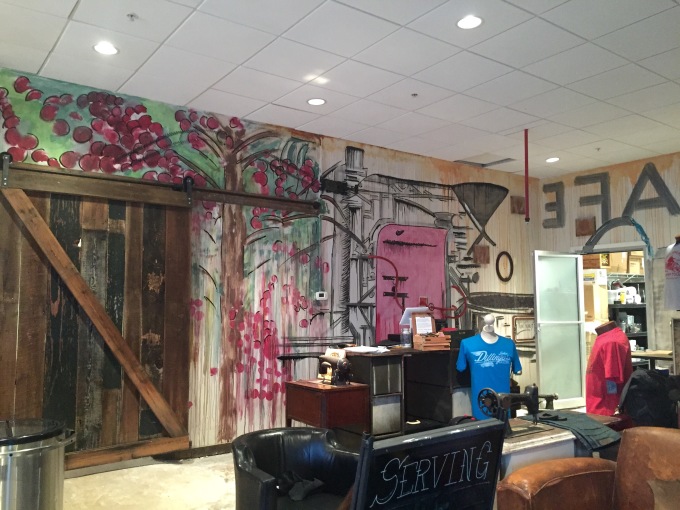 Even the painting on some of the walls, alongside a perfect barn door, is great for the space. Everything comes together so nicely, with a equal mix of industrial and old school Ybor flavor. There's old sewing machines distributed around the room, trunks, and brick covering other walls.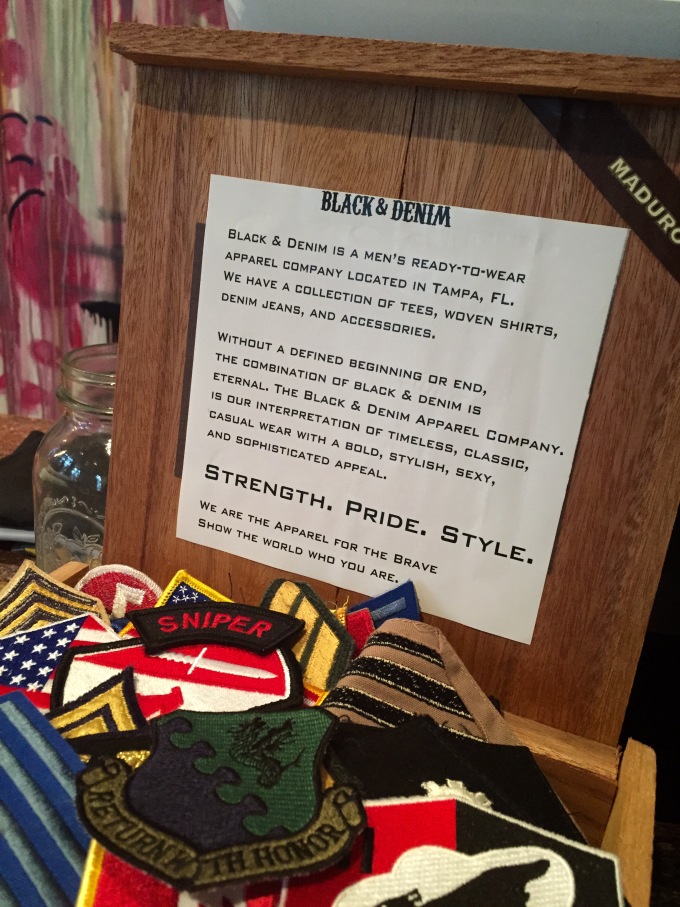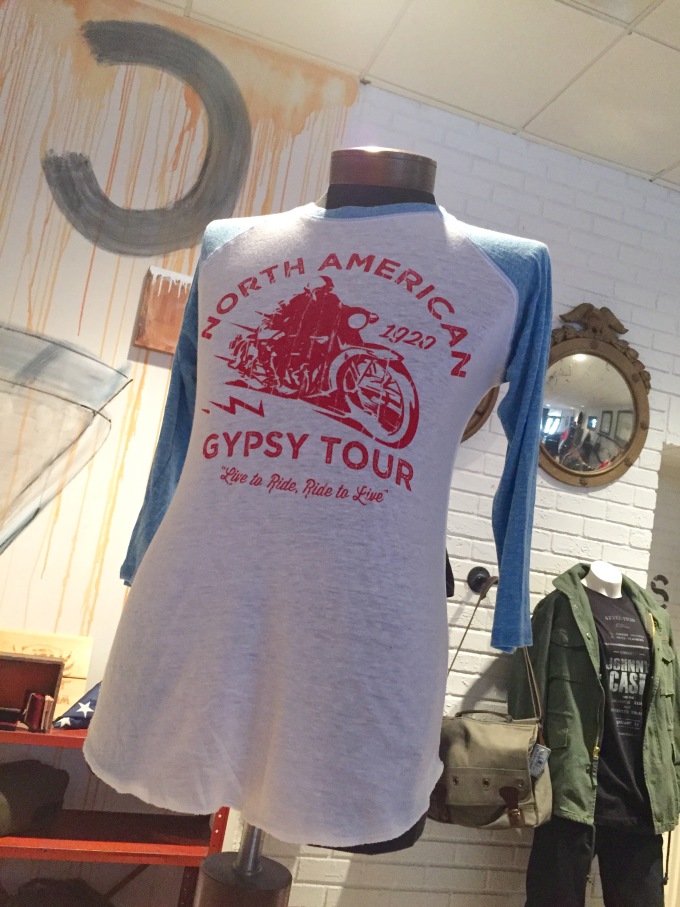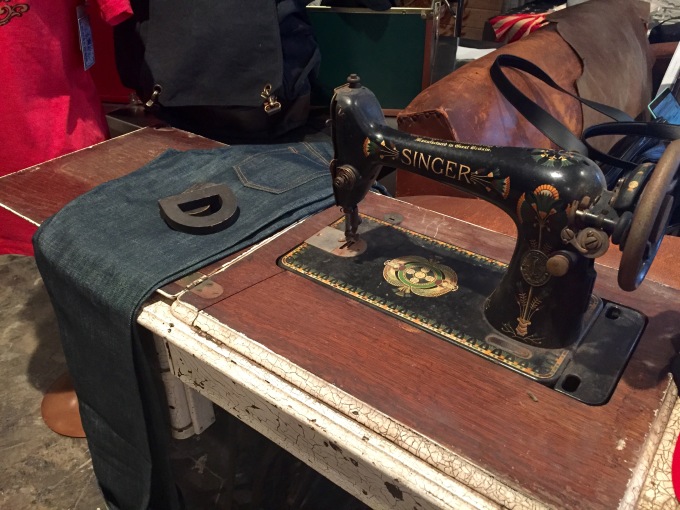 Let's be honest, okay? This set up makes me want to learn to sew. Look at that old timer! Even something so small as the chipped painting on the sewing table contributes to the feel of Blind Tiger. I notice it all and the tiger is making me love it. Grrr, baby, grrrr!
It was a very productive morning, even when it was time to enjoy our coffee and tea flights. Blind Tiger is all about supporting local businesses, proudly serving Buddy Brew coffee, TeBella tea, Piquant pastries (a Tampa favorite!), and vegan and vegetarian-friendly Jamaican patties from Jerk Hut.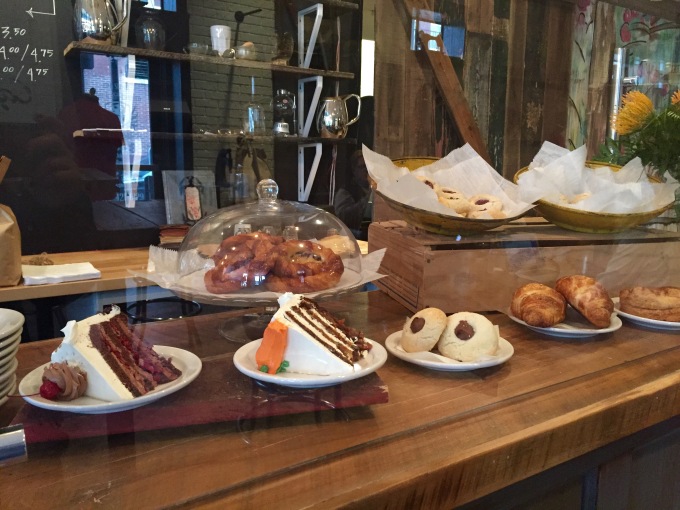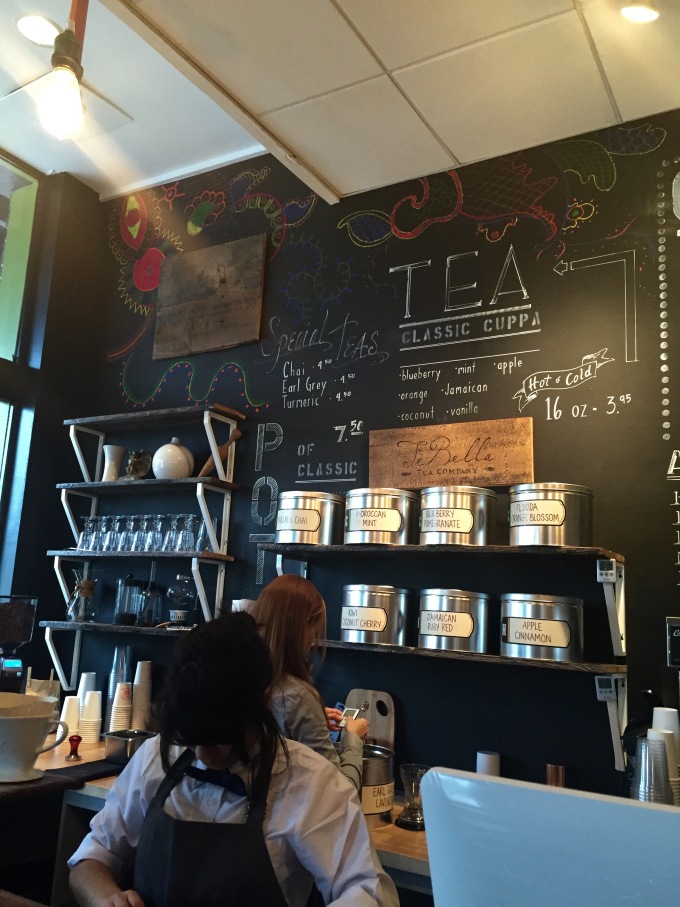 Although we were settled in nicely in our little area of Blind Tiger, we were craving something hot to warm up with. Veronica happily brought over Earl Grey Lavender, Florida Orange, and Apple Cinnamon teas, all with leather coasters, another detail that didn't go unnoticed. The Earl Grey Lavender is a black tea that has a higher caffeine level than most, and was a great start to our tasting treat. The Florida Orange, a green tea, had hints of citrus and lemongrass, an oddly comforting combination that was also supremely refreshing. The Apple Cinnamon, an herbal tea, is caffeine-free and made with apples, nuts, beets, and spices, all of which can be eaten even after steeping! I'm telling you, Veronica is full of knowledge that we ate up like a sponge. You know, if sponges could eat. The Apple Cinnamon tea basically made me weak in the knees, like drinking an apple pie, but an apple pie that's less sweet than what I'm used to, which is actually kind of perfect.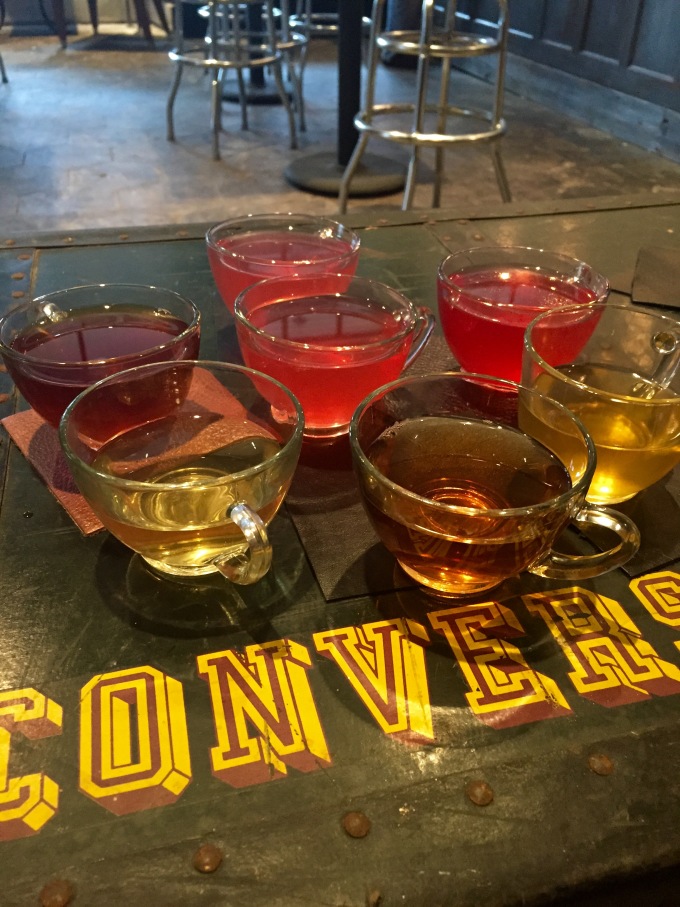 Then, it was time for the coffees, something that manager Veronica is obviously very passionate about, even gracing us with one of her own creations. We had the Guatemala and Columbia coffees made using the hand pour method, a method I had not even heard of until uttered by Veronica and witnessed by yours truly as I sat on the couch (still itching to kick up my feet, by the way).
We also enjoyed the Cafe Cortadito, a one-spot espresso drink that's usually a double shot when not part of a flight, and that has a 1:1 ratio of espresso to milk. With milk cutting through the espresso, it maintains a nice even temperature. After the Cortadito, we were treated to the creme de la creme…literally.
Am I supposed to disclose Veronica's homemade caramel? I'm not totally sure. Alls I know is that Veronica, knowing that caramel coffee can sometimes be snubbed by true, hardcore, self-proclaimed coffee snobs, wanted to prove something to herself and her customers. She cooks the caramel until it almost burns (and something tells me she hardly ever, if ever, accidentally goes just a second longer) and then does her magic and comes up with something that is not the same every single time, is not an exact science, and yet is the most enjoyable thing I had all day. Among many an enjoyable thing, that's a bigger feat than one realizes. She presented us these shots of caramel and I felt equal parts co-conspirator and royalty.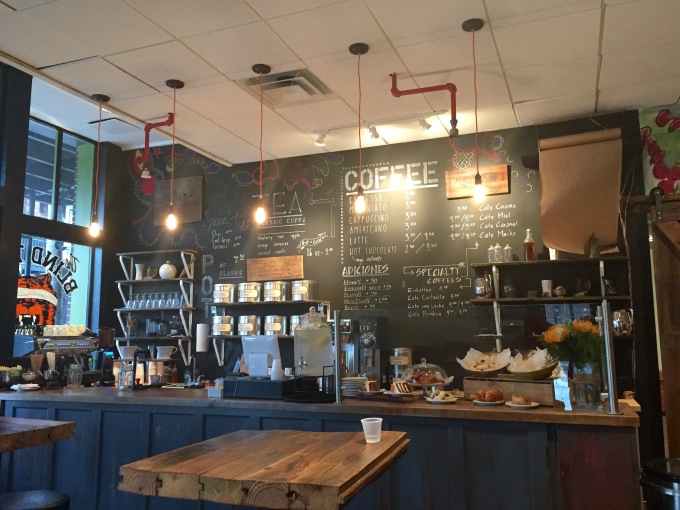 At the end of the day, I'm so happy to call Blind Tiger an Ybor home of mine, for it's pretty much a must-stop now when I'm in the area. I love the atmosphere, I certainly love the drinks, but I mostly love that The Blind Tiger supports our community and inspires new businesses and future professionals in Tampa Bay.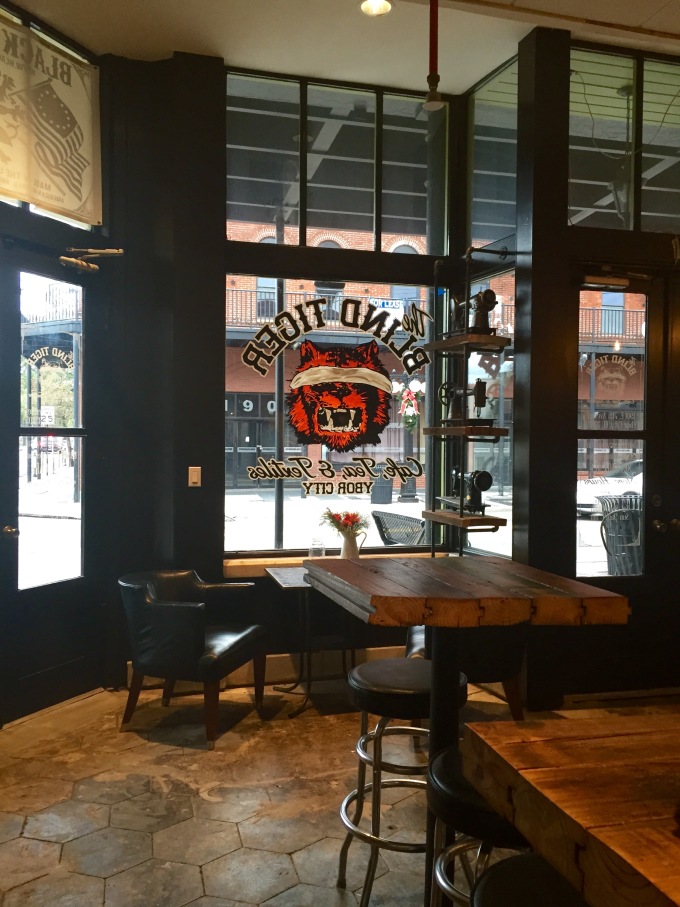 Just take some time, snag a table, and relax. Oh, and enjoy, just like I did.
One Response to "The Blind Tiger Cafe: Cafe, Tea, & Textiles in Ybor City"

Leave a Comment