National Tortellini Day | Basil Pesto and Creamy Nutmeg Tortellini
A food holiday dedicated to pasta? I am totally on board for this. (As if I have a choice anyway since I'm in it to win it with this food holiday project.)
Pasta is 1,000% a staple in my house. It's by far the thing I make most often. It's simple, there are so many varieties, and it's delicious. You can't go wrong.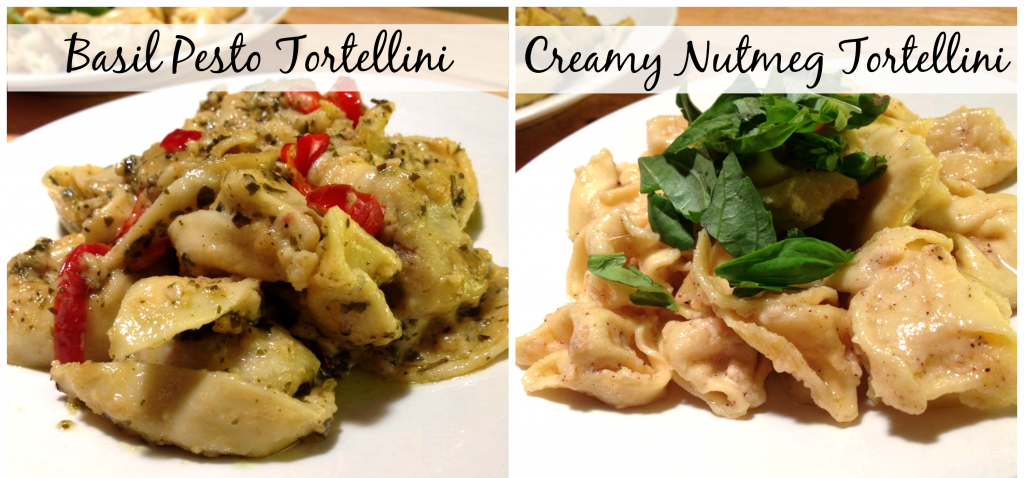 Today I have two tortellini dishes for you. Last night, my husband and I devoured them both in record time while watching American Idol. It was a perfect Wednesday evening full of gluttony and singing (because you know we sing along to the TV).
The first is a Basil Pesto Tortellini.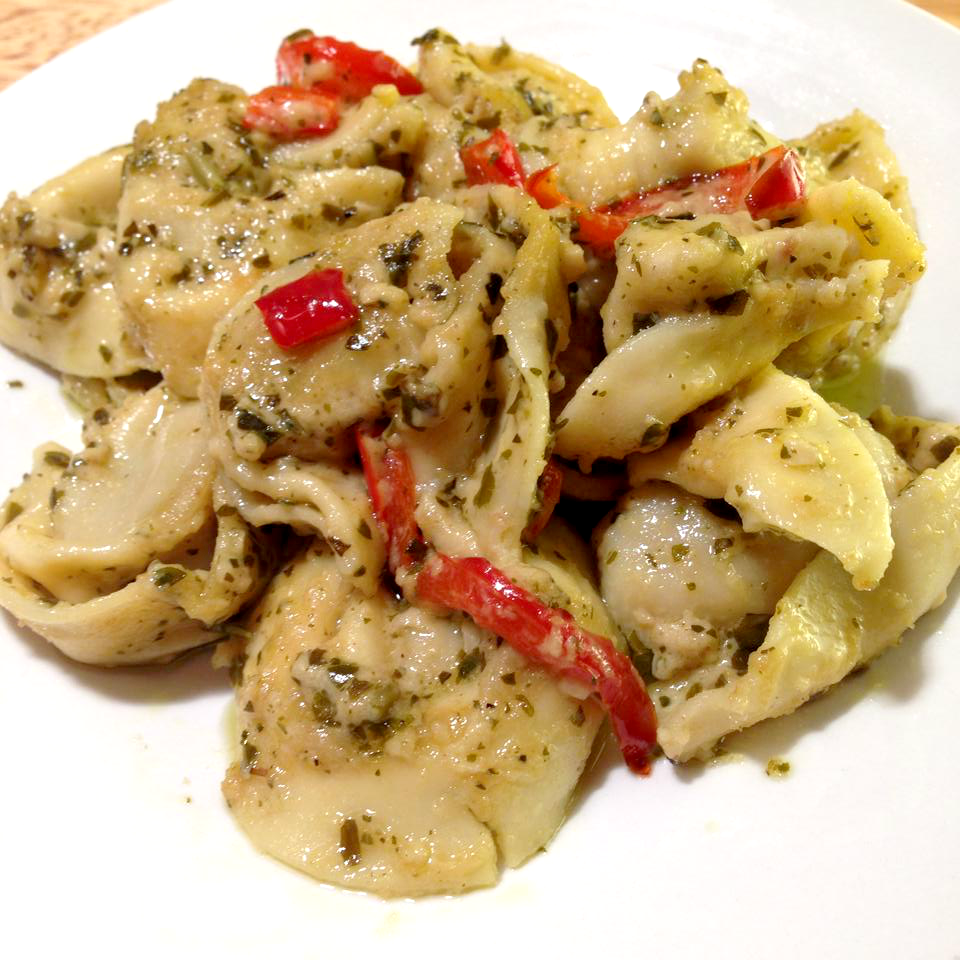 This recipe came courtesy of my mom's friend, Joan. I truly do pick inspiration and ask for advice from everywhere. I love for others to be involved in this journey of mine. Actually, if you have any ideas for any food holiday, I'd love to hear it!
According to my mom, Joan makes the best chicken enchiladas in the world, and it was with this fact that I was introduced to her. From there, we chatted about red vs. green sauce, soups, cooking vs. baking, and goat stew. When I was out of creative juice and wanted someone else to call the shots on one of the National Tortellini Day variations, I asked Joan…and she delivered.
The next is a Creamy Nutmeg Tortellini.
This one was great too, if I may say so myself. It's simple, yet packed with flavor. It's creamy, yet not heavy. The addition of lemon adds a brightness to the pasta that I really appreciate. It's warm, it's bright, it's yummy. What more can you possibly want?
For future reference, and because you can't have too many pasta recipes, how do you make your sauce?
National Tortellini Day | Basil Pesto and Creamy Nutmeg Tortellini
Recipe Type: Pasta
Author:
Ingredients
[b]Basil Pesto Tortellini[/b]
1/2 pound tortellini (I used refrigerated Chicken and Proscuitto)
1/2 red bell pepper, sliced
1/4 cup pine nuts
1 garlic clove
1/2 tsp black pepper
2/3 cup olive oil + 1/2 tbsp (for bell peppers)
2 cups packed fresh basil leaves
1/2 cup heavy cream
1/2 cup grated Parmesan, Romano, or Pecorino Cheese
[b]Creamy Nutmeg Tortellini[/b]
1/2 pound tortellini (I used Three Cheese)
1/3 cup butter
1/3 cup heavy cream
2 tsp ground nutmeg
1/2 tsp lemon zest
Juice from 1 lemon
Salt and pepper, to taste
Grated Parmesan, to serve
Basil leaves, for garnish
Instructions
[b]Basil Pesto Tortellini[/b]
Cook the pasta according to package directions. Drain.
Toast the pine nuts on a cookie sheet in a 400* oven for 5-10 minutes, stirring occasionally.
Heat 1/2 tbsp olive oil in a skillet over medium and saute red bell peppers for about 5 minutes.
Using a food processor or blender, pulse the pine nuts, garlic, black pepper, and basil until finely chopped. Gradually add in olive oil while running the blender to form a smooth and thick consistency.
Transfer to the skillet and add heavy cream, stirring occasionally until thickened slightly.
Transfer mixture to a bowl and stir in the cheese, red bell peppers, and tortellini. Season with salt and more pepper to taste.
[b]Creamy Nutmeg Tortellini[/b]
Cook the tortellini according to package directions. Drain.
In a saucepan over medium heat, melt the butter into the cream, stirring often. Add nutmeg, lemon zest, lemon juice, and salt and pepper to taste.
Toss the pasta in the sauce, then remove from hear and serve with Parmesan and basil leaves.
Tomorrow: National Creme-Filled Chocolates Day
13 Responses to "National Tortellini Day | Basil Pesto and Creamy Nutmeg Tortellini"

Leave a Comment