National Sourdough Day | Chicken Sandwich with Homemade Honey Mustard
The food for today's food holiday appears on a paper plate. There isn't any kind of fancy props or fanfare behind what I've made. It's National Sourdough Day and when it comes to this bread, I just want a simple sandwich.
Plus, this was for dinner after a long day of cooking and really, I just wanted to spend minimal effort in making this meal. So there I went, stacking grilled chicken, tomato, lettuce, provolone cheese and topping it with homemade honey mustard sauce.
It's important to me to make my own honey mustard sauce because I have never found one at the grocery store that I like better. You'll find that in the recipe box below as well.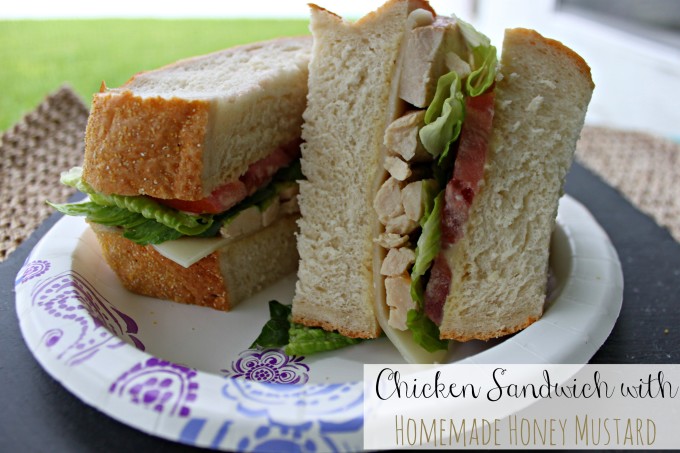 When you are making a sandwich, does the kind of bread make any difference to you? If I have wheat bread, I'll make a certain kind of sandwich, and when I have something else, it's different. It totally makes a difference, right?
Anyway, enjoy National Sourdough Day by just making a simple sandwich, such as this one, for dinner. Then spend the rest of the evening catching up on your favorite TV show.
By the way, I have Netflix again and I'm looking for great series to watch. All suggestions are welcome! Leave me a comment below! 
National Sourdough Day | Chicken Sandwich with Homemade Honey Mustard
Author:
Serves: 2 sandwiches
Ingredients
1 1/2 pound chicken, grilled and cut into strips
4 slices provolone cheese
2 leaves of romaine lettuce
4 slices of tomato
[b]Honey Mustard Sauce[/b]
1 tbsp mayonnaise
1 tbsp dijon mustard
1 tbsp honey
Instructions
Divide each ingredient in half and build two sandwiches. Adjust ratios in honey mustard according to personal taste.
Tomorrow: National PB & J Day
2 Responses to "National Sourdough Day | Chicken Sandwich with Homemade Honey Mustard"

Trackbacks/Pingbacks

Leave a Comment