National Roast Leg of Lamb Day | Lemon-Oregano Lamb Chops
Hey guys, hey guys, what day is it?
If you answered hump day, you're right, but I was looking for something a little different. It's the day that I am featured in the Tampa Bay Times (check out the article at the link)! This is very exciting stuff and it's difficult to even contain myself so I'm not a complete nut. About a month ago, Janet Keeler came to my mom's apartment where I was spending the day cooking a couple of items for this national food holiday project I'm in the middle of and the article just came out today. A big thanks to everyone for the support!
Now, today is also National Roast Leg of Lamb Day and, as I am now more confident I'm going to finish this project than I've ever been before, I'm very happy to be here writing this blog post.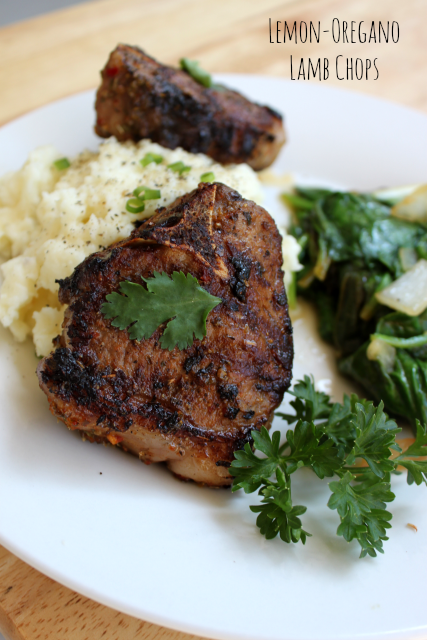 I've never made lamb before and this time around, I had some help from my husband, arguably the biggest supporter of this blog. I even lovingly call him the link police because he'll check my posts and especially my National Food Holiday archive to make sure all links are working and are up like they should be so nobody misses out on anything. He helps greatly with food, plate, and surroundings styling, and helps me cook as well. Without him I'm not so sure this project would have made it this far.
I found the lamb recipe (courtesy of Curtis Stone's cookbook, What's For Dinner?) and Mike took the time to visit the grocery store to purchase the lamb and then cook this lamb so it was all ready for me to photography and enjoy for dinner. He really is wonderful.
Lamb is a new meat for me. I don't really like the look of gyro meat, but roast leg of lamb is a completely different story. It was cooked beautifully and paired with homemade mashed potatoes, of which I was very happy with, and my husband's classic lemon spinach, a favorite and common side in our house.
The seasoning on the lamb is very simple, yet that's all it takes (along with some grilling/roasting finesse) for a knock your socks off meal. Enjoy the food holiday and have a great rest of the week!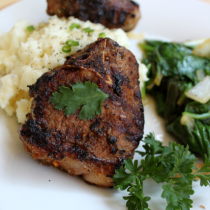 Lemon-Oregano Lamb Chops
Ingredients:
3 tbsp olive oil
Finely grated zest of 2 lemons
2 tbsp fresh lemon juice
2 tbsp coarsely chopped fresh oregano
1 tbsp finely chopped fresh rosemary
8 lamb loin chops (about 1 3/4 pounds total)
Salt and black pepper
Directions:
To marinate the lamb: In a medium bowl, whisk the olive oil, lemon zest, lemon juice, oregano, and rosemary together. Add the lamb and turn to coat with the marinade. Cover with plastic wrap and marinate at room temperature for at least 10 minutes or in the refrigerator for up to 10 hours.
About 30 minutes before grilling, remove the marinated lamb from the refrigerator (if it's been chilled) and let stand at room temperature.
Season the lamb with salt and pepper. Grill the lamb chops, turning them over halfway through cooking, for about 7 minutes for medium-rare, or until done to your liking.
Trackbacks/Pingbacks

Leave a Comment