National Pizza with Everything Day | Pan Pizza
I was at a food event last night at Bella's Italian Cafe in South Tampa and I'm sitting there eating a really tasty margherita pizza and talking about the food holiday challenge (among other things) with Megan, Kerry, and the guys from Never Have I Ever Tampa. The subject came up of what my next year will bring and I was taken aback for a moment. Because while I've thought about next year and the direction my blog will take, it's so hard to believe that 2015 is right around the corner. I will definitely be sharing a 'white paper' of sorts about my food holiday challenge, one of the takeaways being that you have to work out a lot more (which is easy when you never really worked out before) to not gain weight – oops, but for now, let's talk about what 2015 brings to this blog.
As indulgent as the food holidays have made me (as if I'm not already indulgent by nature, don't let me fool you), my husband and I really do believe in local and organic food, especially produce, and we strive to go that way when possible. The food holiday challenge hinders me both in time to source these foods and money to spend on these foods, but in the next year, all that will change. I'm talking: we'll be visiting local farms for foods, including meats, taking the same belief and approach to food we've had all along, but actually walking the talk this time.
While I am NOT pregnant – I repeat, NOT in the slightest bit pregnant (unless a perpetual food baby counts) – the fact is that we probably will be sometime within the next year and I'd be remiss to not start walking the talk as soon as possible, for everyone's health. That's not to say that many an indulgent meal won't be found here in 2015. After all, I do love me some pasta, rice, and all the gluten-y and carb-y foods I lay my eyes on, but you'll see more of a pronounced change toward more health. Starting with a much needed 2 week cleanse on January 1, hehe. Want details? Email me at Jennifer [at] thefoodiepatootie [dot com].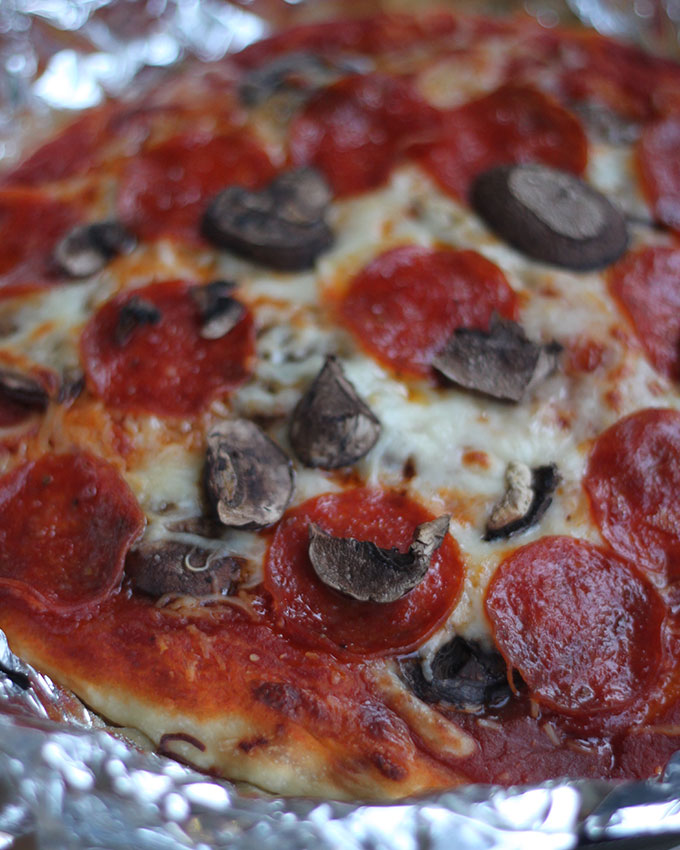 However, today is November 12 and also National Pizza with Everything (Except Anchovies) Day. What a day to spew about healthy foods. I'm cheating a little bit because I did not include everything on my pizza. First of all, olives ruin lives. They are totally gross, people. Also, you really can have too much on your pizza. My husband and I love pizza too much to overrun it with toppings and then not even enjoy it. I hereby name this day National Pizza with (Almost) Everything I Like Day.
The truth is, I'm simple in my pizza toppings desires. My favorite is just pepperoni and mushroom, which is exactly what this pizza entails, but really, the recipe I'm sharing is for the crust alone because I found a copycat Pizza Hut pan crust recipe that's pretty spot on.
Now, tell me: What are your favorite toppings?
Happy National Pizza with Everything Day!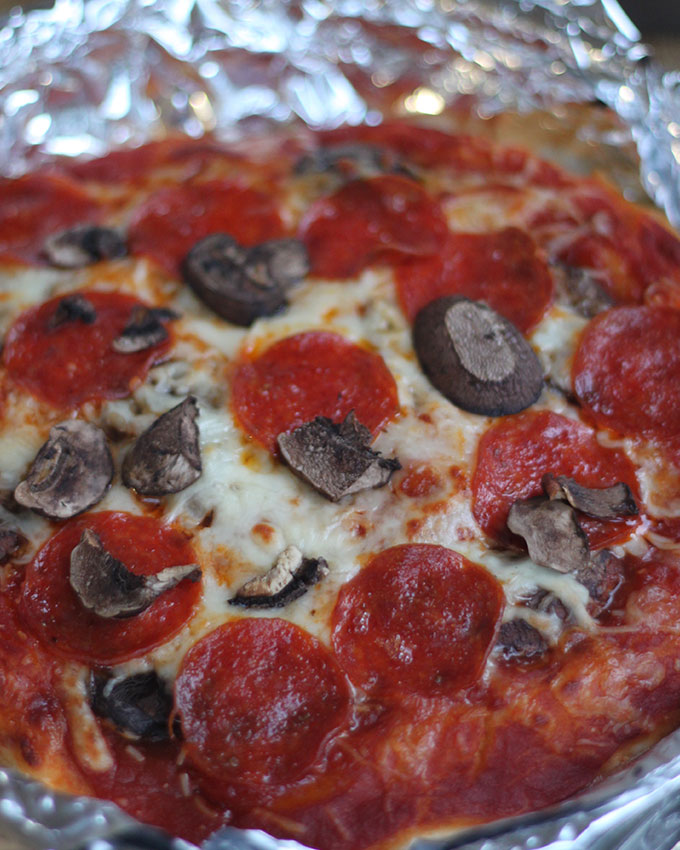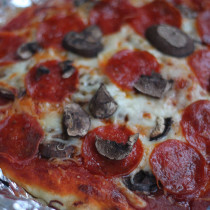 Pan Pizza
Ingredients:
2 1/2 cups bread flour (I used King Arthur Flour)
2 teaspoons kosher salt, plus more for sprinkling
1/2 teaspoon instant yeast
1 cup plus 3 Tbsp water
2 teaspoons extra-virgin olive oil, plus more to coat pans and drizzle
Pizza sauce, cheese, and toppings as desired
Directions:
In a large bowl, combine flour, salt, instant yeast, water and olive oil. Mix with your hands until all dry flour is incorporated. Cover bowl tightly with plastic wrap and allow to sit out on the countertop for 8-24 hours. Dough will significantly rise and fill the bowl.
After resting and rising time, sprinkle the top of the dough lightly with flour, then transfer it to a well-floured work surface. Divide the dough into two equal pieces and form each into a ball. Use floured hands here, too.
Pour 1-2 tablespoons of oil in the bottom of two cast iron skillets (you can also use two cake pans). Place one ball of dough in each pan and turn it all around to coat the outside evenly with oil.
Press the dough around the pan, flattening it slightly, until it's expanded around the entire bottom and edges of the pan. Cover tightly with plastic wrap and let the dough sit out for another two hours. After the first hour, slice an oven rack into the middle position and preheat oven to 550*F.
After two hours, press your fingertips around the pizza dough, popping any large bubbles that appear. Lift up one edge of the dough to let any air bubbles underneath escape and repeat, moving around the dough until there are no air bubbles left underneath and the dough is evenly spread around the pan.
Top each round of dough with sauce (about 3/4 cup for each works well), cheese, pinch of salt and other toppings as desired. Drizzle top with olive oil.
Transfer skillets (or cake pans) to oven and bake for 12-15 minutes, or until the top is golden brown and bubbly and the bottom is golden and crisp.
One Response to "National Pizza with Everything Day | Pan Pizza"

Leave a Comment