National Pickle Day | Fried Cheesy Pickles
If you're new around these parts (if you're a tried and true reader, you may know what I'm about to say), I want to make a confession that'll probably make you squirm a little bit. It involves me, at daycare, with a thermos.
This was a typical day in the life of young Jennifer: go to daycare in the Town 'N Country area of Tampa, spend most of my time galloping around in the mulch of the playground as if I were on a young horse named River, play house with my friends (and an imaginary friend that I pretended to have), watch movies when it was raining (my favorite movie-watching memory at daycare was when E.T. was on and my brother, being scared, ran from the room crying and screaming during the part when E.T. is running in the grass), and at some point, have my lunch in the highest part of the playground's wooden jungle gym structured thing. There was a roof there and a pole to slide down when lunch was over and my friends and I (including fake imaginary friend Rachel) would sit in a circle, eat our lunch together, and plan what activities we would take part in next.
I don't remember what the other girls had for lunch because I always loved what I had and never experienced lunch food envy. On the days daycare didn't make lunch, I had a roast beef sandwich, mustard only, and that thermos was filled with pickle juice.
Yes, pickle juice.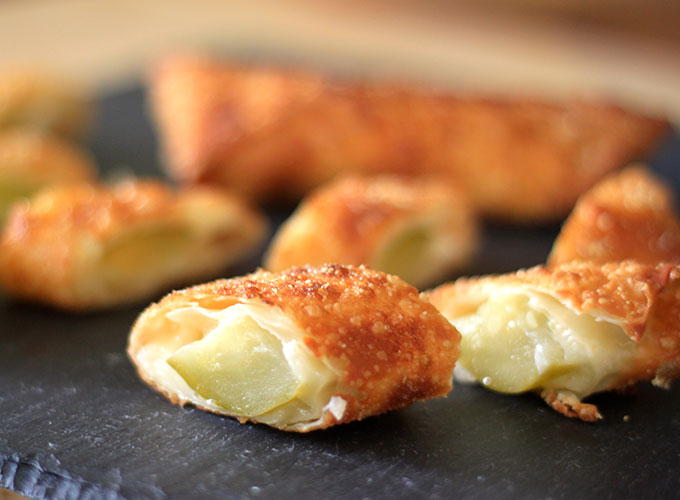 I've loved pickles for forever. When I decided I hated olives, I just ate more pickles to make up for it. The only ones I can't stand are the bread and butter ones. Those sweet ones have no business being called a pickle. Just LEAVE sweet picks, you can't sit with us!
Now that they are out of the way, let's talk about my favorite pickles: Vlasic's Farmer's Garden. Even as a hardcore pickle lover, I didn't even know about the new Farmer's Garden line until I was reading Molly's blog about them. And then I knew that I could forget about the other pickles I used to buy, the Farmer's Garden are top notch. You wanna know what else is top notch? Molly's recipes. I've made a couple now and they always get me excited for more. I mean, really: cheesy pickle pretzel sliders. Need I say more? I didn't think so.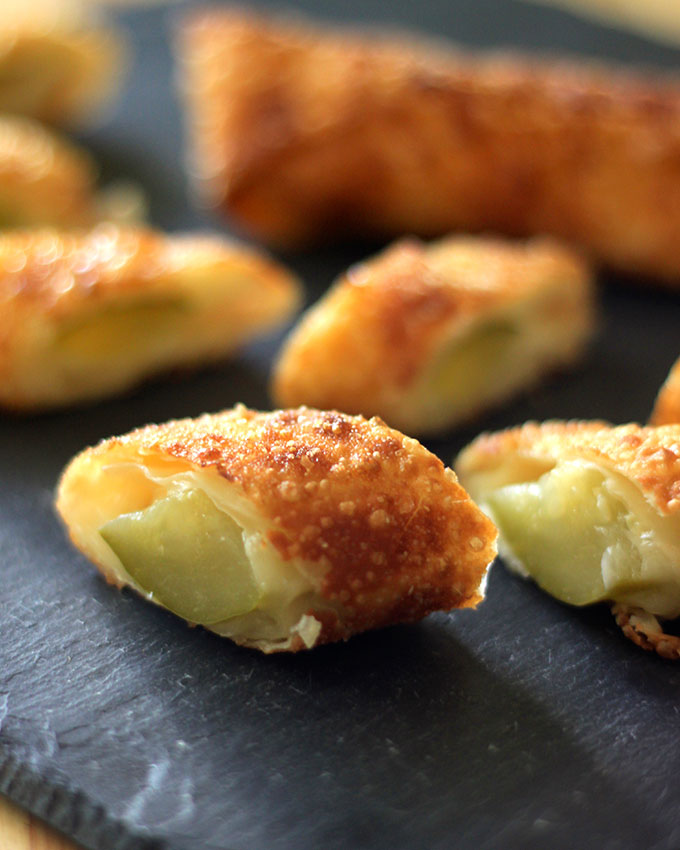 When I saw Molly's recipe back in the summer, I bookmarked it for National Pickle Day. I couldn't think of a better way to honor the pickle than to roll it in cheese and fry it in an egg roll wrapper. I mean, really. Don't just rely on my post either because Molly's post has a GIF to prove how easy it is to roll the pickle, and her pictures are always way better than mine. Just, you know, feel free to leave now and spend hours getting lost in her site. When I first discovered her blog via a photo of hers on Foodgawker, I got lost in her site for forever. Now, I read every single post and comment on most of them. Plus, she hosts some sweet giveaways.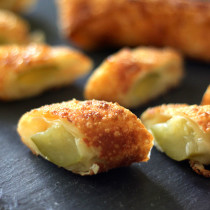 Fried Cheesy Pickles
Ingredients:
1 jar Farmer's Garden by Vlasic Kosher Dill Spears
13 slices havarti cheese
13 large (6-7 inch) egg roll wrappers, store-bought or homemade
Canola or vegetable oil, for frying
Water, for sealing egg roll wrappers, if necessary
Directions:
Drain pickles on a paper town. For each fried pickle, lay out an egg roll wrapper on a clean surface with one of the points facing up (kind of like a wayward diamond). In the middle of the egg roll wrapper, lay a slice of cheese, again with a point of the cheese facing up to the point of the egg roll wrapper. (Visit Molly's blog for a cool GIF!)
Wrap each pickle in a slice of cheese and then wrap the cheese-wrapped pickle in the egg roll wrapper, folding in the ends of the egg roll and wetting with water to seal.
Heat two inches of oil in a heavy pan to 360*F. Fry the egg roll pickles on all sides until it's taken on a golden brown color. Transfer to a paper towel-lined plate and allow to cool before slicing.
It should be a 1:1:1 ratio of pickle to cheese slice to egg roll wrapper.
Trackbacks/Pingbacks

Leave a Comment