National Pepper Pot Day | Ghost Chile Pepper Pot
I'm so excited about the fact that it's almost 2015 that I don't even know what to say about National Pepper Pot Day. Let me take a breather.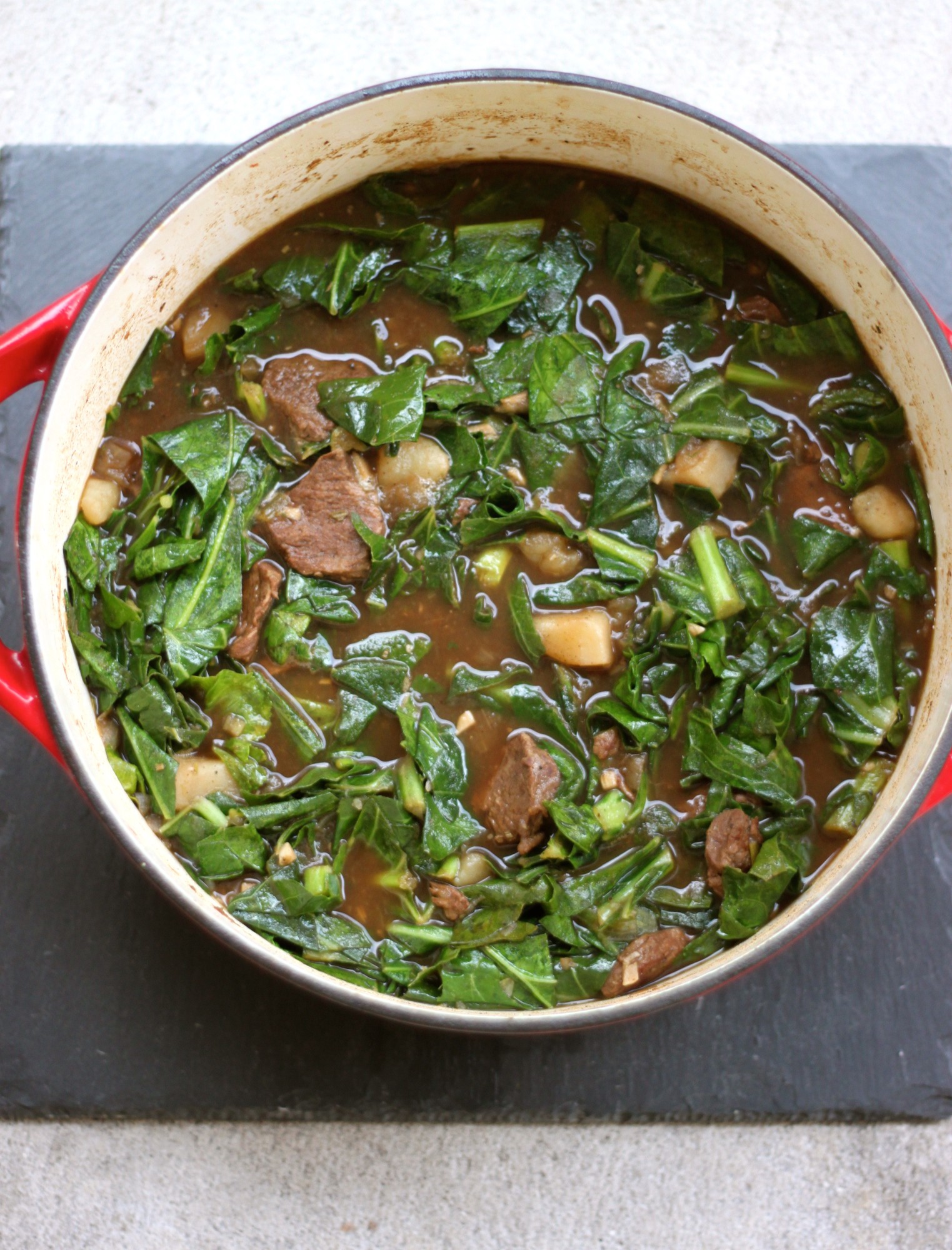 Okay. So Pepper Pot is a Guyanese stewed beef stew traditionally served at Christmas. On Christmas, my family had roast pork, black beans, yucca for lunch and then finger foods for dinner like spinach dip, shrimp cocktail, cubanito sandwiches, potato balls, etc. I'm glad I now know about pepper pot!
I've always loved beef stew, with my great grandmother making the best beef stew ever, but this Guyanese version is pretty stellar too. I used one ghost chile pepper, cut almost all the way in half lengthwise, so you get the mega spice, but it's a nice balance, without it being too spicy. When you add in the collards, the spice is diminished so I'd recommend adding half the collard greens, tasting it after they've somewhat wilted and then possibly adding the other half, depending on your spice preference.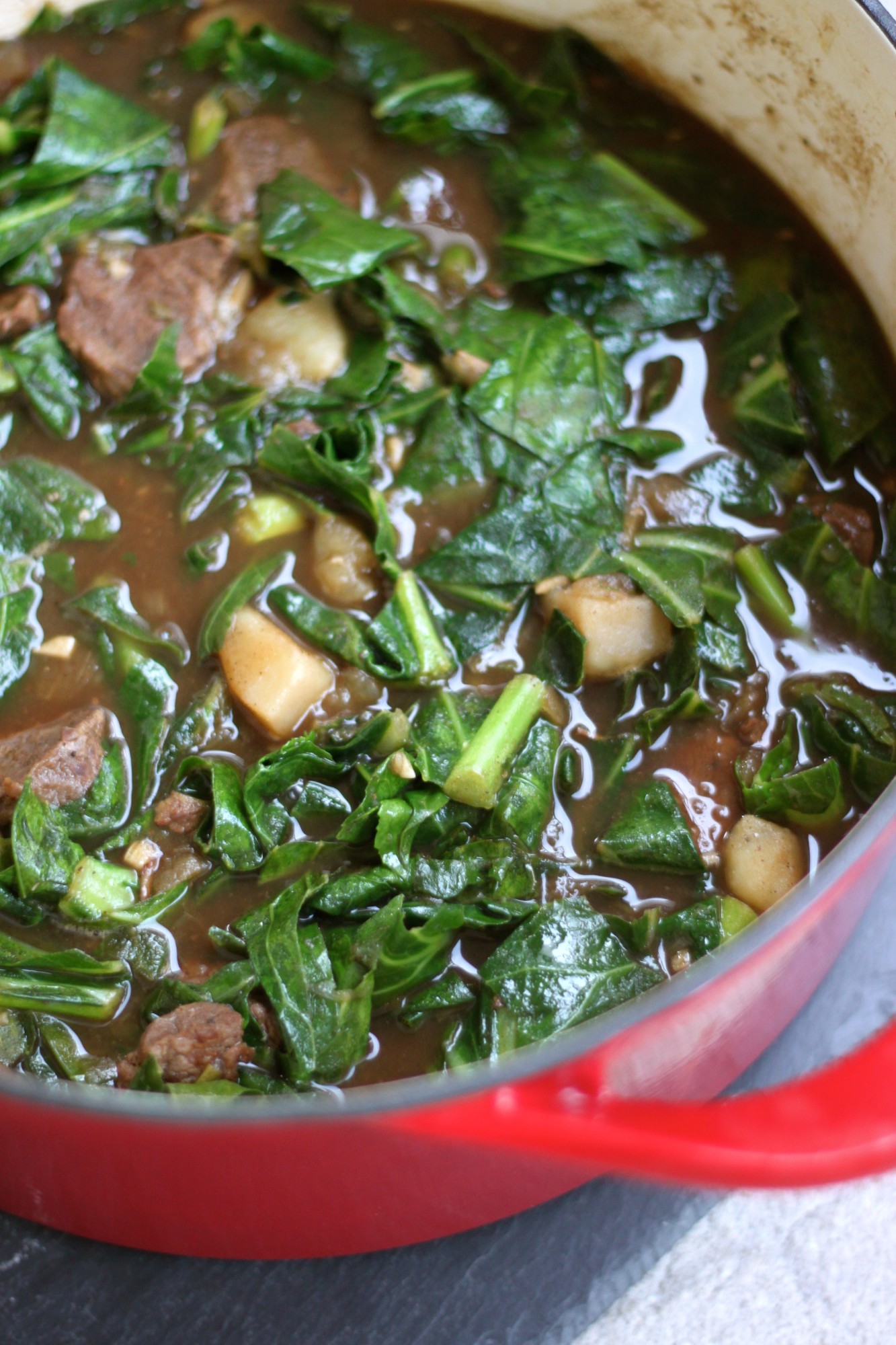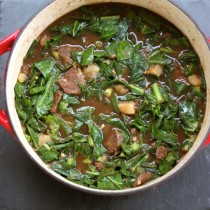 Ghost Chile Pepper Pot
Ingredients:
2 pounds beef stew meat
2 Tbsp olive oil + 1 Tbsp
1 medium onion, diced
1 ghost pepper, sliced up the middle lengthwise, but it should remain in tact close to the stem (*be careful*)
5 garlic cloves, minced
1 cup scallions, diced
8 cups beef stock
1/4 cup red wine
1 Tbsp allspice
1 Tbsp black pepper
1 tsp fresh rosemary
2 bay leaves
3 russet potatoes, peeled and cubed
1 pound collard greens
Directions:
Heat 2 tablespoons olive oil in Dutch oven over medium-high heat. Season beef stew meat with salt and pepper. Brown beef and remove to plate. Add beef stock and wine, scraping up browned bits from bottom of Dutch oven. Cook for 10 minutes.
In a small fry pan set over medium, heat up about 1 tablespoon olive oil. Add onion and ghost pepper, sauteing until almost translucent. Add garlic for another minute. Add scallions and cook for another minute more. Add onion mixture to stock mix.
Add allspice, pepper, rosemary, bay leaves, and potatoes. Add the meat back into the Dutch oven. Bring to a boil, then reduce to medium and cook until potatoes are tender, about 30 minutes.
Add collard greens and cook until wilted, about 10 minutes. Season to taste with salt and pepper.
Remove bay leaves before serving.
3 Responses to "National Pepper Pot Day | Ghost Chile Pepper Pot"

Trackbacks/Pingbacks

Leave a Comment