National Pecan Day | Sugar Pecans
Well, well, well, if it isn't another National Pecan Day. For the first one, I made Spiced Pecans, courtesy of Alton Brown.
We loved that variety so much, we wanted to make another batch slightly different to munch on as a snack.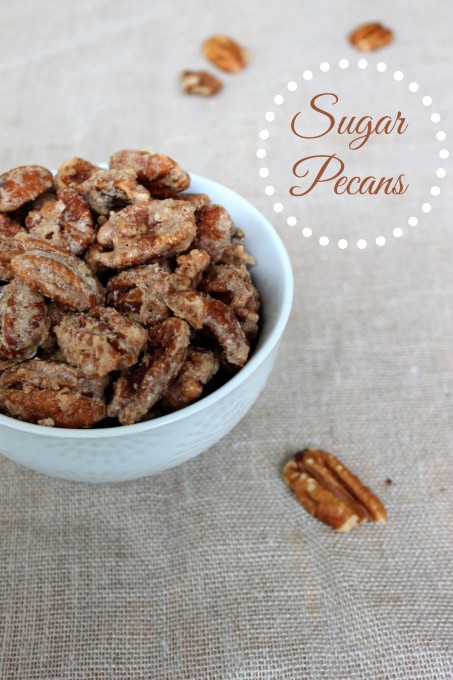 When going through these food holidays, I am forced to eat and cook things that I may not normally. Sure, I eat cheesecake, but do I eat it an average of once per month? No. This upcoming weekend- would I normally be eating Pineapple Upside Down Cake? Definitely not.
So, when those days pop up like National Pecan Day that are actually things I would normally make outside of the food holidays, I am so pleased. Not only do I have a great snack for long days at work (yes, today is a sun up to sun down day), but they don't cost a ton of money and they aren't too unhealthy. I want more of those food holidays.
June is full of desserts so basically, I don't know what I'm going to do.
National Pecan Day | Sugar Pecans
Recipe Type: Snack
Author:
Prep time:
Cook time:
Total time:
Ingredients
1 egg white
1 tbsp water
1 pound pecan halves
1 cup white sugar
3/4 teaspoon salt
1/2 teaspoon ground cinnamon
Instructions
Preheat oven to 250* F. Grease one baking sheet.
In a mixing bowl, whip together the egg white and water until frothy. In a separate bowl, mix together sugar, salt, and cinnamon.
Add pecans to egg whites, stir to coat the nuts evenly. Remove the nuts, and toss them in the sugar mixture until coated. Spread the nuts out on the prepared baking sheet.
Bake for 1 hour. Stir every 15 minutes.
Tomorrow: National Glazed Spiral Ham
2 Responses to "National Pecan Day | Sugar Pecans"

Leave a Comment