National Lemon Juice Day | Breaded Chicken with Lemon Butter Sauce
Any professional chef, and even some home cooks, usually balk at the idea of a chicken breast dish. Not me. Yes, I also agree that it's the less thrilling part of the chicken, quick to dry out and the least flavorful, but you really can amp up chicken breasts into something you love.
And that's exactly what I did with these things.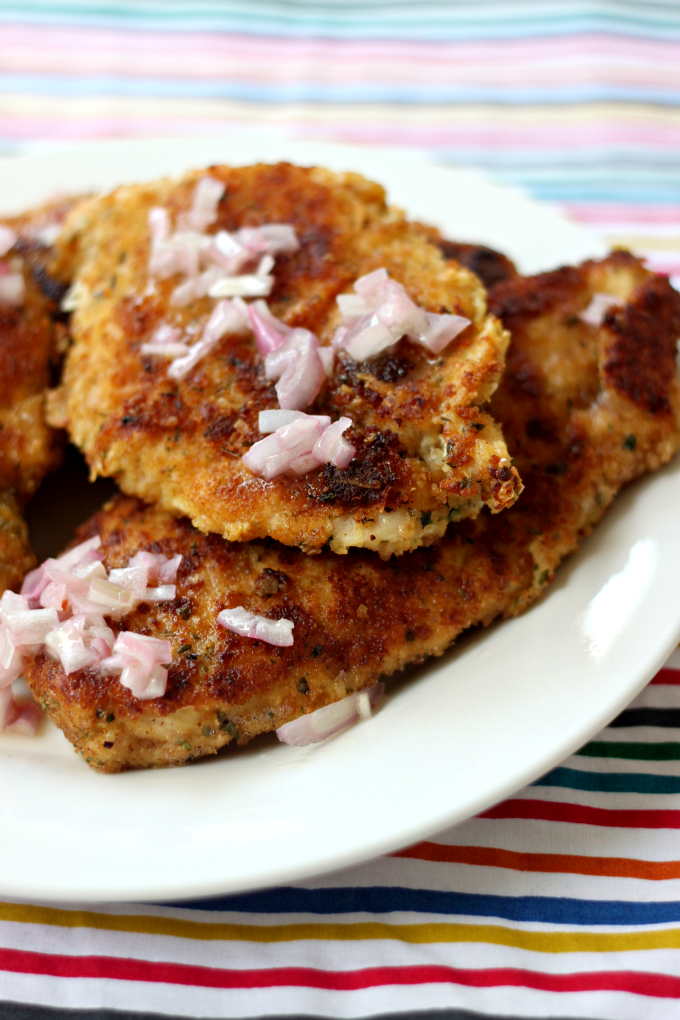 You see, chicken breasts are usually on sale at Fresh Market ($2.99 Tuesdays, anyone??), and other local grocery stores, so for my economical household, it's a great option.
I have made these breaded chicken breasts countless times, paired with this same lemon butter sauce with shallots, and it's always a hit. Take that, chicken! You shall not foil my plans for flavorful meat.
I've made some lemonade on my blog so I didn't want to go that route. I also needed something for dinner. So here it is – breaded chicken for National Lemon Juice Day. Always make sure to use the juice from an actual lemon instead of that bottled stuff. Real lemons are just so much better!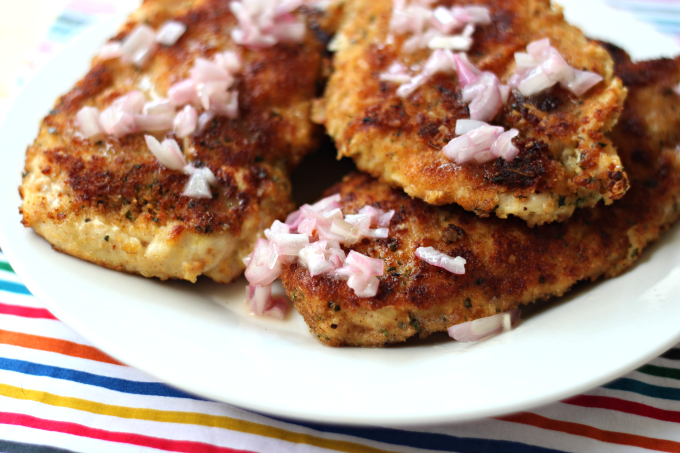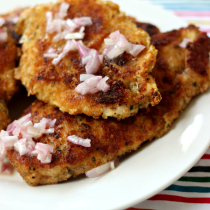 Breaded Chicken with Lemon Butter Sauce
Ingredients:
For the chicken
2 boneless, skinless chicken breasts, cut in half widthwise for a thinner chicken breast
1 Tbsp olive oil
1/2 cup King Arthur all-purpose flour
2 large eggs
Dash of hot sauce
1/2 cup Italian breadcrumbs
2 Tbsp grated Pecorino Romano
For the lemon butter sauce
4 Tbsp unsalted butter
Juice of 1 lemon
2 shallots, diced
Directions:
Chicken
Heat olive oil over medium heat in a large sauté pan.
Place the flour in one shallow bowl, the eggs beaten with the hot sauce in another, and the combination of breadcrumbs and cheese in a third. One by one, go through the standard breading procedure: coat both sides of the chicken in flour, dip in egg, and crust with the breadcrumb mixture.
Carefully place the breaded chicken in the heated pan and repeat procedure with remaining chicken breasts.
Saute chicken until breading a nice and browned and the inside is cooked through, 8-10 minutes.
Lemon Butter sauce
Combine all ingredients in a small sauce pan and cook until butter is melted and shallots are translucent. Pour sauce over chicken breasts.
Tomorrow: National Toasted Marshmallow Day
2 Responses to "National Lemon Juice Day | Breaded Chicken with Lemon Butter Sauce"

Leave a Comment