National Lasagna Day | Short Rib Lasagna Roll Up
You all know I love pasta, right? Anything with pasta, be it lasagna, pesto pasta, penne a la vodka, I love it all. It's a total weakness of mine for if there is pasta on the menu, there's a 90% change that I'll order it.
Today is awesome because today is National Lasagna Day and I have these lasagna roll ups to share with you all. They are simple, but do take a while for everything to come together. This meal is best enjoyed when you have a solid 4 hours to spare.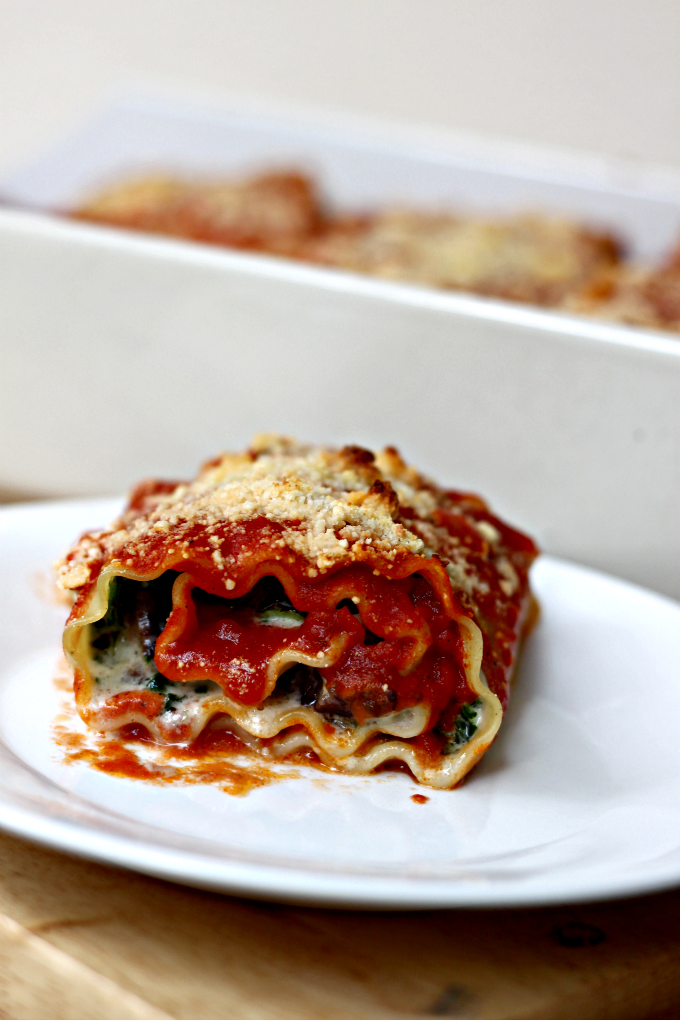 I remember I saw this dish being made on Giada at Home. This was back in 2011. It's a dish I had saved and remembered for 3 years, that's how great it looked, and sounded! She made it as part of the Dad's Day episode where she also featured Raspberry and Balsamic Parfaits and Crab and Lemon Bruschetta. Mmmm!
There's not much to say about this dish other than it's something you need to jump on board with.
I made this lasagna with a wonderful Merlot from 14 Hands. Their wines are some of my favorite, and the Merlot was the perfect red wine to cook the short ribs in. Enjoy!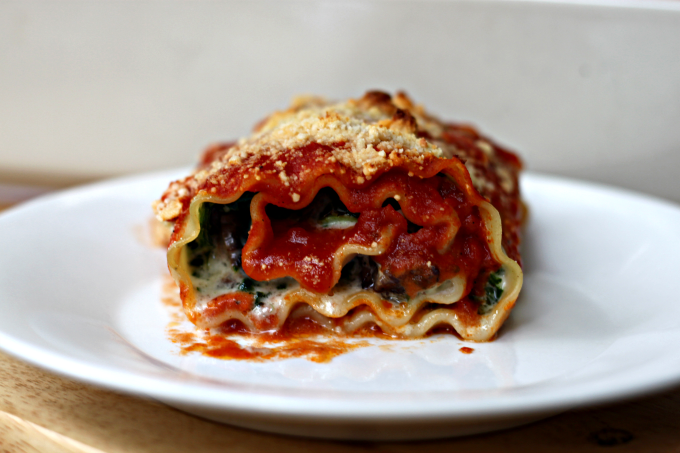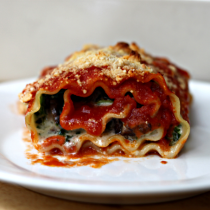 Short Rib Lasagna Roll Up
Ingredients:
Ribs
2 tablespoons olive oil
2 1/2 pounds beef short ribs
2 teaspoons kosher salt, plus extra for seasoning
1 teaspoon freshly ground black pepper, plus extra for seasoning
1 onion, roughly chopped
4 cloves garlic, peeled and smashed
2 sprigs fresh rosemary
2 cups red wine (I used 14 Hands Merlot)
2 cups beef broth
Filling
3/4 cup milk
1/2 cup heavy cream
1 1/2 cups grated parmesan
1 cup shredded mozzarella
1 (10-ounce) packet frozen spinach, thawed, drained, and squeezed of excess liquid
1/4 cup chopped fresh basil
2 cloves garlic, minced
1 teaspoon kosher salt, plus extra for seasoning
1/2 teaspoon freshly ground black pepper, plus extra for seasoning
12 lasagna noodles (about 10 ounces)
Butter, for greasing baking dish
2 1/2 cups marinara sauce
1/2 cup freshly grated Parmesan
Olive oil, for drizzling
Directions:
Ribs
In a large Dutch oven, heat the oil over medium-high heat. Season the ribs with salt and pepper. Add the ribs to the pan and cook until brown, about 4 minutes each side. Remove the ribs and set aside.
Add the onions, garlic, and rosemary. Season with salt and pepper. Cook until the onions are translucent and soft, about 5 minutes.
Increase the heat to high. Deglaze with the wine, scraping up the brown bits from the bottom. Add the beef broth to the pan. Add the ribs back into the pan.
Bring the mixture to a boil. Reduce the heat to a simmer, cover, and cook until the meat is very tender, 2 1/2 to 3 hours. Remove the ribs and set aside for about about 20 minutes. Discard the bones and cooking liquid. Using 2 forks, shred the meat. Transfer to a medium bowl.
Filling
In a medium heavy-bottomed saucepan, bring the milk and cream to a simmer over medium heat. Reduce the heat to low. Add the cheeses and whisk until melted and the sauce is smooth.
Remove the pan from the heat and stir in the spinach, basil, and garlic. Pour the spinach mixture on top of the beef. Add the salt and pepper. Mix all until combined.
Bring a large pot of salted water to a boil over high heat. Add the lasagna noodles and cook until al dente, 8 to 10 minutes. Drain and set aside.
Place an oven rack in the center of the oven. Preheat the oven to 400* F. Butter a 9 by 13-inch casserole dish. Spread 1 cup marinara sauce in the bottom of the prepared baking dish.
One by one, lay cooked noodles flat on a dry work surface. Spread 1/3 cup of the filling mixture evenly along each noodle. Roll up and place seam-side down in the baking dish. Repeat with the remaining noodles and filling to make 12 lasagna rolls, adjusting amount of filling as necessary based on your preference. Pour the remaining marinara sauce evenly on top and sprinkle with Parmesan. Drizzle with olive oil, and bake until the lasagna rolls are heated through and the cheese is beginning to brown, about 25 minutes.
3 Responses to "National Lasagna Day | Short Rib Lasagna Roll Up"

Trackbacks/Pingbacks

Leave a Comment