National Crème Brûlée Day | Crème Brûlée French Toast
Happy National Crème Brûlée Day!
Yesterday was my first wedding anniversary, (and today is the day we had our outdoor wedding for extended family and friends), and the whole weekend has been fantastic! I started the day by making potatoes and Crème Brûlée French Toast for breakfast, thanks to Smitten Kitchen for the inspiration, and then we lounged around the house until it was time for dinner at La Terrazza – my favorite Italian joint in Tampa – and a movie.
TODAY we are being hosted at the Don CeSar! It's brunch, relaxing on the beach, and a fabulous room to enjoy for the evening. Back to reality – and work – tomorrow, but we plan on fully enjoying our time at one of the best beaches and hotels around.
But, before that recap, let's go back to the Crème Brûlée.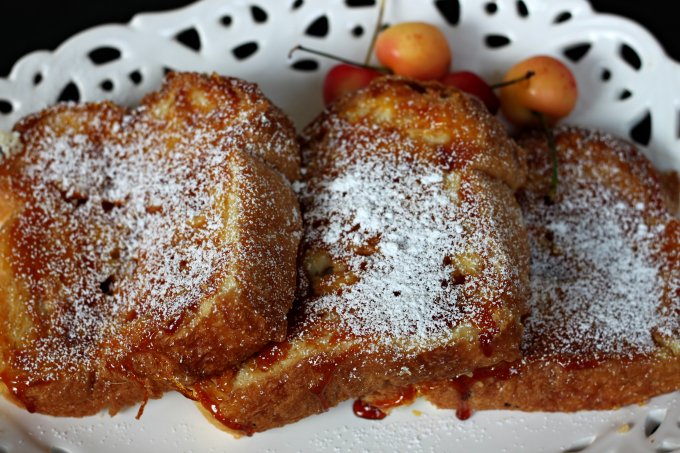 I had it in my mind that I would make classic Crème Brûlée. I purchased a kit not that long ago and all that was left to acquire was the butane for the torch, obviously so you can get that nice caramelized sugar on the top of your dessert.
However, I put off and put off and put off the purchase of the butane (mostly because I despise setting foot into Bed, Bath & Beyond) until it came to the point that I realized I had to come up with another dish for National Crème Brûlée Day. This french toast was it. It's a recipe I had seen before, and that's been pinned to the breakfast Pinterest board of mine for a while, so to make it seemed very fitting.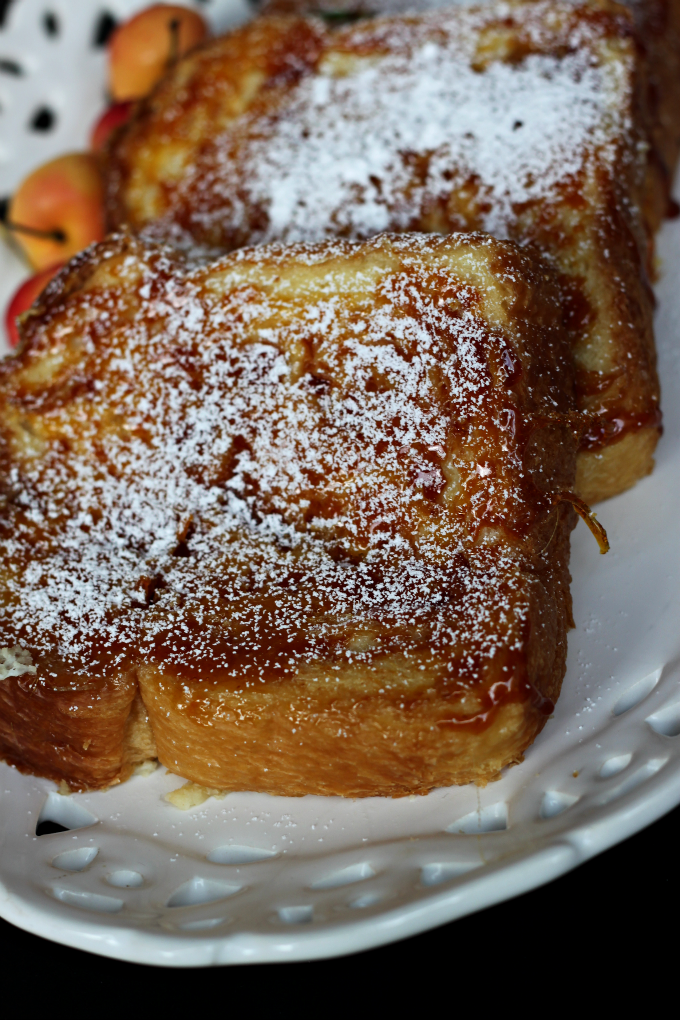 This french toast was perfection because it doesn't require any maple syrup which is something I struggle with actually enjoying. You have to use just the right amount or it sits in your stomach all day long. Not to mention there's a super sugar rush also.
This french toast is soft and so very flavorful. The caramelized sugar on top is just the "icing on the cake".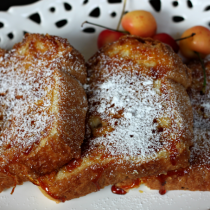 National Crème Brûlée Day | Crème Brûlée French Toast
Ingredients:
1 loaf unsliced white bread, cut into thick slices
1 1/3 cups whole milk
2/3 cup heavy cream
4 large eggs
1/3 cup granulated sugar + 2/3 cup
1/4 teaspoon salt
2 tsp almond extract
2 tsp vanilla extract
Directions:
Whisk together milk, heavy cream, eggs, 1/3 cup sugar, salt, almond extract, and vanilla extract.
Arrange bread slices on a rimmed sheet and pour custard over the slices. Allow the bread to soak up the liquid for 30 minutes, turning the bread over halfway through.
Preheat oven to 325*F. Line a separate baking sheet with parchment paper.
Transfer custard-soaked slices to the lined baking sheet and bake 30-35 minutes, or until no custard seeps out when a knife is inserted and twisted into the bread. Flip the bread over halfway through cooking.
Meanwhile, add 2/3 cup sugar to a heavy saucepan and cook over medium heat until the sugar turns into the light color of honey. Remove from heat, set on a trivet.
Remove french toast from oven and, working quickly, pour sugar over the french toast slices, a tablespoon for each bread slice. Make sure to spread the sugar over the top of the slice.
Dust with powdered sugar.
Tomorrow: National Milk Chocolate Day
Leave a Comment