National Heavenly Hash Day | Heavenly Hash Cookies for #SundaySupper
Today is all about two rival football teams competing for a title. It's about the grit and the glory, the hard work and the payoff.
Jay kay.
It's about the commercials and the food, OBVIOUSLY. I base who I want to win on which city I like better and which uniform is more pleasing to my eye. I'm sorry, Denver, but Seattle wins in both categories (at least I know who is playing, right?!). Today I'll be with family, cheering for that really adorable puppy in the Anheuser-Busch commercial, and eating lots and lots of food.
I'm also celebrating the big game with my fellow Sunday Supper people, and you can view their recipes at the end of this post. My contribution are these Heavenly Hash cookies that almost didn't even last for pictures.
Note: The featured cookies were my third batch. Yes, THIRD. The first, I thought it would be fiiineee to put the marshmallows into the batter. The second time, I didn't realize my first mistake and thought I should just make taller mounds of cookie. Amateur… Turns out when you put marshmallows in the cookie dough, they melt and make the cookie incredibly flat. Imagine that. I think I've said before that baking can be a struggle for me. Anyway, the third time really is a charm!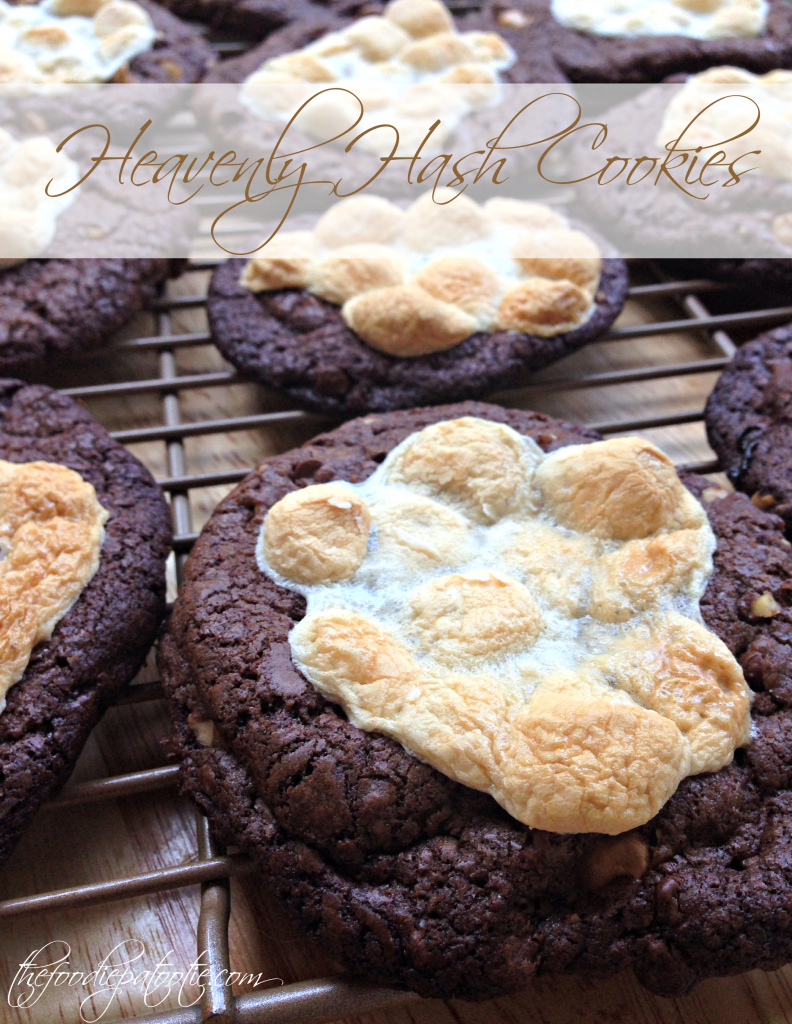 My first reaction when I saw National Heavenly Hash Day on the calendar was one of bewilderment. What in heaven's name is Heavenly Hash? Well, turns out I've had this "thing" before, just in a different form. I once had Heavenly Hash: The Fruit Salad. Traditionally, it involves maraschino cherries, grapes, pecans and other fun stuff folded into whipped cream. Really, though, you can switch up the ingredients. The only requirements are some kind of fruit and some kind of creamy white deliciousness.
As Heavenly Hash evolved, recipes for cookies, candy, cake, bars, ice cream came to be and the world rejoiced because everything is just so yummy. Simple, delicious food at its finest.
If you decide to forego the fruit salad version, the other sweets generally involve chocolate, marshmallows and nuts. You can add coconut (which is what I did), or something else that strikes your fancy. I hope you enjoy!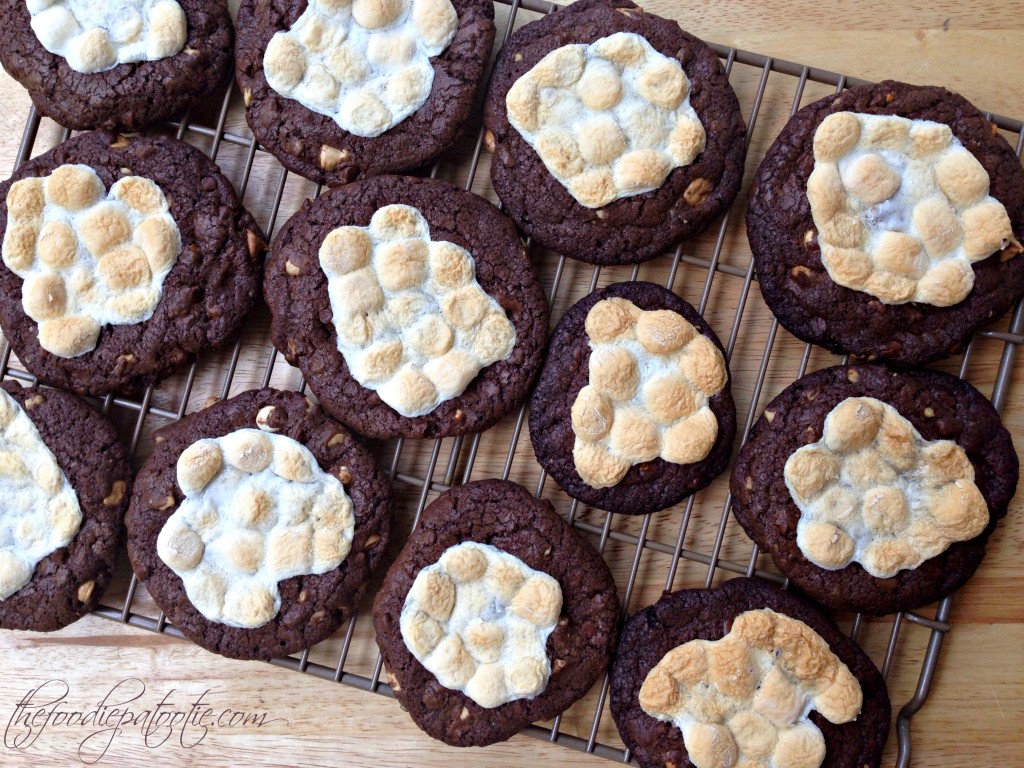 National Heavenly Hash Day | Heavenly Hash Cookies for #SundaySupper
Recipe Type: Dessert
Author:
Prep time:
Cook time:
Total time:
Serves: 16 cookies
Ingredients
1/2 cup unsalted butter, melted
1 cup sugar
1 large egg, room temperature
1 tsp vanilla extract
1 cup flour
1/4 cup cocoa powder
1 tsp baking soda
1/2 tsp salt
1/2 cup semisweet chocolate chips
1/2 cup white chocolate chips
1/2 cup walnuts, coarsely chopped
1/8 cup shredded coconut
Instructions
Preheat oven to 325*F.
In the stand mixer bowl, beat butter and sugar on medium until combined. Add egg and vanilla extract.
In a separate bowl, sift together flour and cocoa powder. Add baking soda and salt and whisk to combine.
Add dry ingredients to butter mixture, 1/3rd at a time, until all ingredients are incorporated.
Fold semisweet chocolate and white chocolate chips, walnuts, and coconut into the batter.
In heaping tablespoons, place cookie dough on greased cookie sheet about 3 inches apart.
Bake in a 325*F oven for 15 minutes. (Cookies WILL be soft, but will harden as they finish cooking outside of the oven later.)
Remove from oven and place 3-10 marshmallows on top of each cookie, depending on your preference. Return to pan and bake another 5 minutes, or until marshmallows have expanded and are browned on top.
Tomorrow: National Carrot Cake Day
Make sure you check out all the Game Day deliciousness we are sharing this Sunday!
Game Day Appetizers:
Game Day Entrees:
Game Day Desserts:

Join the #SundaySupper conversation on twitter every Sunday! We tweet throughout the day and share recipes from all over the world. Our weekly chat starts at 7:00 pm ET. Follow the #SundaySupper hashtag and remember to include it in your tweets to join in the chat.
Check out our #SundaySupper Pinterest board for more fabulous recipes and food photos.
Would you like to join the Sunday Supper Movement? It's easy! You can sign up by clicking here: Sunday Supper Movement.
67 Responses to "National Heavenly Hash Day | Heavenly Hash Cookies for #SundaySupper"

Trackbacks/Pingbacks

Pingback: National Heavenly Hash Day | Heavenly Hash Cook...

Pingback: Chocolate Streusel Bars | Magnolia Days

Pingback: Coffee Chocolate Swirl Cheesecake Squares #SundaySupper - Desserts Required

Pingback: Mexican Meatballs with Queso Blanco for #SundaySupper - Cooking On The Ranch

Pingback: Microwave Caramel Popcorn | Pies and Plots

Pingback: 48 Game Day Recipes for a Super Eats #SundaySupper - In The Kitchen With KP : In The Kitchen With KP

Pingback: Super Eats for Game Day – Saucy Wings and Thighs for #SundaySupper

Pingback: Alpine Sliders

Pingback: National Pisco Sour Day | Pisco Sour Cocktail

Pingback: Buffalo Chicken Chili #SundaySupper

Pingback: Buffalo Chicken Chili #SundaySupper

Pingback: Whole Wheat Pepperoni Pizza Bites

Pingback: Lemon Bay Pan Roasted Shrimp for Game day #SundaySupper - A Kitchen Hoor's Adventures

Pingback: National Heavenly Hash Day - 10 Simply Delicious Recipes 

Leave a Comment