National Hazelnut Cake Day | Hazelnut Cake
It's pretty cool having people who are willing to eat your food holiday leftovers. I absolutely despise having to waste any food whatsoever. My neighbor could be on a diet and working with a personal trainer and she will still at least sample the dishes that I make. If Mike and I had to eat all of this…yeesh…I don't even want to think about the results. My neighbor is excited to see what's next on the calendar, to read the feature about me in the local paper, and trade recipes.
For National Hazelnut Cake Day, I was behind schedule and was about to really have to scramble in the kitchen. But, turns out I didn't have to. Janet took it upon herself to look through the food holidays and make Hazelnut Cake for me!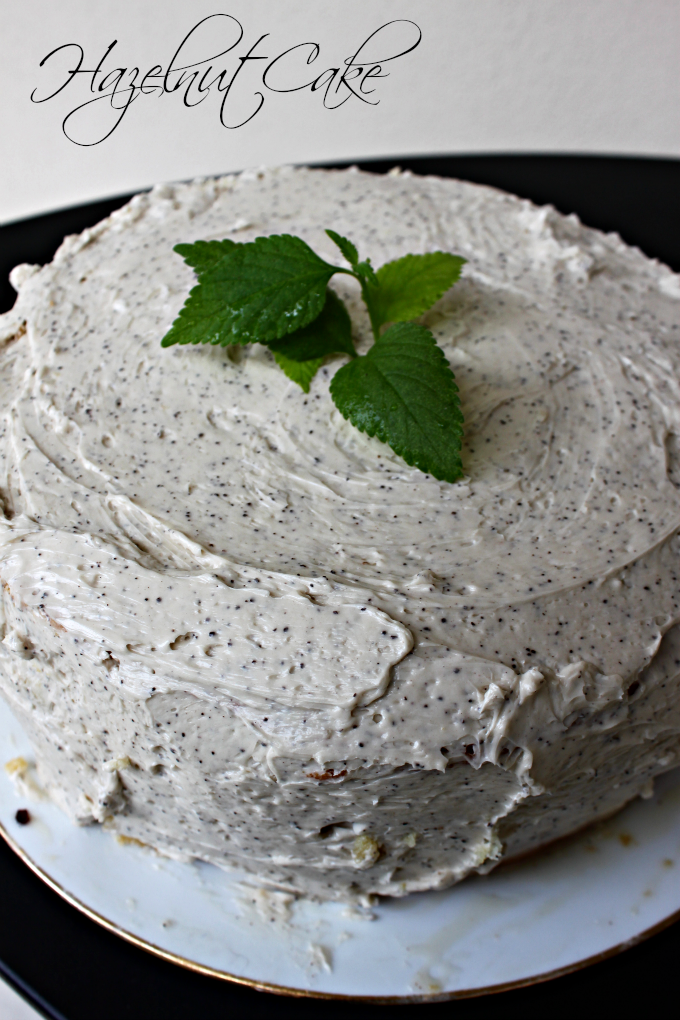 I couldn't have been happier because, really, I have fallen a little bit behind overall. I still have to make a couple of recipes that I missed. What can I say? I've been busy!
Thankfully, this Hazelnut Cake was not only pretty, but delicious as well. I admit that there are many (maybe too many) times that I eat something in a restaurant or made by someone else and think…I could make this better. It's not that what I'm eating is bad. In fact, more often than not, it's far from it, but my confidence in my cooking and flavoring abilities is pretty high and I just know what I can produce.
This cake – I would not have been able to make any better.
Sheer perfection, with just the right amount of differing textures, I really would've eaten the entire thing (over the course of a couple of days, obviously) if I didn't make Janet take it back to her house. Take it back so I don't overindulge as I'm so wont to do.
It's hard to get me this excited about baked desserts unless it involves fruit. Even then, it's not the easiest thing in the world because I much prefer savory dishes. This cake has won me over completely and I'll be sure to bring it to a future family function so everyone can understand the level of love I have for this thing.
Have you ever had hazelnut cake? If not, what are you waiting for??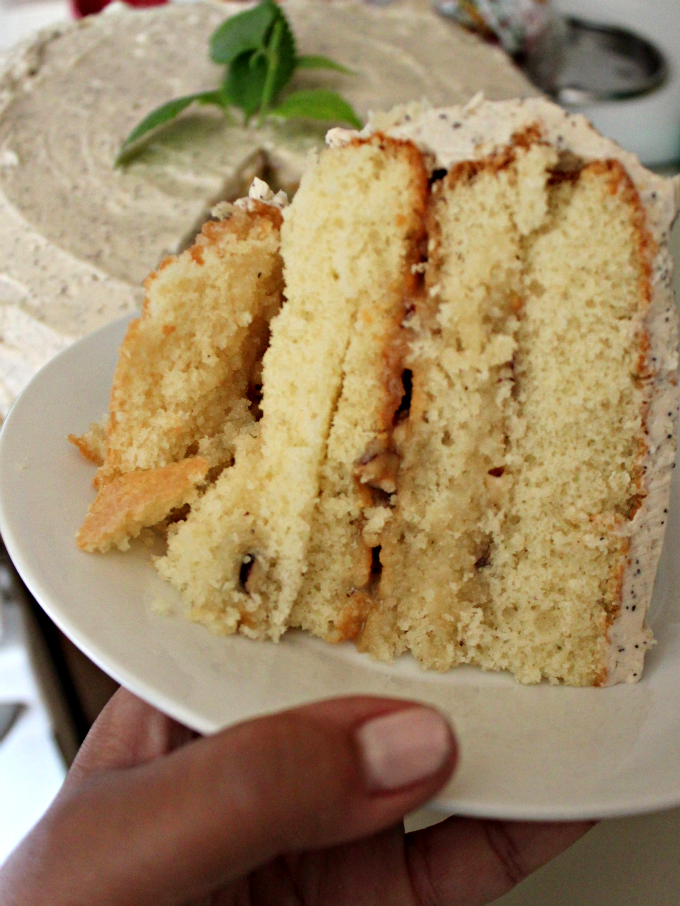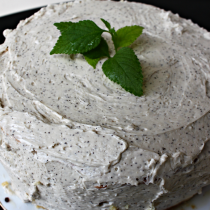 Hazelnut Cake
Ingredients:
Triple Hazelnut Cake
Shortening, for greasing pans
2 Tbsp cake flour, plus 3 1/3 cups, divided
4 large eggs, at room temperature, lightly beaten
1/3 cup hazelnut-flavored liqueur
1 tsp hazelnut extract
1 3/4 cups granulated sugar
1 tsp baking powder
1 tsp baking soda
1 tsp sea salt
1 cup peeled, toasted, and ground hazelnuts
3 sticks unsalted butter, at room temperature
1 cup sour cream, at room temperature
Hazelnut Filling
4 Tbsp unsalted butter, at room temperature
4 Tbsp all-purpose flour
1 cup granulated sugar
1 cup heavy whipping cream
1 cup peeled, toasted, and chopped hazelnuts
1/4 tsp sea salt
1 Tbsp hazelnut-flavored liqueur
1 tsp hazelnut extract
Coffee and Mint Buttercream Frosting
1 1/2 cups confectioners' sugar
1 Tbsp espresso powder
1/3 cup butter, softened
1 Tbsp strong brewed coffee
1 tsp mint extract
Directions:
Triple Hazelnut Cake
Grease 2 round cake pans with shortening and line bottoms with parchment rounds. Grease parchment and dust each pan with 1 tablespoon flour, shaking out excess. Set pans aside.
Preheat oven to 350*F.
In a medium bowl, whisk together the eggs, liqueur, and hazelnut extract until blended. Set aside.
In a large bowl of an electric stand mixer, gently combine on low speed 3 1/3 cups flour, sugar, baking powder, baking soda, salt, and hazelnuts until blended. Add the butter and sour cream and beat on low speed until dry ingredients are moistened.
Increase speed to medium and beat for 2 1/2 minutes, scraping the sides of the bowl occasionally. In 3 separate additions, add the egg mixture to the batter, beating for 30 seconds after each addition.
Divide batter evenly into the prepared pans and bake on the center rack for 40-45 minutes or until a cake tester inserted into the center of each cake comes out clean. Cool cakes in pans for 10 minutes. Remove from pans, discard parchment and cool cakes completely on wire racks, 1-2 hours.
Hazelnut Filling
In a medium saucepan, melt the butter over medium heat.
Sprinkle with flour and whisk until smooth. Reduce heat to medium-low, add the sugar and cream and cook, whisking constantly, for 7-10 minutes or until mixture is thickened. Stir in the hazelnuts, salt, liqueur, and extract. Set aside in a bowl and cool completely.
Coffee and Mint Buttercream Frosting
In a small bowl, stir together the confectioners sugar and espresso powder.
In another bowl, beat the butter until creamy, gradually beat in the sugar mixture, being sure to scrape the bottom of the bowl occasionally.
Stir in the coffee and mint extracting. Beat until smooth.
4 Responses to "National Hazelnut Cake Day | Hazelnut Cake"

Trackbacks/Pingbacks

Pingback: Ad: Tyson Day Starts Meals Ends Hunger

Leave a Comment