National Doughnut Day | Glazed Doughnut Holes
When I was younger I went to daycare. My time in daycare comprises some of my best childhood memories. Watching ET in the video room, eating surprisingly tasty daycare food, taking care of the kids younger than me, galloping around the playground, and washing down my roast beef and mustard sandwiches with pickle juice from the highest point of the clubhouse. The kids I met in daycare were some of my favorite people in the whole wide world at the time and really, I'd be lying if I said that I've never tried to find these people on Facebook so I can see what they're up to.
But, when you are so young, you don't tend to make it a point to remember your friends' last names, and the ones I happened to remember are so commonplace that to filter through the search results online would take decades.
Something that my daycare friends loved about being my friend is I would sometimes bring doughnut holes for everyone to enjoy. Most times, my mom would take me and my brother to the doughnut shop across the street to get our own, but we got enough for everyone on occasion too.
Man, those doughnut holes were the best. I still think that doughnut shop exists. The shop owner came to know my family and sometimes, we got extra doughnut holes for visiting. I can still picture her round face and curly hair. Then we would go to daycare with a breakfast sure to make us hyper (and then sluggish) and a bottle of chocolate milk. It was really awesome.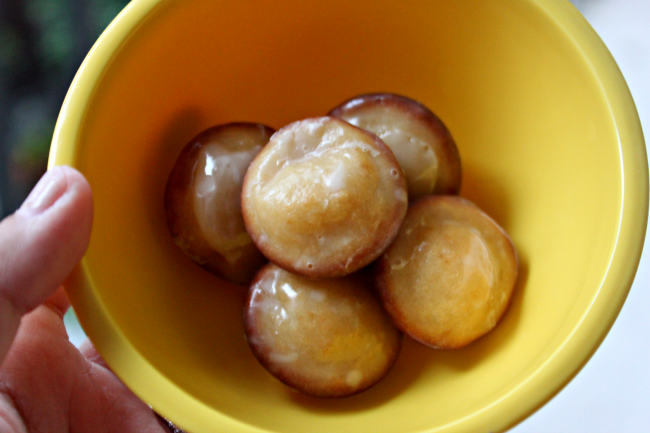 For National Doughnut Day, I didn't even come close to making professional doughnuts like I used to have. I used my doughnut hole maker for the first time and let's just say that you should probably test a new kitchen device before you commit to using it for a time-sensitive recipe that you need to post on your blog.
The maker works correctly, but I didn't put enough batter in each hole which resulted in these little things and caused the bottom of the holes to burn slightly. Oh well, cooking is a learning process, right? There are other doughnut days this year so I plan on getting better each time.
Cheers to memories, friends, and sugary sweet breakfast treats!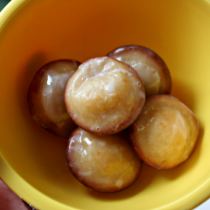 Glazed Doughnut Holes
Ingredients:
Glaze
1 1/2 cup confectioners' sugar
2 Tbsp whole milk
1 tsp vanilla extract
Doughnut Holes
1/2 cup milk
1 large egg
1 cup all-purpose flour
1 Tbsp sugar
2 1/4 tsp baking powder
1/4 tsp salt
1/4 stick unsalted butter, melted
Directions:
Glaze
Sift the confectioners' sugar into a medium bowl. Slowly stir in the milk and vanilla extract until mixture is smooth.
Cover with plastic wrap and set aside until ready to use.
Doughnut Holes
In a small bowl, whisk together the milk and egg.
In a separate medium bowl, whisk together the flour, sugar, baking powder and salt. Stir the milk mixture into the dry ingredients, then stir in the melted butter, mixing until a soft dough forms.
Drop batter by 1 heaping teaspoon each into the pan of the doughnut hole maker and cook according to maker's specifications.
Allow the doughnuts to cool slightly. One by one, dip the holes into the glaze. Serve immediately.
Leave a Comment