National Fried Shrimp Day | Coconut Shrimp
I'm a little ashamed (read: a lot ashamed) to admit this, but I used to be a mega fan of Red Lobster. Oh God, I cannot believe that just came out of my fingers.
Okay, let me just say that I was 16 and it was way before I started truly cooking myself and also way before a bunch of non-chain restaurants cropped up in Tampa Bay. Ugh, this doesn't make it any better, does it? Alright, whatever, fine. Discredit me if you must, but I'm going to tell a story.
Back in the day, it was the "cool" thing to do to have dinner at Red Lobster on Tuesdays because there was some kind of shrimp 3-ways promotion thing. So I would get fried shrimp, shrimp fettuccine, and shrimp scampi. It's a wonder I didn't end up with clogged arteries, a 300 pound weight gain, and higher than average cholesterol. The one thing I wouldn't go near was coconut shrimp, but I can't describe why. I might very well be the biggest fan of fried shrimp you can find (or shrimp in general), and I certainly don't pull away from coconut. You'd think I would be more than happy to have a delicious combination of the two. Instead, I didn't even bother to try coconut shrimp until much later.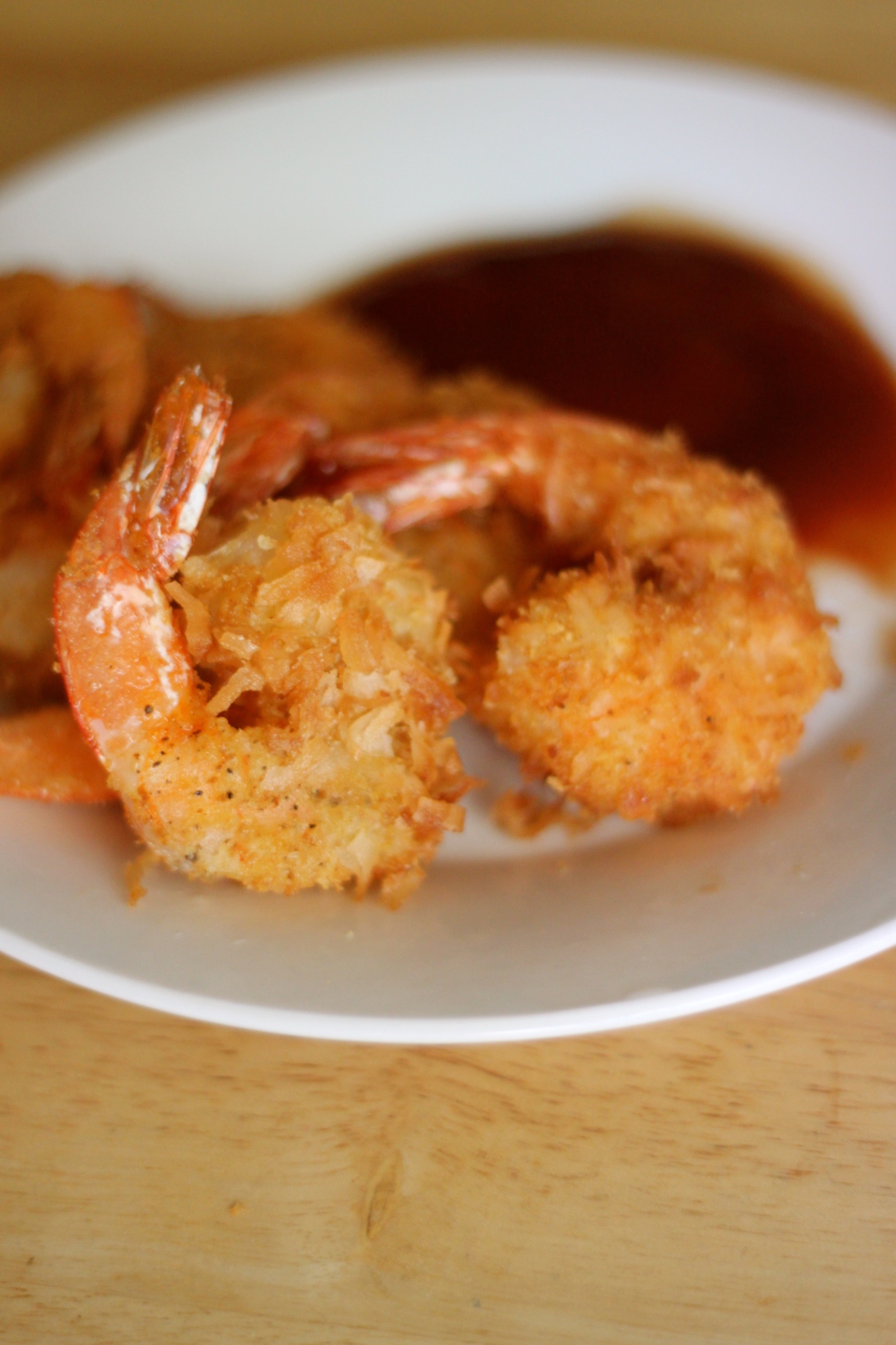 I was missing out and felt like a complete idiot. Mind you, my first foray into the shrimps I had been missing out on my entire life came at a place that was NOT Red Lobster, thankyouverymuch. And it was much after I came to my senses and stopped going to that horrid place.
The moral of the story is this: Coconut shrimp is delicious.
Fin.
Ps: Happy National Fried Shrimp Day!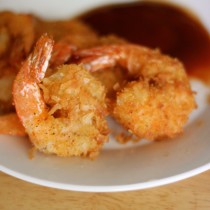 Coconut Shrimp
Ingredients:
1/4 pound shrimp, peeled and deveined
Salt and pepper
Vegetable oil
1/4 cup plain bread crumbs
1 Tbsp grated parmesan cheese
1/4 cup shredded coconut
3 Tbsp all-purpose flour
1 large egg, beaten
Directions:
Heat oil in a medium pot over medium high heat. Pour enough oil in the pot for it to come up about 2 inches on the side. Heat oil until it reaches 365*F.
In a small bowl, add the flour. In another small bowl, add the beaten eggs. In a third bowl, combine the bread crumbs, parmesan cheese, and shredded coconut.
Sprinkle the shrimp on both sides with salt and pepper. Working one at a time, dredge shrimp in flour, followed by egg, and then coat it in the bread crumbs mixture.
Drop into the hot oil and fry until shrimp is cooked and the breading is golden brown. Remove to a paper towel-lined plate and serve with cocktail sauce.
2 Responses to "National Fried Shrimp Day | Coconut Shrimp"