National Fettuccine Alfredo Day | Butternut Squash Fettuccine Alfredo
Before I knew better, I would eat fettuccine alfredo at Olive Garden like it was going out of style. I love pasta, and I love the creaminess of alfredo sauce. Add grilled chicken and it was just the perfect combination to me. For National Fettuccine Alfredo Day my good friend from high school, Karen, passed along her recipe for a dish she makes in her home. As a vegetarian, there was no grilled chicken, but instead, it's perfect for this time of year.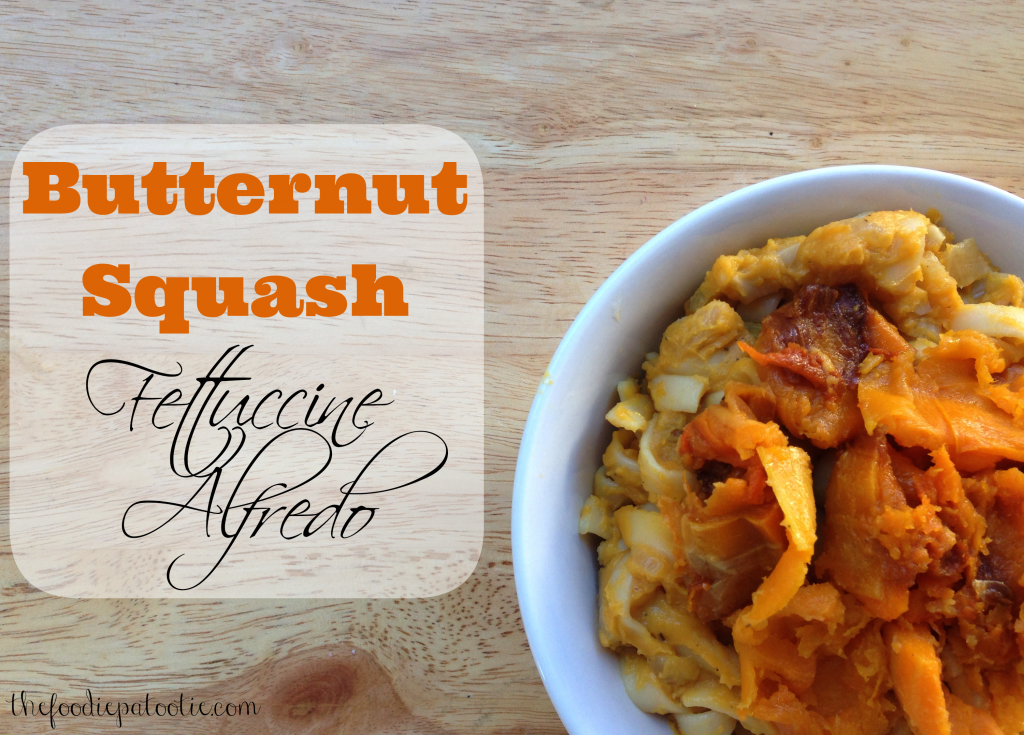 Butternut squash is in season during the winter months so in making this dish for the food holiday, you really would be putting out a fresh and flavorful meal for everyone to enjoy.
I really enjoy the taste of butternut squash. It's sweet and earthy, with the beautiful color of sweet potatoes. It reminds me both of fall and winter, especially combined with rubbed sage and thyme. It was just a heart and stomach warming meal, making me want to eat it with hot tea and while wrapped in a blanket on the couch.
This combination of flavors really works well together. Although you are roasting an entire butternut squash, the flavor doesn't overpower anything. You can taste the wine, you can taste the squash, and all the other ingredients combine to create this mature flavor. I hope you can enjoy this on the dreary winter days, the bright ones, and all the others, too.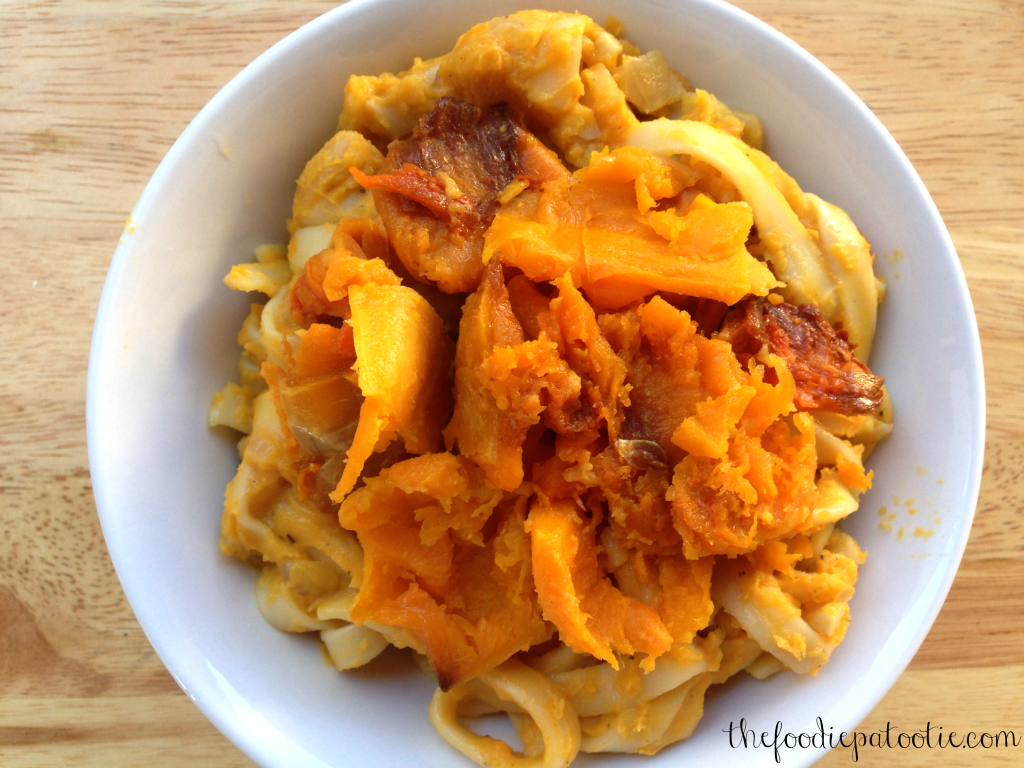 National Fettuccine Alfredo Day | Butternut Squash Fettuccine Alfredo
Recipe Type: Pasta
Author:
Prep time:
Cook time:
Total time:
Serves: 4-6
Ingredients
1 pound fettuccine noodles
1 butternut squash- peeled and diced
1 1/2 cups vegetable broth
1/4 cup heavy cream
1 tbsp fresh lemon juice
1 tbsp olive oil
1 large yellow onion, chopped
1 bundle of fresh thyme, tied together with a cooking string for easy removal
4 cloves garlic, minced
2 tsp dry rubbed sage
1/2 cup dry white wine
Salt and pepper, to taste
Instructions
Preheat oven to 425*F. Line a baking sheet with aluminum foil or parchment paper. Toss cubed butternut squash with olive oil, salt and pepper. Bake for 45 minutes, or until squash is tender. Remove from oven. Using the back of a spoon, squash the squash (hehe). Set aside.
Cook fettuccine according to package directions. Set aside.
In a blender, combine heavy cream, vegetable broth, lemon juice, and 3/4th of the butternut squash.
In a large saucepan, heat the olive oil over medium. Add onions, a pinch of salt, and thyme bundle, sautéing for about 5 minutes, or until onions are softened. Add garlic and sauté another minute. Then add rubbed sage and pepper, stirring to combine.
Slowly add the wine, stirring and scraping up any browned bits on the bottom of the pan. Bring the mixture to a boil for 2 minutes and then reduce heat to medium.
Add the cream mixture to the pan and stir to combine all ingredients. Heat over medium heat for 5-7 minutes, or until thickened to desired consistency. Salt and pepper to taste.
Top with remaining butternut squash.
Tomorrow: National Molasses Bar Day
6 Responses to "National Fettuccine Alfredo Day | Butternut Squash Fettuccine Alfredo"

Leave a Comment