National Fast Food Day | Copycat Krystal Burgers
Welcome to National Fast Food Day! It's been a very long time since I've had fast food, but I certainly don't mind enjoying some of the homemade variety. I think White Castle burgers are more popular; they are packaged in the freezer section of your local grocery store, there is a whole movie centered around them, but here in Tampa, Krystal Burgers reign supreme. And anyway, they are basically the same thing.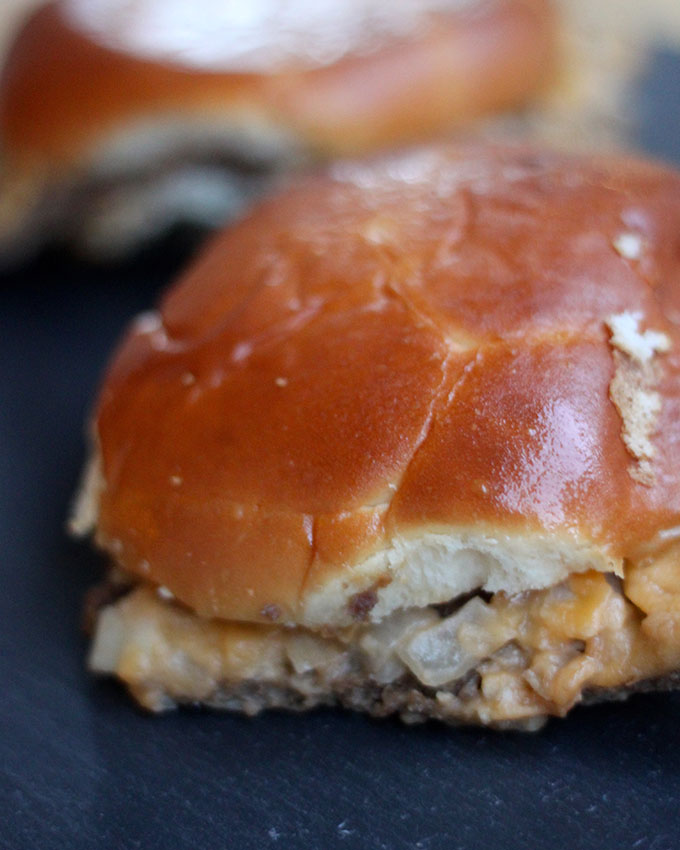 The only thing I would change about Krystal/White Castle burgers would be to make them a little bigger. 'Cause bite-size foods are usually so cute and awesome and make you want to eat more of them (both a good and bad thing), but come on now. Delicious greasy burgers deserve to be bigger than palm-size.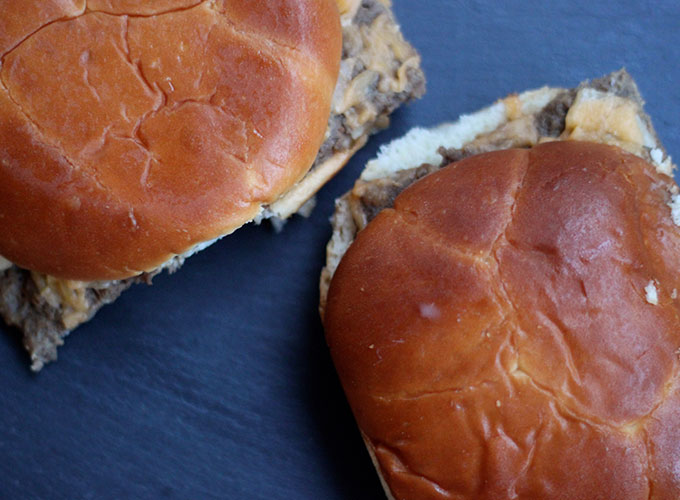 In my opinion, the best condiment on burgers is mustard so feel free to add that, or whatever else you feel like. These are homemade Krystal/White Castle burgers and you need to go with it. Enjoy!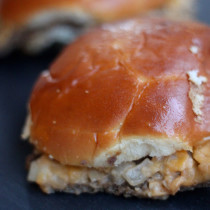 Copycat Krystal Burgers
Ingredients:
1 lb ground beef
1 package dry onion soup mix
1 Tbsp creamy peanut butter
1/2 cup whole milk
1/2 white onion, finely chopped
Hawaiian sandwich rolls, tops separated from bottoms
Sliced cheddar cheese
Condiments, as desired
Directions:
Preheat the oven to 350*F. In a large bowl, combine ground beef, soup mix, peanut butter, and milk.
On a baking sheet, spread out the hamburger mixture in an even layer, about 1/2 inch thick. Put diced onions all around the edges. Bake for 25 minutes.
Remove from oven, spoon onions from edges onto meat, top with cheese slices. Bake until cheese is melted, about 5-7 minutes. Add the tops of the rolls and bake another 5 minutes.
Remove burgers from oven, put any additional condiments or toppings on the bottom of the rolls, cut the burgers into squares underneath the top rolls and pair with bottom half.
15 Responses to "National Fast Food Day | Copycat Krystal Burgers"

Trackbacks/Pingbacks

Pingback: Recipe Roundup for your Big Game Party

Leave a Comment