National Cheeseburger Day | Juicy Turkey Burgers with Goat Cheese
My husband and I were casually talking the other day about what kind of restaurant we would have if we could. I'm still not completely sure, but then we started talking about all of the burger restaurants in Tampa. Seems like they are everywhere and then even more start cropping up. And then you have those places that aren't burger joints, yet have a burger on their menu that's so different from the burgers you'd find at one of the other places around town. Now all we need is a Bobby's Burger Palace. Come onnnnn, Bobby Flay!
A couple of months ago, my department went out to dinner at Bizou Brassiere, located in the Le Méridien Tampa hotel. Just as a brief overview, the food was good, but it wasn't knock my socks off, let's be restaurant and foodie best friends good. You'll be wise to go there for the cocktails, though. Anyway, I didn't have this meal, but they had the Bizou Burger on their menu that consisted of caramelized onions and goat cheese on a brioche bun. It looked pretty good and you should know how much I love goat cheese (although I've been very much into burrata lately).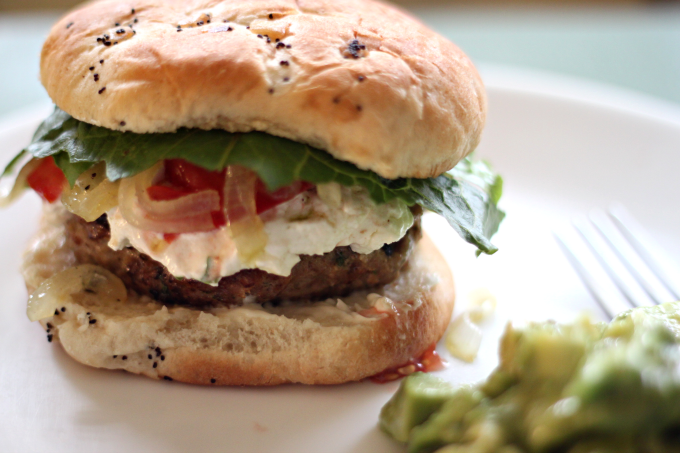 Well, that burger was my inspiration for today's National Cheeseburger Day post, but instead of beef, I wanted to make a succulent turkey burger that you can actually call 'juicy'. Too frequently, I've had turkey burgers that just don't have the same bite as beef burgers. They tend to be a little less flavorful and a little more dry. I was determined to combat that…and I did! My husband, who usually always has something to say about how something can be changed or enhanced (and I love this about him because it makes me better) could only think to say how it was the best turkey burger he's ever had, hands down.
We did end up trying this same burger combination, but with a mixture of turkey and pork as the meat and it just wasn't the same. So, try now to change this recipe, mmkay? You ever heard of the saying, "if it ain't broke, don't fix it"? Well, yeah, let's just leave it at that.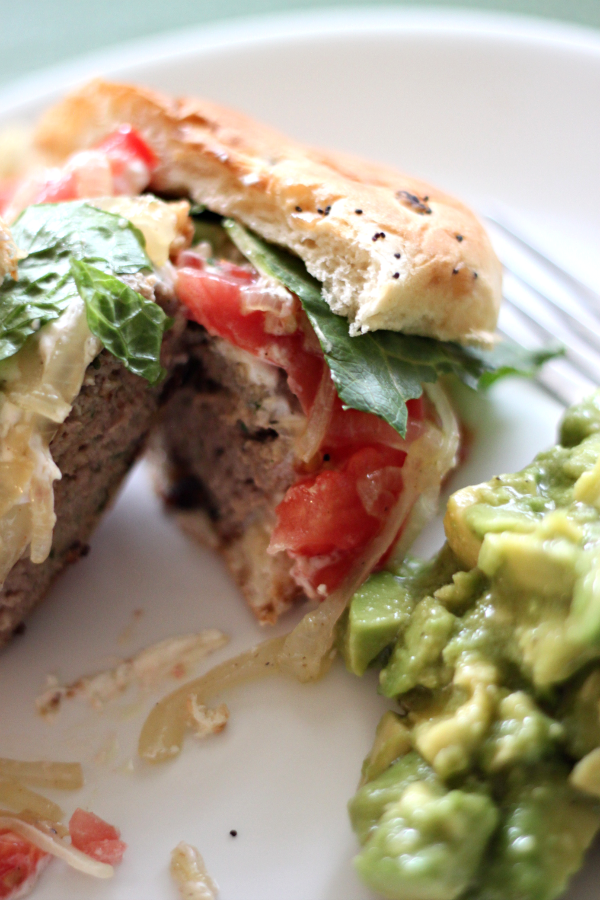 As my side, I enjoyed an avocado salad, which is a simple mixture of diced avocado, olive oil, red wine vinegar, salt and pepper. Add the amount of each to your preference, let is marinate in the fridge for a good 15 minutes, and then enjoy!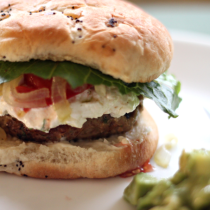 Juicy Turkey Burgers with Goat Cheese
Ingredients:
4 onion rolls, toasted
1 Tbsp vegetable oil
1 pound ground turkey
2 Tbsp Italian bread crumbs
2 Tbsp fresh parsley, chopped
2 cloves garlic, minced
1 large egg
Pinch each of salt and pepper
2 Tbsp olive oil
1 medium onion, sliced
1 (4 ounce) goat cheese log, sliced into 5 even rounds
Tomato slices
Romain lettuce leaves
Directions:
In a grill pan over medium heat, heat oil. Meanwhile, in a large bowl, combine ground turkey, bread crumbs, onion, parsley, garlic, egg, salt, and pepper. Mix with your hands until throughly combined. Form into 5 even sized patties. Cook turkey burgers in the grill pan, turning once, until internal temperature hits 180*F.
As the turkey burgers cook, heat olive oil in a pan over medium heat. Add sliced onions, a pinch of salt, and cook until translucent.
Form burgers and enjoy!
Tomorrow: National Butterscotch Day
Leave a Comment