National Butterscotch Brownies Day | Butterscotch Brownies
I'm not a big sweets lover, BUT I'm always done for some brownies. I love them just a tad bit undercooked so they are chewy and moist and super flavorful. These butterscotch brownies will fall apart in your hand. You could cook them a little longer if you don't like them to have the same consistency that I do, about 5 minutes, but you may regret not having the perfect brownie.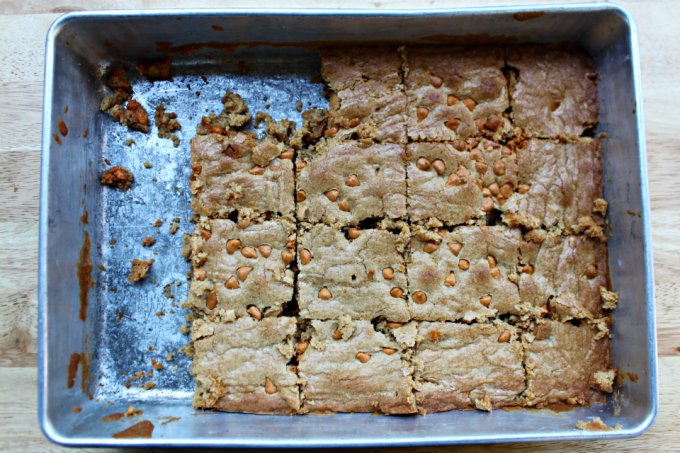 I made these brownies about a month ago when the editor from the Tampa Bay Times was interviewing me for the article. It was very nerve-wracking, just making simple brownies, and I'm glad they came out okay. Because, really, how embarrassing would that have been?
Enjoy National Butterscotch Brownies Day! I know I am.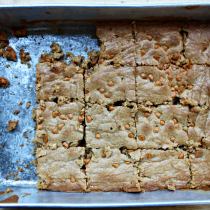 Butterscotch Brownies
Ingredients:
2 1/2 cups all-purpose flour
1 tsp baking powder
1/2 tsp salt
1 cup (2 sticks) butter or margarine, softened
1 3/4 cups packed brown sugar
1 tbsp vanilla extract
2 large eggs
1 2/3 cups (11-oz. pkg.) NESTLÉ® TOLL HOUSE® Butterscotch Flavored Morsels, divided
Directions:
Preheat oven to 350* F.
Combine flour, baking powder, and salt in a medium bowl. Beat butter, sugar, and vanilla extract in a large mixing bowl until creamy. Beat in eggs. Gradually beat in flour mixture.
Stir in 1 cup butterscotch morsels. Spread into ungreased 13x9-inch baking pan. Sprinkle with remaining morsels.
Bake for 30 to 40 minutes or until wooden pick inserted in center comes out clean. Cool in pan on wire rack.
Trackbacks/Pingbacks

Leave a Comment