National Brisket Day | Slow Cooker BBQ Beef Brisket
Have you ever had that dish that you can't get enough of? The food you keep eating even as that stuffed feeling slowly creeps into your stomach. The food you hope to have enough of left over to take some to work the next day and possibly even have for dinner that same night.
This brisket was that food for me, and it'll be that food for you all, too.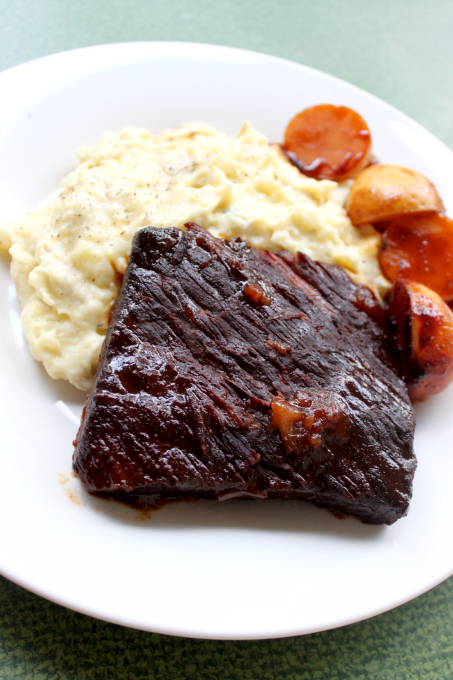 Although National Brisket Day is today, we enjoyed this brisket over the extended weekend. It was a full seven hours of smelling the brisket but not being able to eat it quite yet. The smell permeated the entire house and I would be lying if I said that I didn't peek into the slow cooker so many times I practically lived in the kitchen for the day.
In the moments that I wasn't in the kitchen, I kept asking Mike, "You think it's ready yet, you think it's ready yet?" not unlike a child on a road trip who just wants to arrive at the destination. I wanted to arrive at my brisket-devouring destination, damn it.
Finally, it was almost time for a wonderful brisket dinner so I whipped up some basic mashed potatoes (heavy cream, butter, salt, pepper, garlic powder, olive oil) and basically didn't take a breath the entire time I ate. My arm was practically a shovel.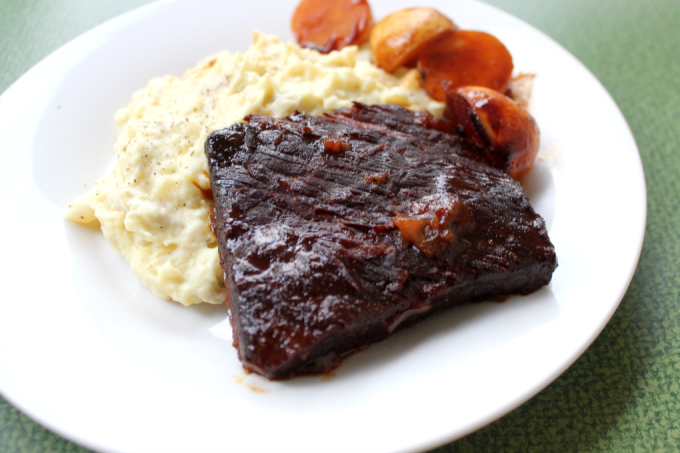 Side note: Make sure to come back on June 12 for National Jerky Day where we used some of this brisket!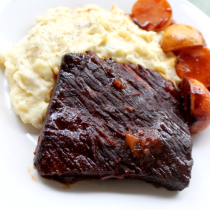 Slow Cooker BBQ Beef Brisket
Ingredients:
1 pound beef brisket, cut into half width-wise
Spice rub
2 Tbsp paprika
1 Tbsp black pepper
1 Tbsp salt
1/2 Tbsp light brown sugar
1/2 Tbsp chili powder
1/2 Tbsp garlic powder
1/2 tsp ground cumin
BBQ sauce
3/4 cup BBQ sauce
1/2 cup water
1 Tbsp Worcestershire sauce
1/2 tsp liquid smoke flavoring
1/2 large onion, sliced into rings
10 fingerling potatoes, cut in half
Directions:
Mix spice rub ingredients together in a bowl. Rub evenly over the surface of the brisket. Put brisket in a large storage bag and refrigerate for at least 30 minutes.
In a slow cooker, stir together BBQ sauce ingredients. Lay brisket into the sauce mixture and place sliced onions on top.
Cook on low until brisket is very tender and comes apart with a fork, about 6-7 hours. Two hours before completion, throw the potatoes into the slow cooker.
Rest brisket for 10 minutes before shredding or slicing. Serve with sauce from the slow cooker.
2 Responses to "National Brisket Day | Slow Cooker BBQ Beef Brisket"

Leave a Comment