National Hamburger Day | Texas Toast Frisco Melt Burger
Italian is my favorite cuisine, but the thing I actually crave most often is a big, juicy cheeseburger. I'm serious – I get that must-have feeling about burgers probably once a week, at least. (The accompanying fries have a lot to do with it, too.) I'll take a plain burger, but my ideal burger has sautéed mushrooms, some onion straws, miniscule amounts of BBQ sauce, and a ketchup/mayo combo.
Top a patty with guacamole, melted cheese, a juicy tomato, and crunchy lettuce. The possibilities are endless, and all combinations taste amazing because it's always on top of a moist burger and sandwiched between two pieces of bread.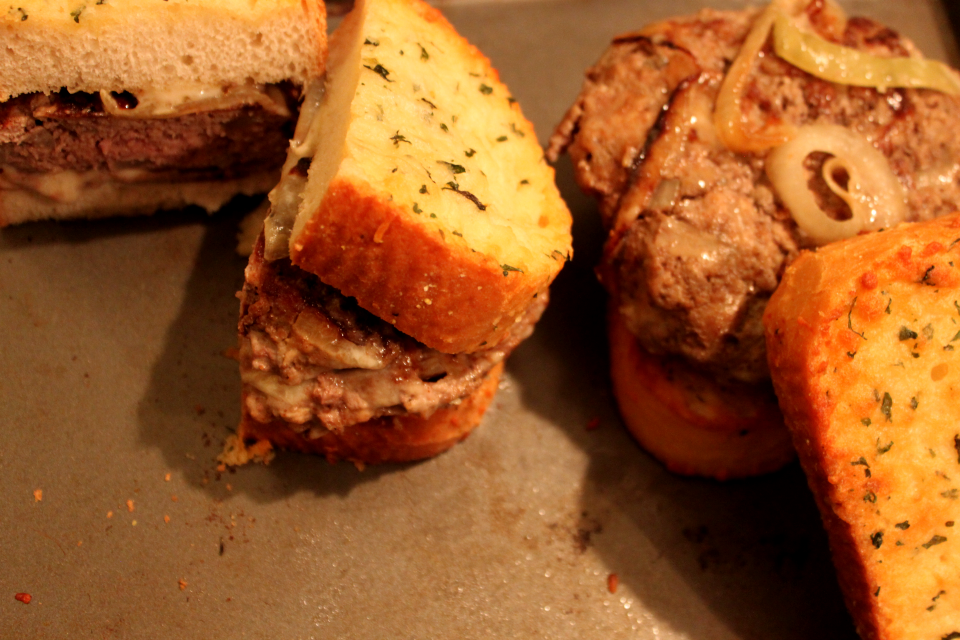 The bread can range from ciabatta to a sesame bun, or in this case, Texas Toast. Oh yes, friends, cheese and garlic Texas Toast was used for this special burger. Then pepperjack cheese, then sautéed onions, then condiments. It's not a lot of creativity and I'm sure there are burgers out there with a flavor combination that'll make you want to eat into oblivion, but this burger was wonderful in its simplicity that's not really all that simple.
And forget the fries – I can't believe I just said that – we paired this burger with sautéed spinach, lemon chicken noodle soup, grilled onions, and baked beans. Because we are sporadic and unpredictable, obviously. We just made the sides that we wanted to have, whether they would normally pair with a burger or not.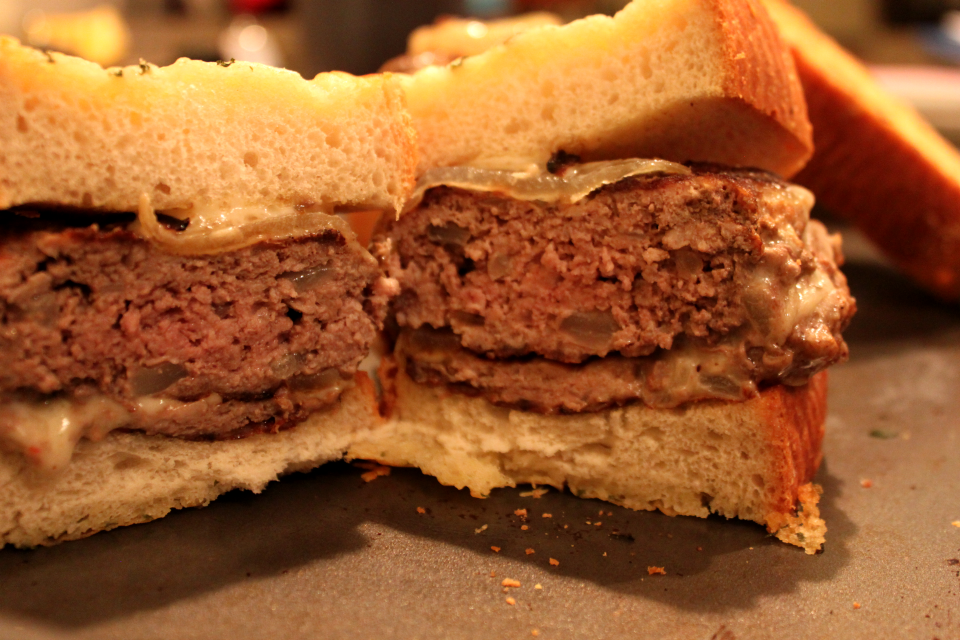 Spread out over the table, with many hands and arms reaching for food. That's how we roll.
Welcome to National Hamburger Day! What do you like on yours?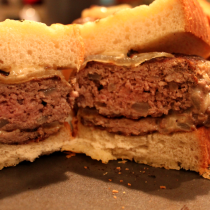 Texas Toast Frisco Melt Burger
Ingredients:
1 large onion, sliced
Olive oil
Salt
3/4 pound lean ground beef
1/4 pound ground pork
Salt and pepper, to taste
1 Tbsp garlic powder
Unsalted butter
Vegetable oil, as needed
4 slices of jalapeno cheddar cheese
4 Texas Toast slices
Directions:
In a saute pan on medium-heat, coat the bottom of the pan with olive oil. Add the sliced onions and spread out evenly, allowing to cook and stirring occasionally. Reduce heat to medium or medium-low (depending on your stove).
After 10 minutes, sprinkle salt over the onions. Let cook 30-60 minutes, adding more oil if necessary to prevent the onions from burning.
In a large bowl, combine beef and pork. Season with salt and pepper, and garlic powder. Divide in half and form 2 patties. Add butter and oil to a stovetop grill and cook patties over fairly high heat, giving it 4 to 5 minutes a side, depending on how well done you like it. Place 2 slices jalapeno cheddar on each patty.
Cook Texas Toast slices according to package directions.
To assemble, top patties with caramelized onions and place between pieces of Texas Toast.
Leave a Comment