National Blueberry Pancake Day | Aunt Sheila's Blueberry Delights
I fell in love with blueberries on a farm in Georgia.
But before I get into specifics, I'll go back even further. When I was very young, and even now, I was very close to my aunt. She was my comrade in my quest for childhood fun. Beach days and other adventures were pretty regular and I can vividly remember most of those times. When Aunt Des got married to my Uncle Dave, I not only gained a pretty cool uncle who has a penchant for craft beers and making people laugh, but I formed a relationship with Uncle Dave's parents, Bill and Sheila. Bill and Sheila were so incredibly cool in some part because of their Georgia farm with chickens, cows, horses, a country home I liked to explore in, a tractor I liked to ride on, and a large hill to roll down.
Most importantly, they had blueberry bushes.
It became a tradition to visit Uncle Bill and Aunt Sheila on their farm and spend time there in the summer months when school was out. I loved spending time riding the horses around, collecting farm eggs, and just walking the property. When the blueberry bushes started to sprout, there I'd be with basket in hand, picking those perfect fruits. We'd rinse the blueberries together and I snuck many when nobody was looking. In the morning, I knew exactly what we'd make with them.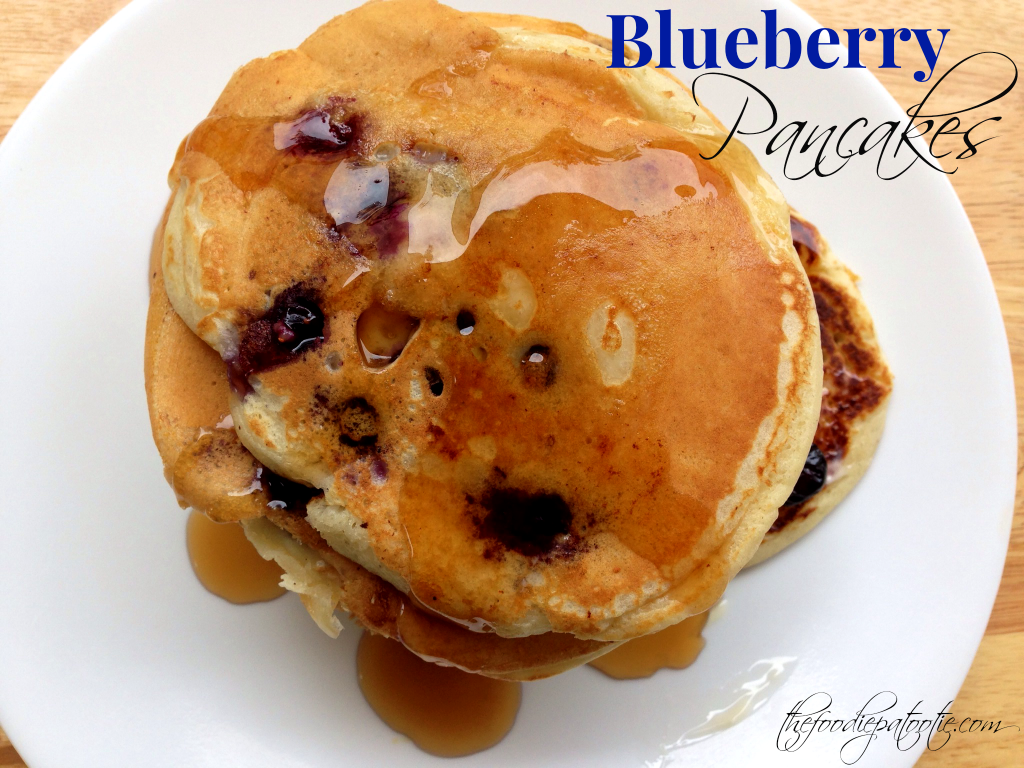 I remember sometimes having to make a trip into town to buy the ingredients for these pancakes. I even remember wondering why a video rental business was inside the grocery store. I didn't understand the function or the wonderful allure of a small town just yet. When we would go back to the house, I alternated between watching Aunt Sheila in the kitchen and stepping into the living room to view the hummingbird feeder through the window. The entire time that pancake batter smell filled the air.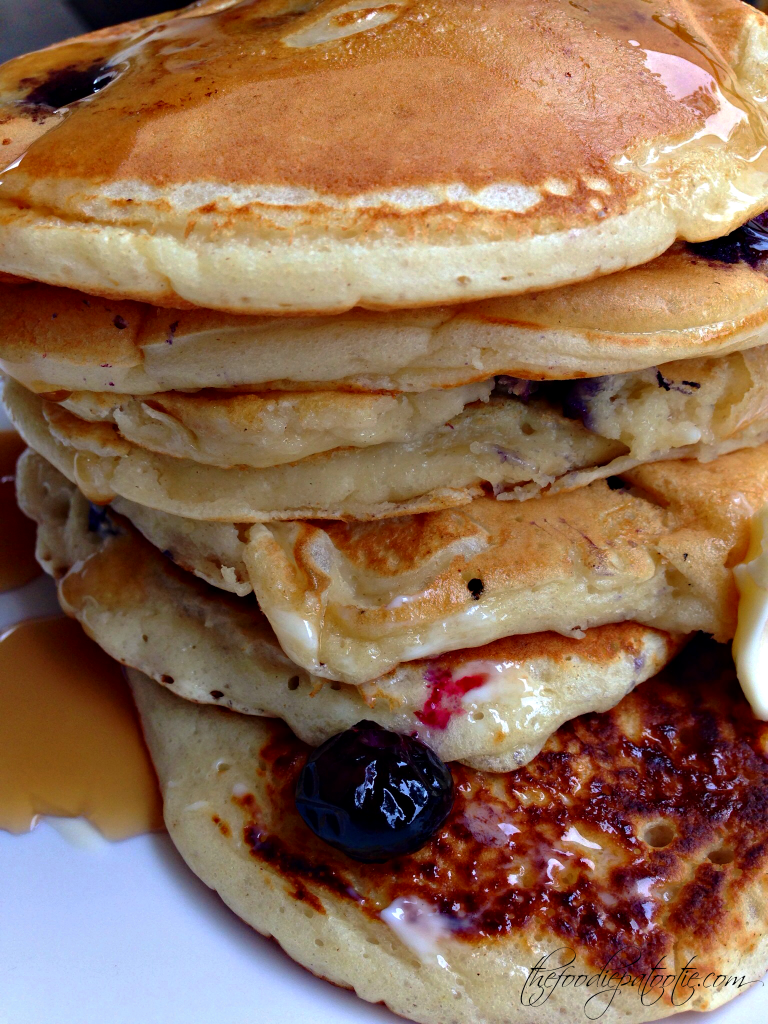 When the pancakes were done, we'd take our plates to the dining room table and look over the landscape as we enjoyed breakfast together. I've come to dislike pancakes over the years, but these…well, these are different. They don't give you that bloated, heavy feeling in your stomach that pancakes have come to represent to me. They are light and fluffy, and made with love every single time.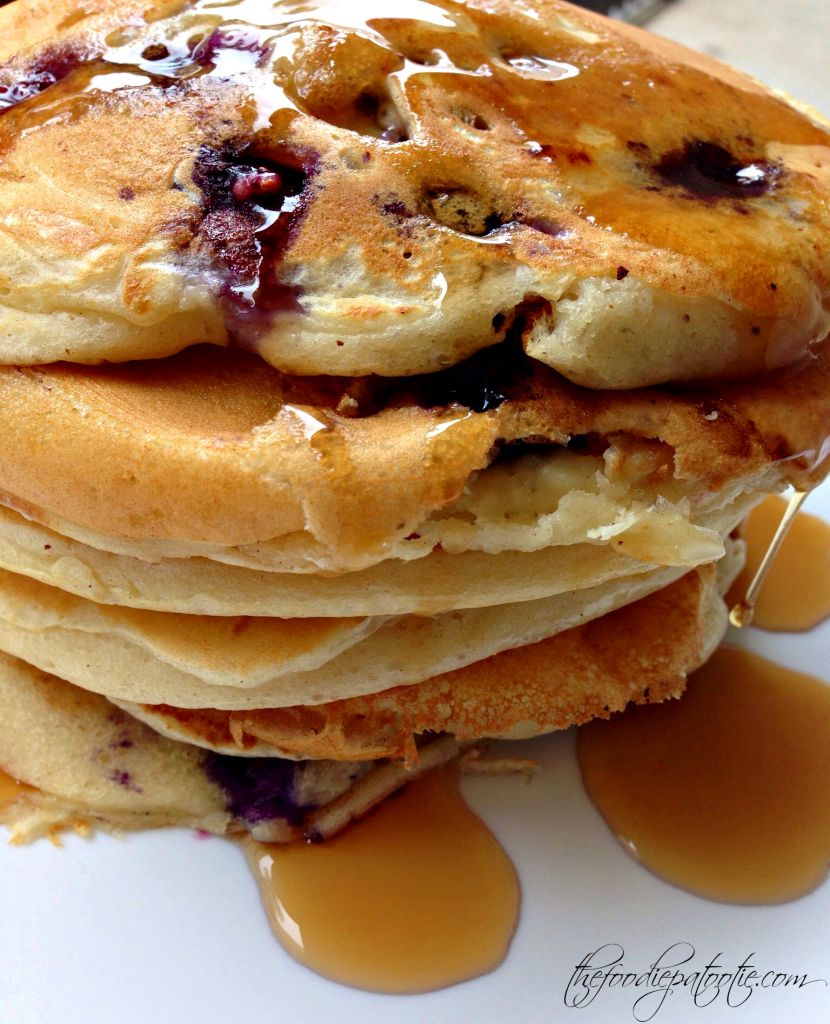 After breakfast it was commonplace for me to take a small nap, or just go into my guest room and read my book. Sometimes I would sit at the piano in the formal living room and other times I'd go downstairs to watch TV. It was a relaxing, very laid back summer for me every time I'd visit. Aunt Sheila doesn't call these pancakes "Blueberry Delights". She just calls them pancakes, as they are, but I've chosen to name them Aunt Sheila's Blueberry Delights because they are delightful to me. They remind me of childhood, of a carefree time, and of family.
Thank you to Aunt Sheila for giving me the recipe to share. Written on a small piece of weathered notebook paper, I might add. 🙂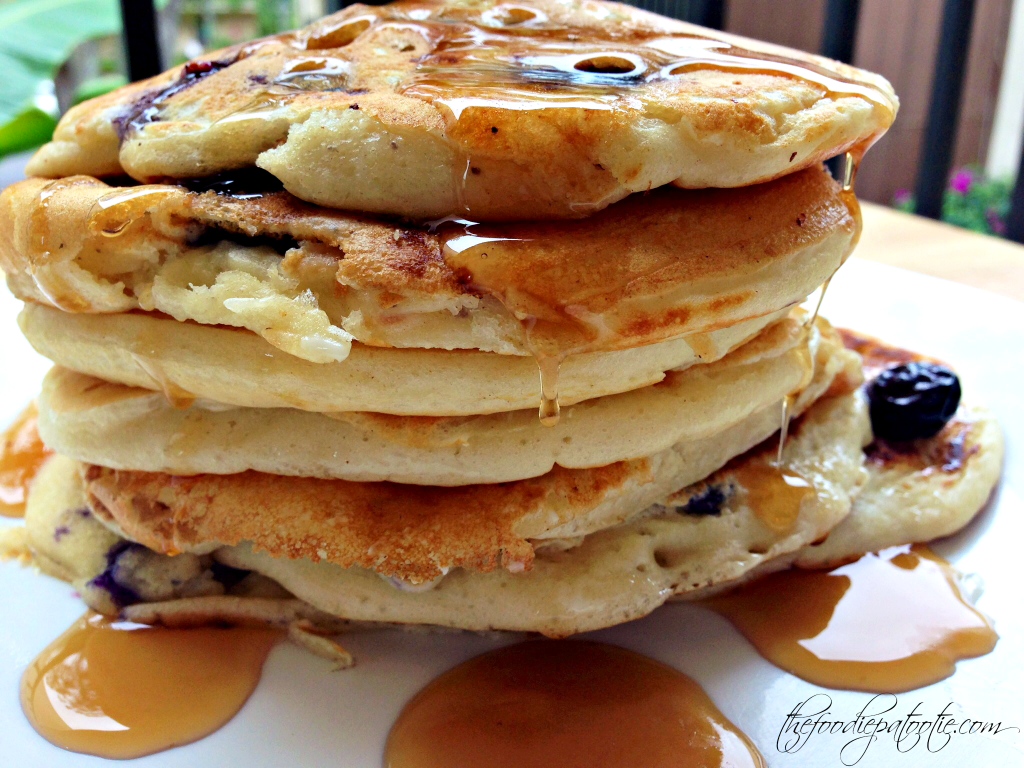 Aunt Sheila's Blueberry Delights
Recipe Type: Breakfast
Author:
Prep time:
Cook time:
Total time:
Serves: 10 large pancakes
Ingredients
2 cups self-rising flour
1/2 tsp baking soda
2 tsp sugar
2 large eggs
4 tbsp oil
2 1/2 cups buttermilk
1 tsp vanilla extract
1 cup blueberries, rinsed and patted dry
Instructions
In a medium bowl, mix flour, baking soda and sugar.
In a large bowl, beat eggs, oil, buttermilk and vanilla.
Add flour mixture to egg mixture and beat slowly until batter is smooth (thin with milk if needed).
Fold in blueberries.
Drop by 3 tbsp onto greased griddle.
 Tomorrow: National Corn Chip Day
12 Responses to "National Blueberry Pancake Day | Aunt Sheila's Blueberry Delights"

Trackbacks/Pingbacks

Pingback: National Kitchen Klutzes of America Day | 6 Month Recap

Leave a Comment