National Banana Split Day | Caramelized Banana Split
Let's up the ante today, shall we?
As one of the last ice cream food holidays of the summer, we can't just make an ordinary banana split. While the saying "don't fix it if it ain't broken" rings true for most, there's always room for a little caramelization. Especially a caramelization of bananas!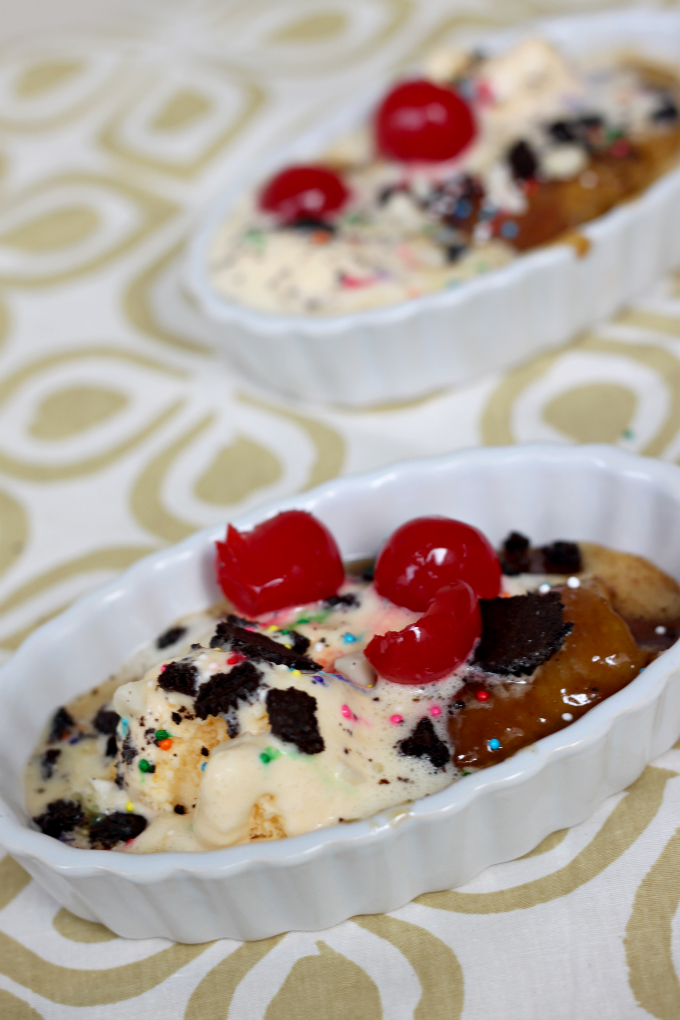 I definitely thought I had more than just vanilla ice cream in the house when I started making this banana split. Truth be told, I usually have at least 2 flavors of ice cream. Since making this dessert, I've added strawberry, creamsicle (homemade), blackberry with chocolate chips, and mint chocolate chip. See? I can't help it – I like to have a cold dessert after dinner.
SO with my lonely vanilla ice cream, some crushed Oreo cookies, sprinkles (of course), maraschino cherries, and the best part, caramelized bananas, I made a perfectly acceptable banana split as my post-dinner treat!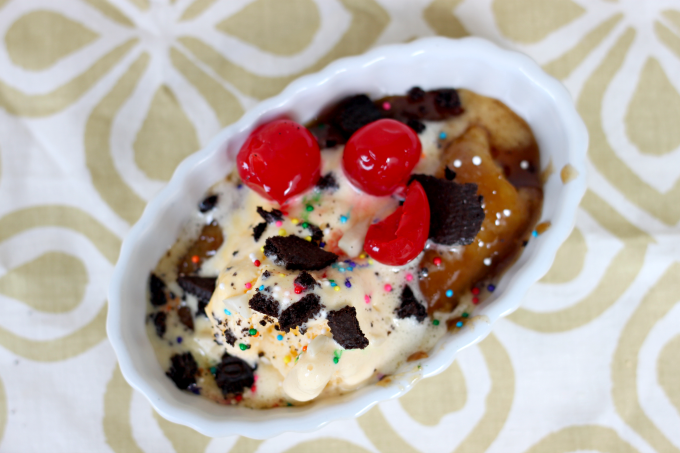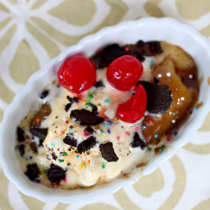 National Banana Split Day | Caramelized Banana Split
Ingredients:
1 banana, peeled
1/2 Tbsp unsalted butter
1 1/2 Tbsp light brown sugar
Splash of dark rum
1/8 tsp ground cinnamon
Vanilla ice cream
2 crushed Oreo cookies
Sprinkles
Maraschino cherries
Directions:
Cut banana in half lengthwise and again into thirds.
Melt butter in a nonstick skillet over medium-high heat. Add brown sugar and lay the banana slices on top, cut side up. Cook for 30 seconds, then add rum and cinnamon. Cook for another 10 seconds, and then flip bananas over.
Cook bananas on the other side for about 1 minute. Divide evenly into small dessert cups, pour remaining sauce from skillet over them, and top with a scoop (or two!) of vanilla ice cream.
Top ice cream with crushed Oreos, sprinkles and cherries.
Tomorrow: National Raspberry Tart Day
Leave a Comment