National Rice Pudding Day | Rice Pudding Bread Pudding with Blueberries
I don't know about you guys, but I've always loved bread pudding. I know a handful of people who can't stand the stuff, but for me, it's always been a dessert that I love. And I am not too much of a dessert person, really.
I also always enjoyed rice pudding. There's something so sweet and smooth about it that's really appealing, and it's never too heavy. Light desserts are my favorite. When it came to Rice Pudding Day, I know to make a normal rice pudding wouldn't really translate too well in pictures. Rice Pudding is never a pretty dish. So, why not combine rice pudding with bread pudding?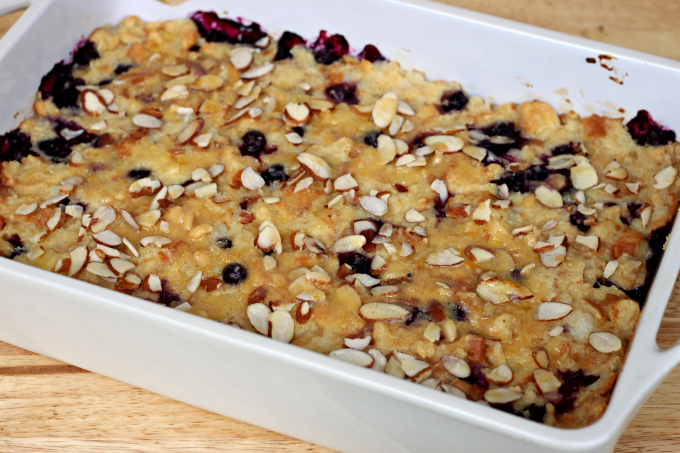 I STILL have a million blueberries so I threw some in for good measure, great taste, and more color. I also love the flavor that comes from baked blueberries. It's like an amplification of the sweetness and tartness that is already there.
This Rice Pudding Bread Pudding can be enjoyed for breakfast, snack, or dessert. You could also leave off the orange glaze, but I would never recommend THAT.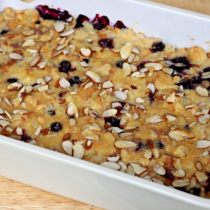 National Rice Pudding Day | Rice Pudding Bread Pudding with Blueberries
Ingredients:
12 ounce Hawaiian rolls, cut into 1/2 inch pieces
1 1/4 cup evaporated milk
1 cup whole milk
1/2 cup + 2 Tbsp sugar
1 1/2 tsp vanilla
Pinch of nutmeg
Pinch of salt
2 large eggs
3/4 cup cooked white rice
1 cup blueberries
1 Tbsp slivered almonds, toasted
1/4 tsp orange zest
1 Tbsp orange juice
Directions:
Preheat oven to 350*F. Spread Hawaiian roll cubes out on a baking sheet. Bake until toasted, about 15 minutes. Remove from oven and allow to cool.
While bread cubes are toasting, whisk together 1 cup evaporated milk, 1/2 cup sugar, 1 teaspoon vanilla, nutmeg, salt, and eggs in a large bowl. Add cooled bread cubes and cooked rice. Set aside for 30 minutes to allow the bread and rice to soak up the liquid.
Stir in blueberries and transfer to a casserole dish. Top with toasted almonds and bake 30-40 minutes. Remove from oven and let rest for 10 minutes.
While bread pudding is cooking, add remaining sugar (2 tablespoons) to saucepan. Stir over medium-low heat until it turns into an amber color, 5-7 minutes. Stir in remaining evaporated milk (1/4 cup), remaining vanilla (1/2 teaspoon), orange zest, orange juice, and a pinch of salt. Simmer 2 minutes or until sauce is slightly thickened. Pour over bread pudding.
Tomorrow: National Banana Split Day; National S'Mores Day
Leave a Comment