National Absinthe Day | Pernod French Absinthe
Just hearing about Absinthe makes me giggle. Why? I don't know. Maybe it's the fact that it reminds me of green fairies and I think about that one movie with the college kids who got completed wasted on Absinthe and traveled around some European city wreaking havoc. Basically the Absinthe version of Harold & Kumar Go To White Castle, which is hilarious, by the way.
Speaking of fairies, that was my nickname for the better part of elementary school. Or maybe just the 4th and 5th grades, but each grade seems to last 10 years when you're that young. My nickname came to be because I was short and small, by far the shortest one in the class. I would also get selected as the girl who should date the shortest boy in class. The only boy I can remember that being is this one named Chris who looked like Fievel. Being called fairy didn't bother me because I heard the whole "That means they have a crush on you" talk and so I thought I was pretty hot stuff.
Anyway, it's National Absinthe Day and we are celebrating the green fairy, not my 9 year old self. While I "talk" about Absinthe, I'll show you pictures of my Absinthe experience last night.
For a long while Absinthe was illegal in the United States (see below) so I thought- what better place than the local speakeasy to get my Absinthe for this food holiday?
Ciro's is such a cool place that I've blogged about before. It's dark, secretive, requires a password to get in, and happens to have the best fondue in the world. Take that, Melting Pot. Ciro's also has crafted cocktails, a lot of decade-appropriate knowledge among the staff, and some of the top service you can expect from a restaurant/bar.
I was informed by the server that without this diluting process, Absinthe made her face go completely numb. Say what?! I was pretty scared to try it then. Thanks, lady…NOT!
But, I was fine. It just tastes like you are drinking straight licorice juice. I don't like licorice so I took the teeniest sips ever. This was a French absinthe called Pernod, but Ciro's also has Kubler from Switzerland, St. George from California (after the ban was lifted in 2007), and Absinthe Supreme which is also from France.
Some information about Absinthe:
It's made from the flowers and leaves of the wormwood herb.
It packs an intense anise flavor.
It was controversial after hallucination and madness claims surfaced, but those have since been debunked. Therefore, Absinthe is now allowed in the USA.
It is 124 proof so it's typically diluted with water before drinking. The water is poured over a sugar cube on an Absinthe spoon (a variation of a slotted spoon) so sweetness from the sugar can be carried through to the drink.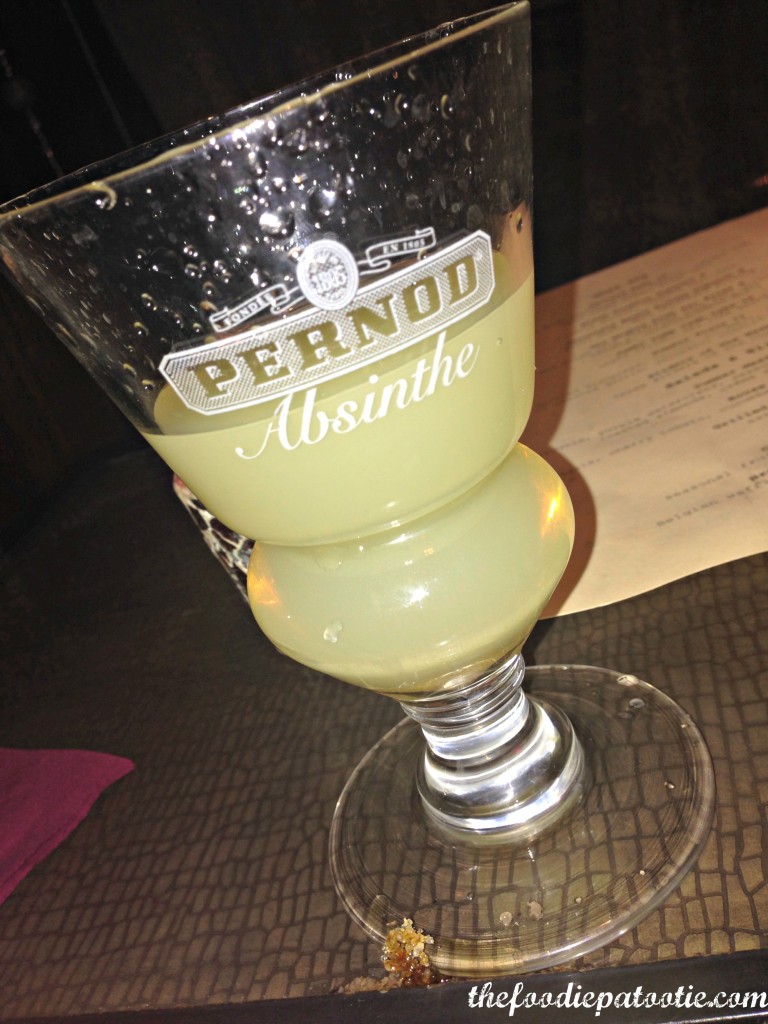 Ciro's also makes 2 Absinthe cocktails:
Absinthe Suissesse: Pernod, Orgeat, Cream, Egg, Orange Flower water, Peychauds Bitters
Mint Muse: Pernod, Mint, Pineapple and Lime Soda
Have you ever tried Absinthe? What did you think?
National Absinthe Day | Pernod French Absinthe
Recipe Type: Drinks
Author:
Serves: 1
Ingredients
Absinthe
Sugar cube
Water
Instructions
Pour Absinthe into a glass. Place a slotted Absinthe spoon over the glass with the sugar cube on top. Light the sugar cube on fire. Slowly pour water over the sugar cube and into the glass.
Tomorrow: National Frozen Food Day; National White Chocolate Cheesecake Day
Trackbacks/Pingbacks

Leave a Comment