Kung Pao Ramen Noodle Bowls
This shop has been compensated by Collective Bias, Inc. and Conagra Brands. All opinions are mine alone. #SimpleSecret #CollectiveBias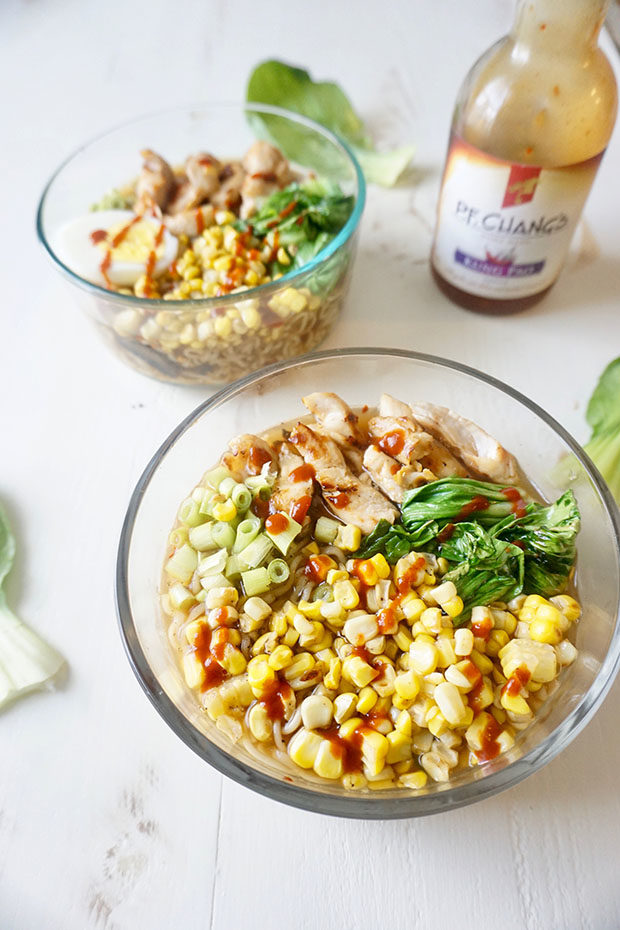 It's new and it's exciting and it's going to make your dinner delicious. It's the NEW P.F. Chang's® Home Menu sauces (exclusively at Walmart!) and I'll show you how you can use the Kung Pao flavor for Asian cuisine made simple, but before that, let's go back a little bit. I have a story for you.
It's a house I've been to a thousand times but it's not mine. It's familiar and I love being there because it means we get late night snacks and movies until 2am and dance parties to Montell Jordan and Trisha Yearwood alike.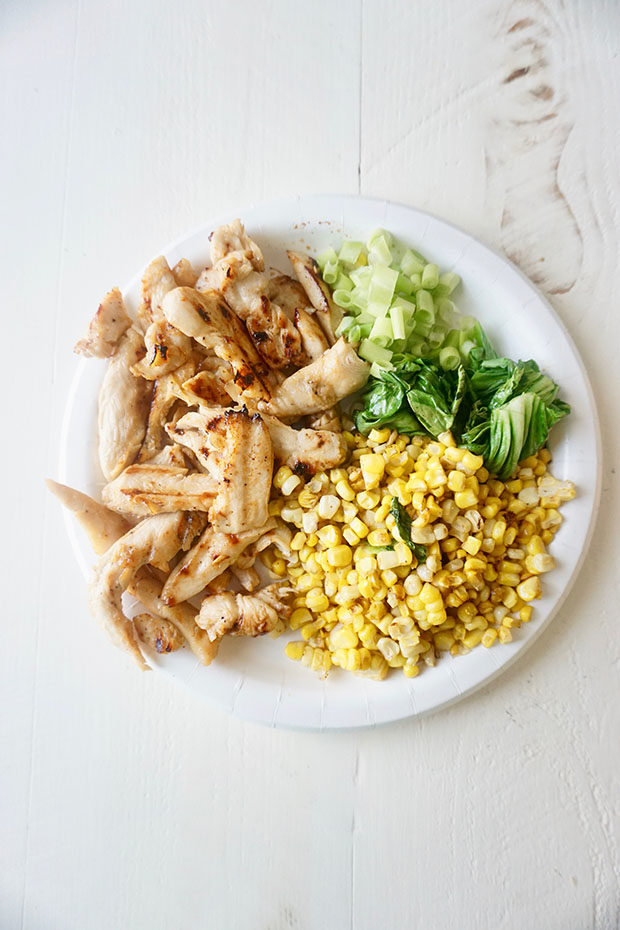 It's the quintessential girls sleepover and I'm always over at my friend's house because there's always the promise of ramen noodles. You know, those noodles in the plastic pack with the plastic "flavor" packet that tastes like plastic but was basically the best thing going when you were young? Her mom made the ramen noodles in the oven, in used and washed old plastic frozen meal containers.
It took a very long time for me to stop enjoying those ramen noodles which I called Oodles and Noodles. Many, many years later I had my first experience with a real ramen noodle bowl and as much as I love nostalgia of all kinds, I may have actually audibly scoffed at my younger self because this new version of a ramen noodle bowl – the correct version – was mind-blowing. I wished I had been eating this my entire life.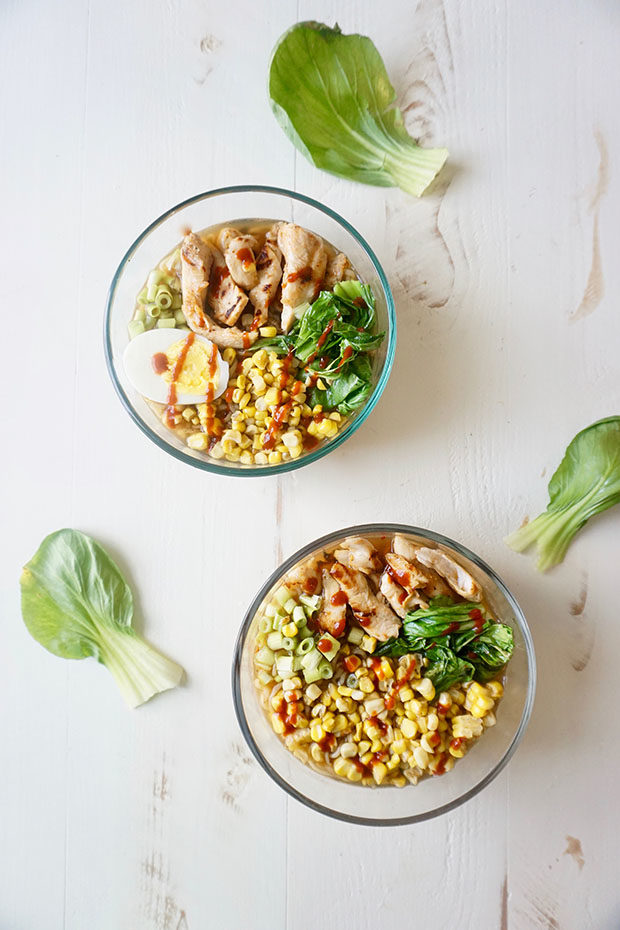 Before that, though, my love of Asian flavors was growing. Teriyaki, fish sauce, hoisin, kung pao – everything was wonderful and flavorful and needed to be consumed very frequently. I started making my own dishes. Asian-inspired cuisine runs rampant in my house and if you've been over for dinner, chances are we've served up some kind of noodle bowl. Today, I'm sharing how to make Kung Pao Ramen Noodle Bowls. 😋
The new P.F. Chang's® is my simple secret to extraordinary flavor. Ramen noodle bowls are packed with flavor, but I rarely have time to build a liquid base with this punch of taste. Using store-bought broth doesn't always do the job either because there isn't always that depth of flavor you might be looking for in a ramen noodle bowl. So what's a person to do? Using P.F. Chang's® Kung Pao sauce in the broth and witness a complete flavor upgrade. For even more flavor, I marinated my chicken in the sauce as well. Wanna know what else is great? The fact that the P.F. Chang's® sauce is so great, I don't even have to add anything to it. It makes the perfect marinade – just seal your chicken and sauce together in a freezer bag and let it all hang out together in the fridge for a little bit.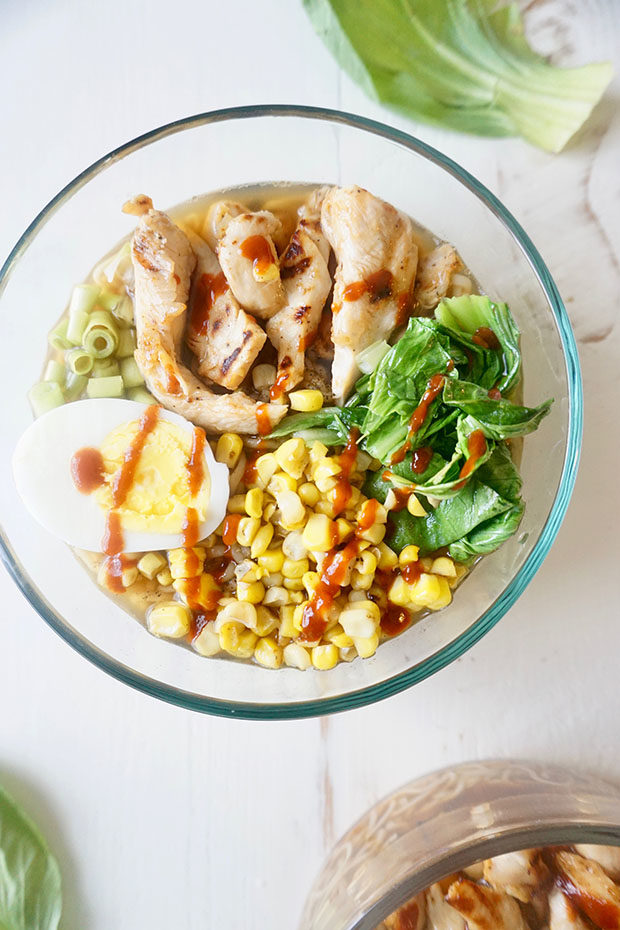 I like to keep my ramen noodle bowls fairly simple, with ingredients I would normally have in my fridge anyway. As much as I like the bamboo shoots and some of the other elements you'd find in a bowl from an Asian restaurant, I'm all about making dinner a breeze. I decided to include grilled kung pao chicken, grilled corn, sautéed baby bok chop, scallions and a hardboiled egg in my noodle bowl. The egg is mixed into the broth and adds this liquid creaminess, if that makes sense. Or, you can make your egg yolk a little runny and let it cook in the hot broth. The options are endless, and all delicious.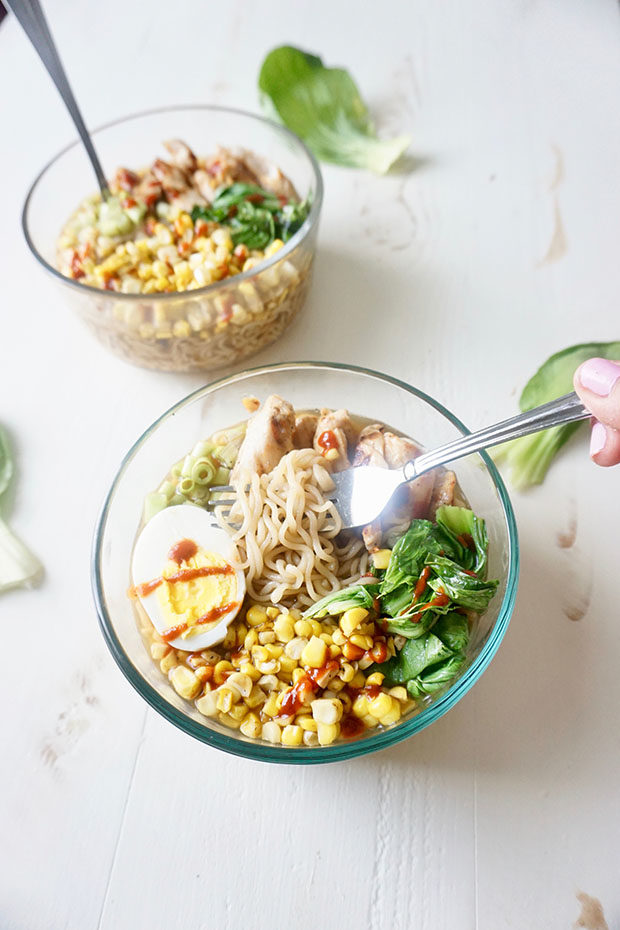 I try to cook dinner nearly every night and so, usually on the weekends, I will work at a recipe until I'm able to get something that comes together quickly and doesn't seem rushed. It also needs to taste great. I'm not willing to compromise flavor because of any time limit I may have.
Let's twirl our chopsticks (or forks) to great food, great flavor, and time with family.
With time you get back because of this simple recipe, go ahead and enter the sweepstakes to win a trip to Scottsdale, Arizona, as well as several weekly prizes and find Asian recipe inspiration!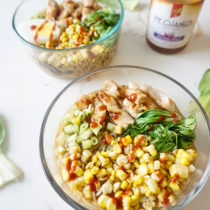 Kung Pao Ramen Noodle Bowls
Ingredients:
1/2 pound chicken tenderloins
1/4 cup P.F. Chang's® Kung Pao sauce + 4 tablespoons, divided
1 1/2 tablespoons vegetable oil
8 ounces baby bella mushrooms
4 cups vegetable broth
2 corn on the cobs
2 tablespoons scallions, light green parts only, diced
2 bulbs of baby bok choy, leaves only, torn into large pieces
1 egg
2 squares of ramen noodles
2 teaspoons soy sauce, divided
Sriracha, to drizzle on top (optional)
Directions:
Salt and pepper chicken tenderloin strips. In a large ziptop bag, combine chicken and 1/4 cup kung pao sauce. Seal bag and massage chicken and sauce together until chicken is coated. Place in fridge for 30 minutes to several hours.
In a large pot, place corn on the cobs. Cover with water and set to high. Let water boil and corn cook until it can easily be pierced with a fork.
While corn cooks, add mushrooms and vegetable broth to a smaller pot and set to high to boil. Once it boils for 5 minutes, turn off the heat and cover until ready to use.
When you're ready to cook chicken, heat a grill pan over medium. Slice the marinated chicken tenderloins into thinner strips. Add 1 tablespoon of vegetable oil to the hot grill pan, then add chicken. Cook for about 10 minutes, or until all pieces are cooked through. Remove to a plate and wipe down grill pan.
Once corn is done cooking, remove from water and, using a sharp knife, run your knife down the sides of the cob, removing the corn kernels. Toss kernels with salt and pepper to taste. Heat up the grill pan again and add 1/2 tablespoon vegetable oil. Add the kernels to the hot pan, as well as the baby bok choy leaves and cook until desired level of grill. Then remove to a plate.
In a small pot, cover an egg with water. Bring to a boil, boil for 2 minute, then remove from heat and let sit for 12 minutes; peel and cut in half. In  another medium pot, cook ramen noodles according to package directions.
To assemble two bowls: split ramen noodles between two bowls and cover each with broth from mushrooms. Stir in 1 teaspoon of soy sauce and 2 tablespoons of kung pao sauce into each bowl. Top each with chicken, corn, scallions, bok choy and half a hardboiled egg.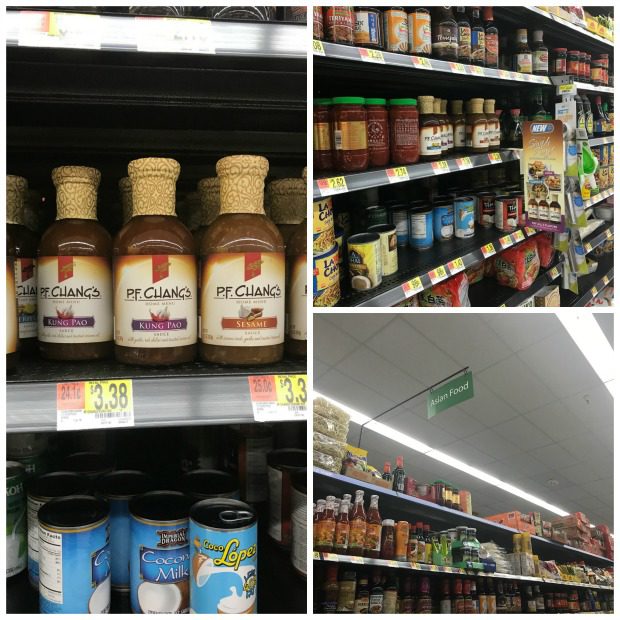 2 Responses to "Kung Pao Ramen Noodle Bowls"

Trackbacks/Pingbacks

Leave a Comment