How to Keep Your Dog Calm and Happy During Severe Weather
This shop has been compensated by Collective Bias, Inc. and its advertiser. All opinions are mine alone. #RecipesWithPurpose #CollectiveBias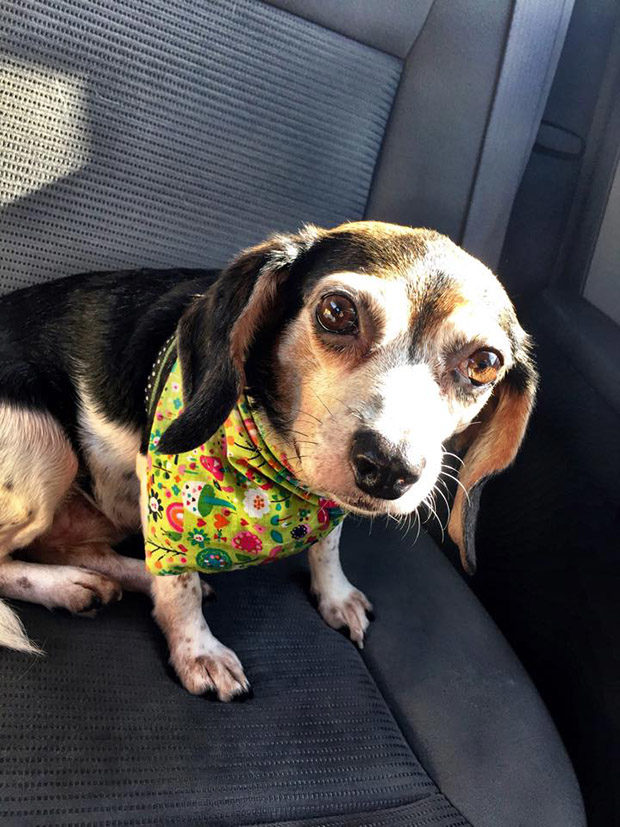 If you've been around these parts for any length of time, you know about my dog Bits. But, seeing as how I never tire of talking about her, here I am sharing her story again. Bits is a female Beagle mix who we adopted about six years ago when she was rescued from a farm in Georgia (along with so many other beagles, living together in a 10×10 pen – that was never cleaned – outside) by Tampa Bay Beagle Rescue.
She is what I'd consider a 'foster fail' in the best way possible because I was fostering her and the day I was supposed to take her to an adoption event, we just couldn't let her go to anyone else. As much as I trust the local rescue to find a qualified person or family to take ownership of the dogs, we knew that Bits was a special case and needed special care. We honestly felt no one could give her the home she needed more than us.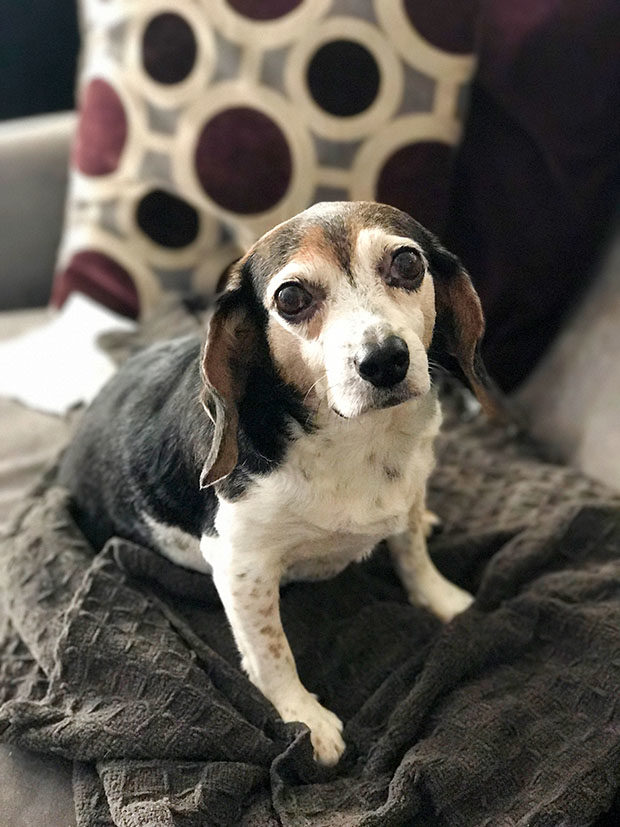 In short, she was skittish, scared, emaciated, and was heartworm positive. She also had to have most of her teeth pulled to protect her health. She had been through the ringer and we were determined to provide her with a loving home.
We've done just that and she now loves to cuddle with us, she thinks she owns every soft spot in the house, she even tolerates Max. We were even able to get her to the ideal weight for her size in a good time, a time that was healthy for her. It's been a long road, but one thing she is still frightened of is thunderstorms. Really, even a heavy rain will make her shake. Of course, she also hates going outside to do her business in any weather other than sunny and clear.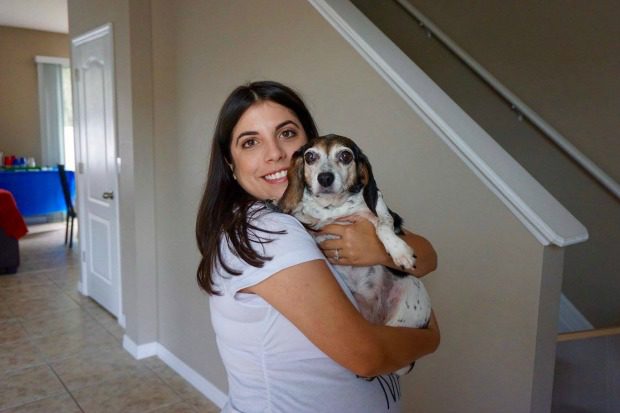 With all the crazy weather happening lately (I'm from Florida, but moved to North Carolina this past November so I know what a thunderstorm is like), I thought it would be pertinent to share what we've done throughout the years to help Bits with her fears and how to keep your dog calm and happy during severe weather.
BUILD A TENT
I know building a tent is something you do with 5 year old kids, but dogs really like to be comforted and surrounded. We'll take Bits' favorite blankets, plus pillows and give her a safe little cave she can feel comfortable in while still providing her with some openness so it doesn't become claustrophobic.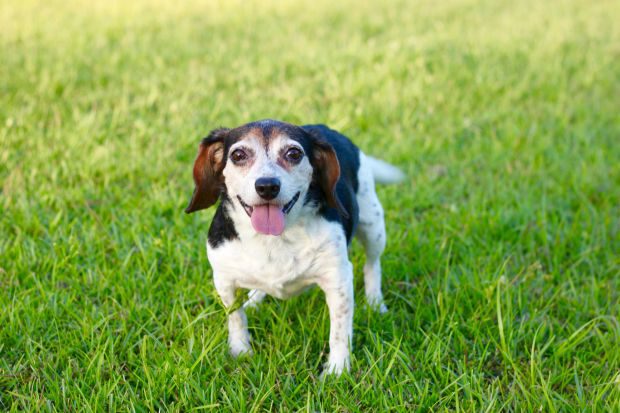 It's her own private shelter and she'll sometimes even hang out in there once the storm has passed because she's passed out asleep (as beagles tend to do).
STAY WITH THE FAMILIAR
This includes any number of things, one of which is food. As much as dogs love treats and table food, we find that the best course of action for Bits is to stick with the familiar. You definitely don't want to switch dog food up suddenly and possibly risk stomach issues, which is uncomfortable for the dog (and they will not be happy about needing to go outside in the weather), but something that could be not so fun for you too.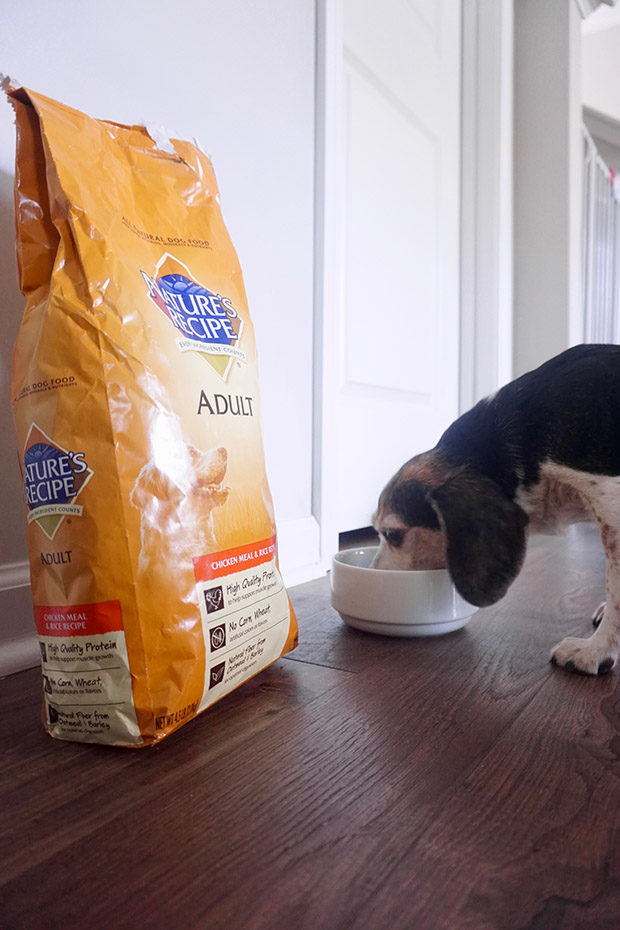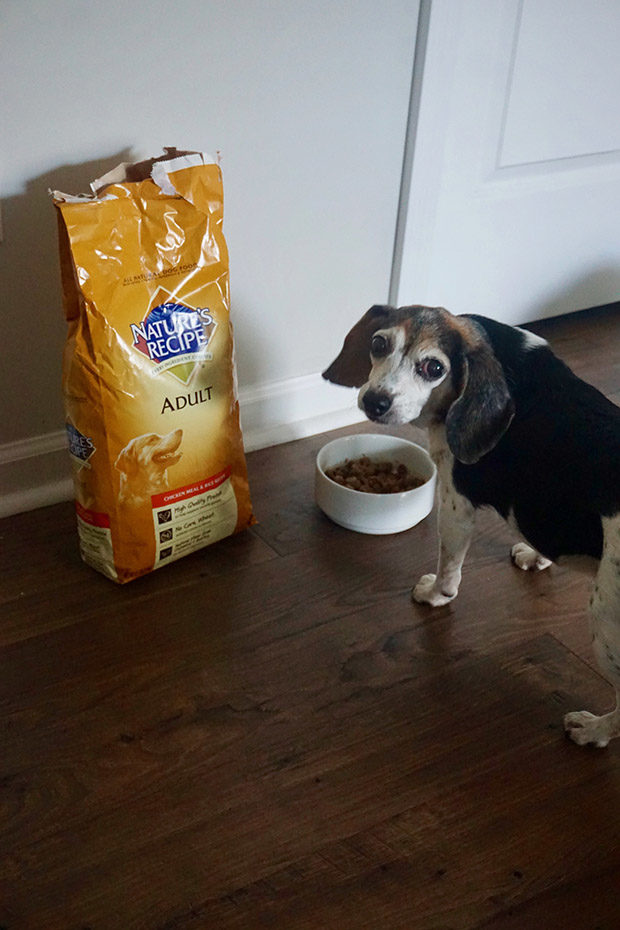 Bits eats Nature's Recipe (I purchased ours at Food Lion and used the Checkout 51 offer) because it's light on her stomach with its high quality ingredients, with added vitamins and minerals, and without corn or wheat. Nature's Recipe also has a 35 year history of premium recipes that just now made it to mass grocery stores (it was previously only sold in pet specialty stores) so I trust the brand, and they help me Fuel the Wag in keeping Bits healthy and happy.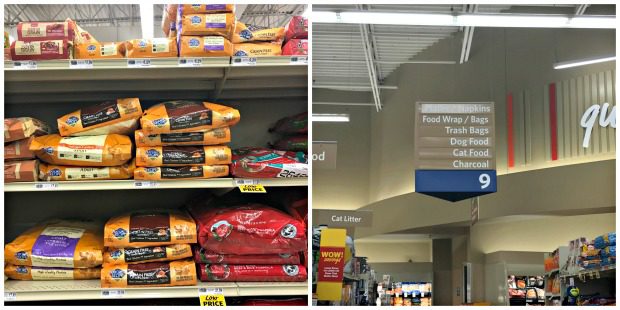 If you take advantage of the Checkout 51 offer, get $3.00 back when you purchase any one Nature's Recipe product.
Click here for more Nature's Recipe inspiration!
SHARE YOUR CLOTHES
Does your dog make straight for the newly laundered pile of clothes whenever he or she gets the chance? If your household is anything like ours, we don't necessarily put all of the clothes away as soon as they are out of the dryer. We usually sit on the floor of our bedroom, while watching our favorite TV show, making piles of different items of clothing and then maybe (usually not), we'll put them away.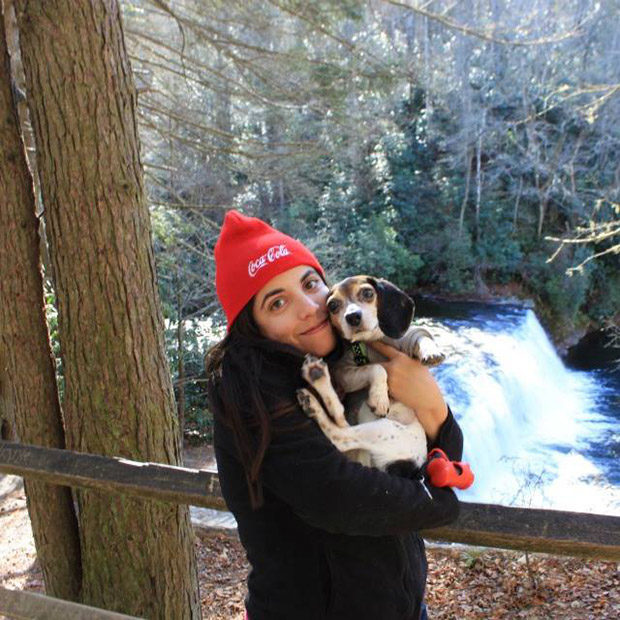 The times where we wait a handful of days to put the clothes away, you can say goodbye to neat little piles because Bits finds her way over to them and makes what we call her little nest. She'll scoot clothes out of the way, make room for new ones, and get enough dog hair on our items that we've invested heavily in lint rollers.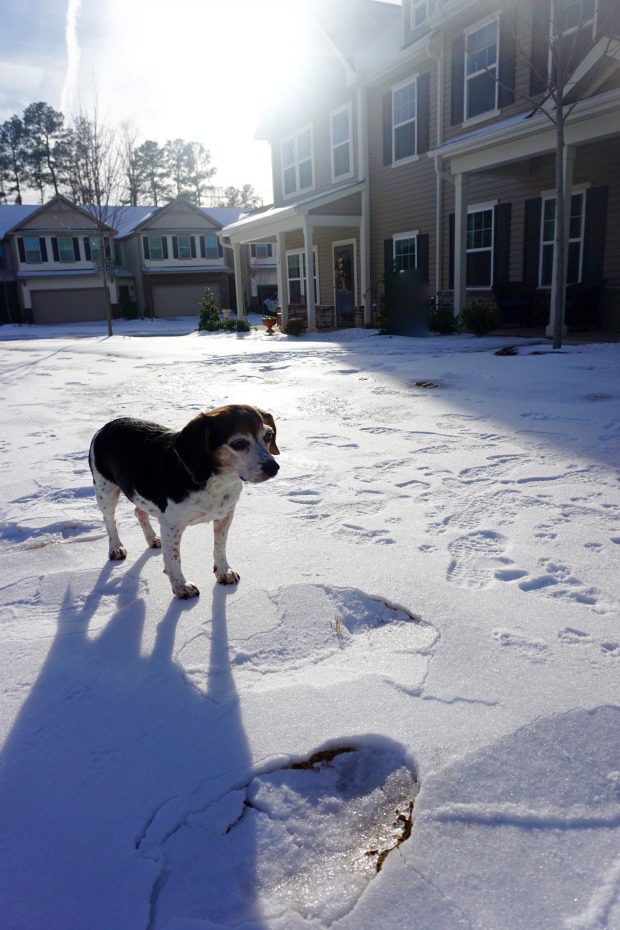 What this indicates to me is that she likes clothes! There's a comfortability in the scent or the texture so if she's a little bit freaked by a storm, I have some casual, around-the-house clothing that she can make her bed in. If that's what she seeks when there isn't a storm and she's at her happiest, then I can only assume that it's a safe place for her when the wind is howling outside.
ACT LIKE EVERYTHING IS OKAY
So I think it's important to acknowledge your dog's fears and again, provide an environment for them where they feel safe. However, what worked for us is to pet Bits a little more, hug and cuddle her a little more, build her the tent and allow her to make use of our dirty laundry, but don't go beyond that to validate her fears. I happen to think her fears are very fair to have – I'm scared of thunderstorms too! – but I want her to know that we don't think the storms are a big deal.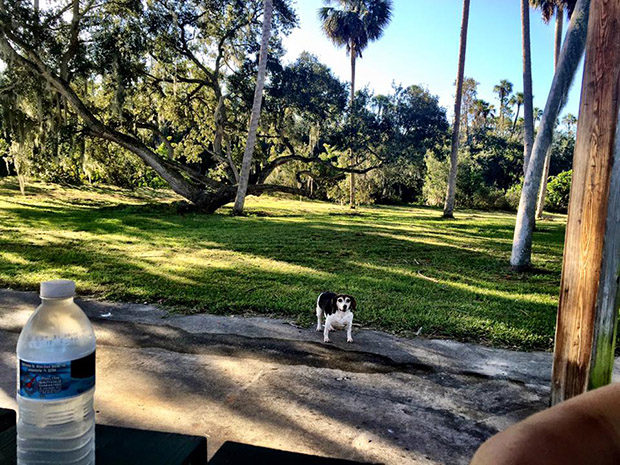 If we don't make a huge deal of it, she shakes less, is comforted more, and eases into it all a little faster. At first, we would coddle her and go above and beyond to hug her and repeat, "It's okay, it's okay" for however long it took, but we discovered that she only shook more. I decided to just try the method I use with Max which is to (unless it's clearly severe, of course) be casual in examining any boo boo and calm in getting to him when he's fallen and starts crying.
If I don't make a big deal out of it, neither does the dog (or the kid)!
What tips and tricks do you have to fuel the wag?
One Response to "How to Keep Your Dog Calm and Happy During Severe Weather"

Leave a Comment