Grilled Citrus Chicken, Kale Slaw, and Roasted Vegetable Gluten-Free Pasta Bowl
This shop has been compensated by Collective Bias, Inc. and its advertiser. All opinions are mine alone. #BarillaGlutenFree #CollectiveBias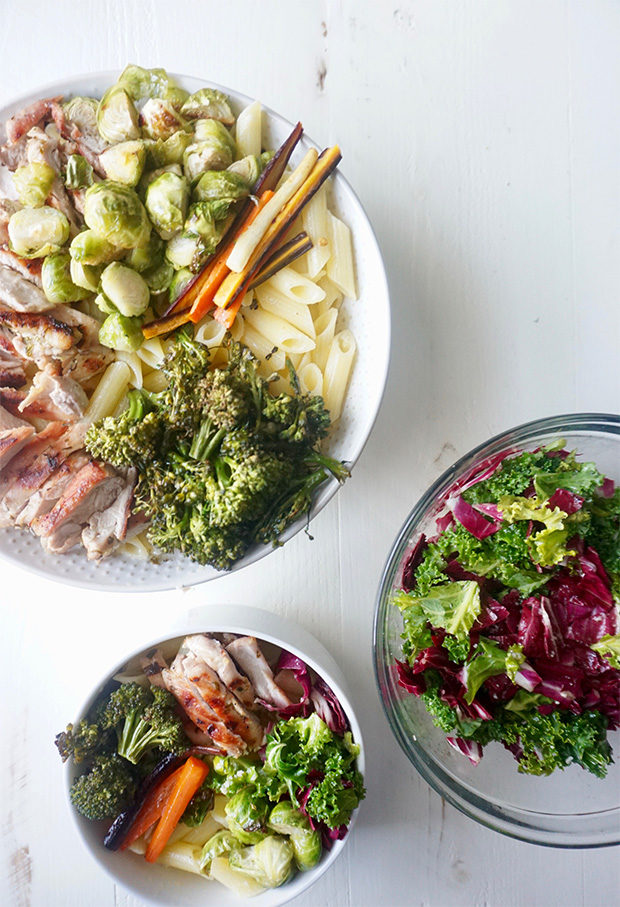 We've all been there when we just have entirely too much going on and no time to meal prep anything elaborate. And we don't want yet another night of takeout. I get to that point very fast in a typical week so I turn to meals that are easy to prepare and great for leftovers too.
As much as I love my pasta (I mean, I am Italian and have a whole shelf in my pantry dedicated to the stuff), I am always interested in ways to lighten up my meals a little bit for something more wholesome and nutritious. Today I'm featuring Barilla Gluten Free pasta which I'm honestly so impressed with.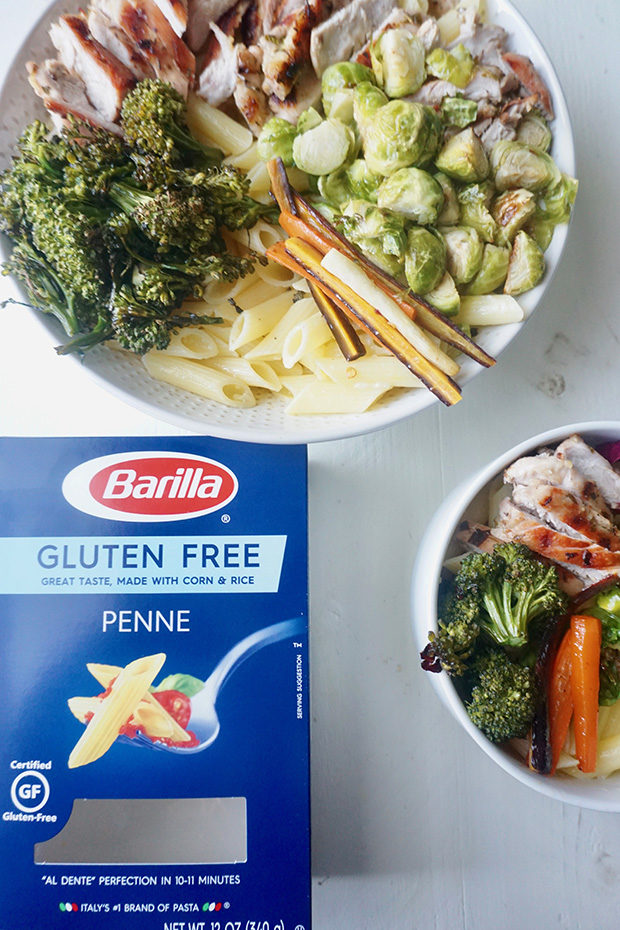 I've had organic ice cream that tastes gritty and I've had gluten-free pasta that tastes like you're eating one big bowl of "diet." However, the Barilla Gluten Free pasta has the exact same flavor as regular pasta. This girl right here, who grew up with family pasta dinners and eating spaghetti on the regular, cannot tell a difference. This gluten free version is also made with non-GMO corn and rice, with a texture similar to "regular" pasta. I'm a converter.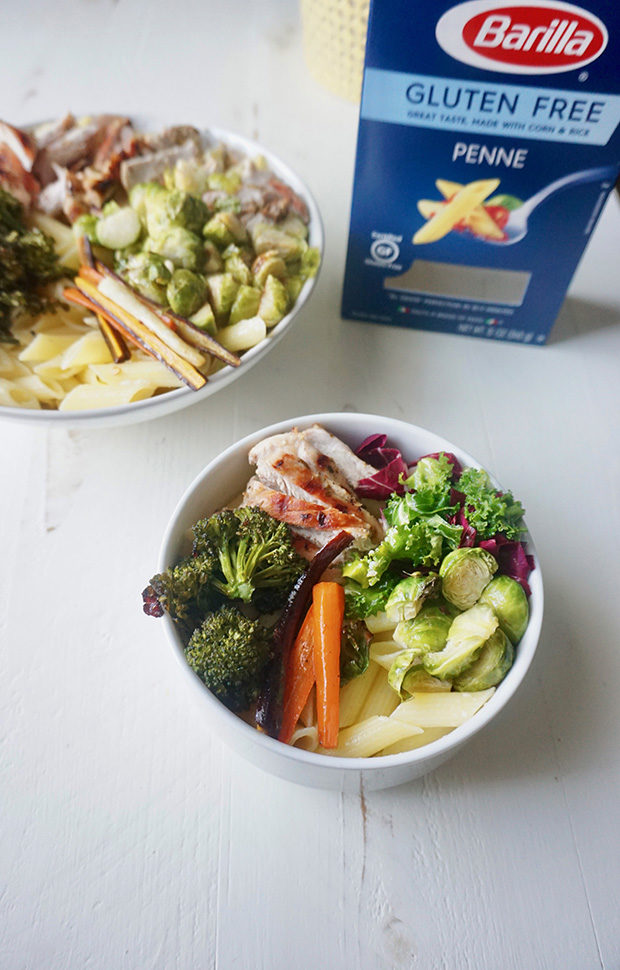 I paired this penne with my favorite, easy roasted vegetables and a citrus herb grilled chicken. I like to use chicken thighs because I find that they have more flavor and absorb marinade really well, but white meat chicken will work here as well. All you have to do with this chicken is build the marinade from items you may very well have in your kitchen already (or are easy finds at your local store), cook on the stovetop and then put in the oven with the roasting vegetables. Dinner is ready all at the same time!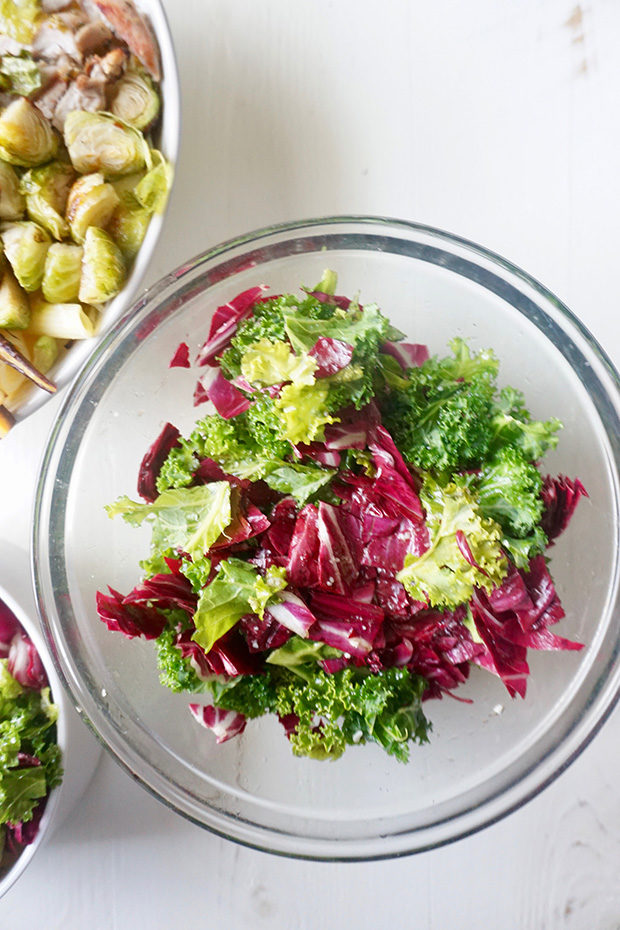 As an aside, isn't that the struggle for most busy families? Time management in the kitchen was always my issue. I mean, for years I would take much longer to cook a meal than anticipated or expected, and then just when I was able to tighten up on that, I had a hard time getting the hang of planning the meal and the cook time so everything is finished together, or as close to together as possible.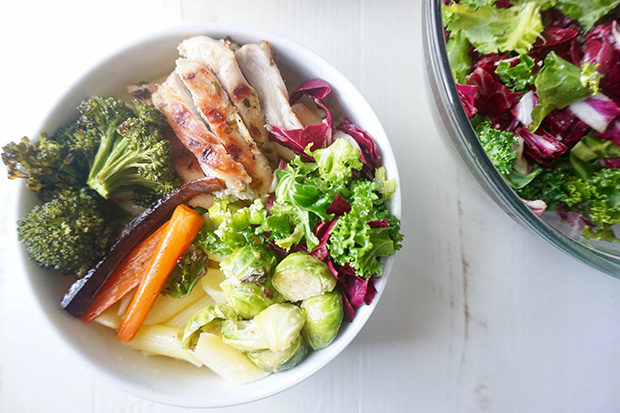 If you follow this recipe for Grilled Citrus Chicken, Kale Slaw, and Roasted Vegetable Gluten-Free Pasta Bowl, you'll be able to have vegetables and chicken and pasta that are hot and ready for dinner together.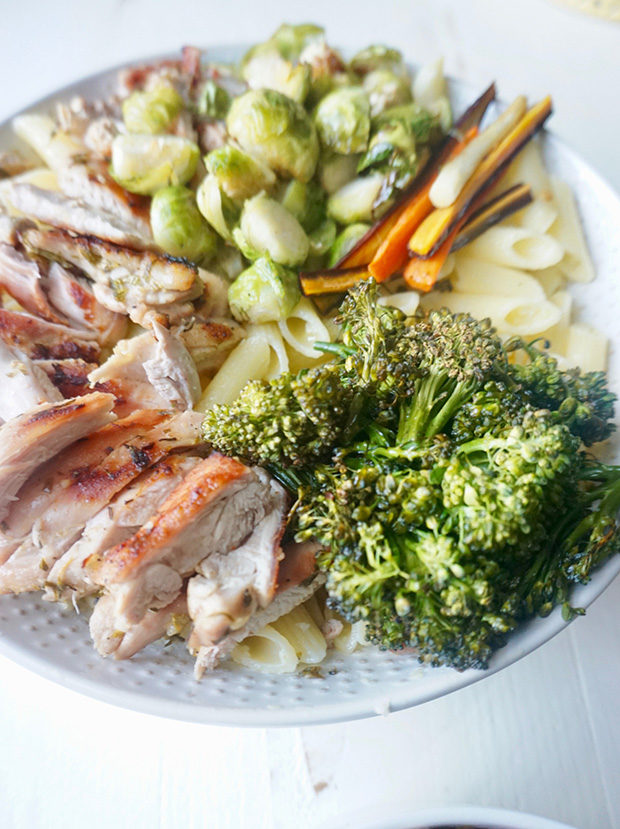 Here's how it's done: get the marinade ready for the chicken. (You could marinate the chicken for longer, even overnight, but it's unnecessary if you're cooking for dinner right now.) When that's done you preheat your oven and prepare your vegetables for roasting. Spend some time cooking your chicken on the stovetop (I always recommend a cast iron), then in the oven goes both the sheet of vegetables and the chicken and if you immediately start boiling your pasta water, everything should be done around the same time!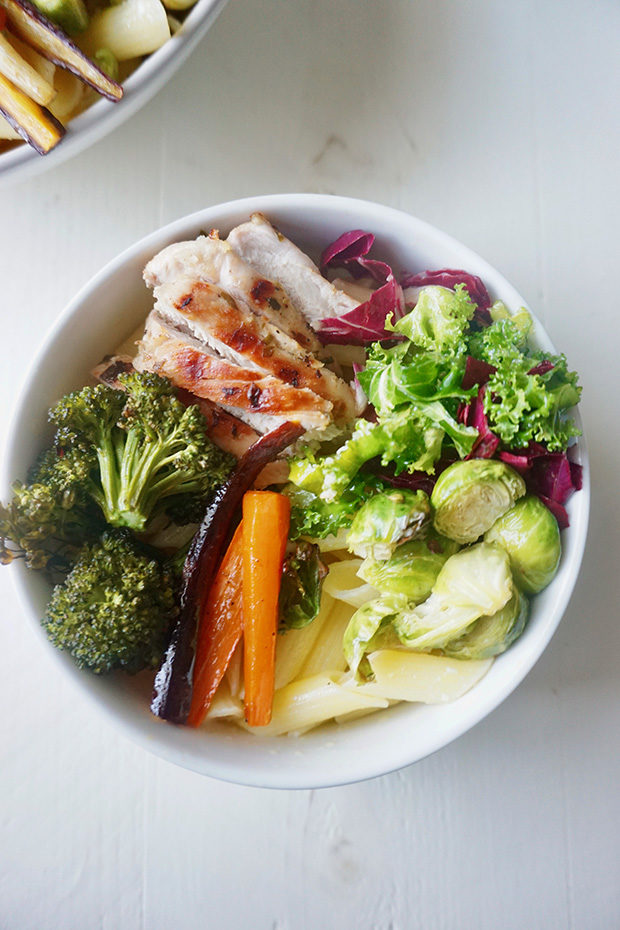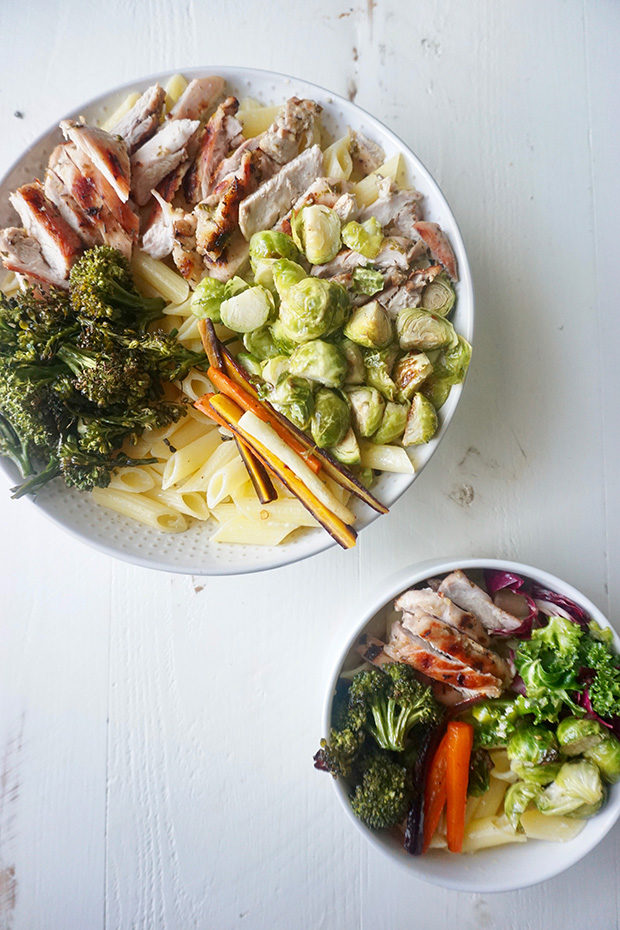 I bought my pasta at Kroger, and to make your meals even better, head to their digital coupon page for ways to save!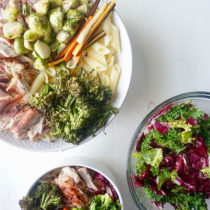 Grilled Citrus Chicken, Kale Slaw, and Roasted Vegetable Gluten-Free Pasta Bowl
This Grilled Citrus Chicken, Kale Slaw, and Roasted Vegetable Gluten-Free Pasta Bowl will leave you never desiring another kind of pasta again. Perfect bowl for any time!
Ingredients:
Grilled Citrus Chicken
1 pound boneless, skinless chicken thighs
Juice from 1 1/2 lemons
Juice from 1 lime
Juice from 2 oranges
4 garlic cloves, minced
2 tablespoons fresh parsley
1/2 tablespoon fresh thyme
2 tablespoons extra-virgin olive oil
Salt and pepper
Kale Slaw
3 cups kale, stems removed and chopped
1 cup radicchio, chopped
1 tablespoon apple cider vinegar
2 tablespoon extra-virgin olive oil
1 tablespoon Pecorino Romano cheese
Salt and pepper, to taste
Pinch red pepper flakes (optional)
Roasted Vegetables
1-2 heads broccoli cut into florets
3 carrots, peeled and sliced
3 cups brussels sprouts, trimmed and outer leaves removed
1-2 tablespoons extra-virgin olive oil
Salt and pepper, to taste
Pasta
12 ounces Barilla Gluten Free Penne Pasta
2 tablespoons extra-virgin olive oil
1/2 cup Pecorino Romano cheese
Directions:
Marinate the chicken by whisking together all the ingredients except for the chicken itself in a bowl. Place chicken in a shallow dish or ziptop bag and pour the marinade over the top. Cover/seal and allow to marinate for about 20 minutes. Prepare roasted vegetables by tossing together all ingredients on a baking sheet lined with aluminum foil and set aside. Preheat oven to 425*F.
While oven is preheating, heat a little bit of avocado oil or other high smoke point oil like grapeseed in a cast iron skillet (or any pan that can go into the oven) over medium-high heat. Arrange marinated chicken thighs in the skillet and cook for 5 minutes on each side. If your chicken thighs are on the thicker side, you may need to cook for 7 minutes on each side. You want the chicken to be nicely browned on the outside, but still have some cooking to do on the inside.
Transfer both the chicken and the roasted vegetables to the heated oven. I put the baking sheet with vegetables on the top rack and the chicken skillet on the bottom rack, with both oven racks set as close to the middle as possible. Cook for 20-25 minutes, or until vegetables are lightly browned and chicken is cooked through.
As soon as your chicken and vegetables are in the oven, start boiling your pasta water. Follow package instructions to cook pasta; drain. While pasta is cooking, make kale slaw by combining all ingredients in a large bowl and tossing with your hands, massaging the dressing into the kale to make it less bitter. When the pasta is done, toss it with the olive oil and Pecorino Romano cheese.
Remove chicken and roasted vegetables from the oven. Remove the chicken from the skillet and place on a cutting board to rest for 5 minutes, then cut into strips.
Build your bowl and enjoy!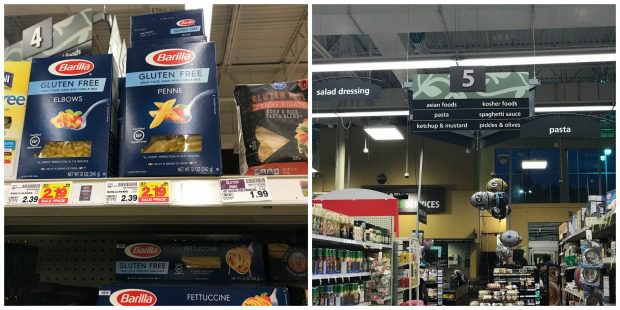 Leave a Comment