Fusilli Pasta with Sherry Marinated Eggplant
Sooo marinated eggplant. Yeah, I love it and it's delicious and turns out to be the flavor generator of this pasta dish.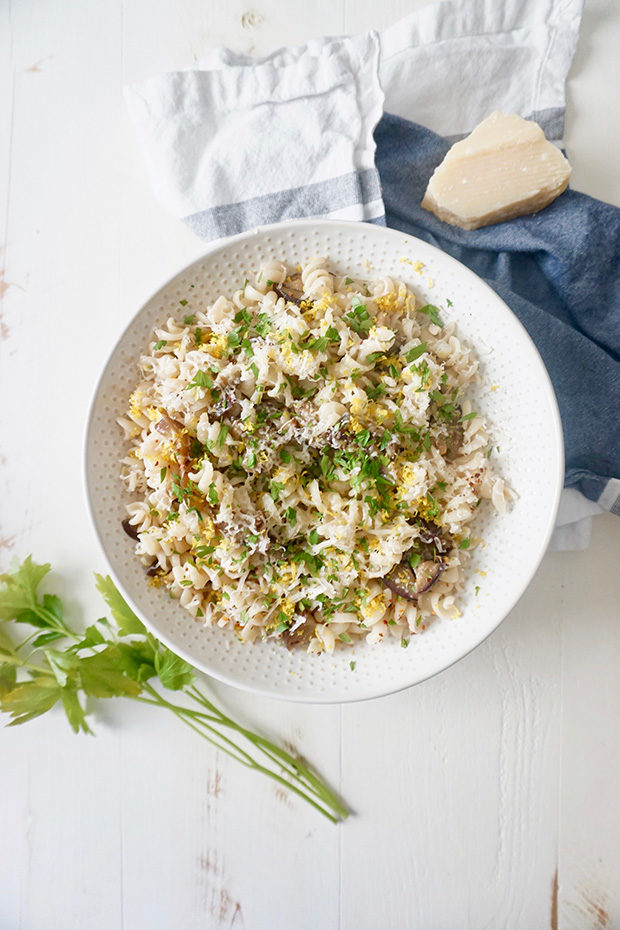 But let's back up a little bit because I should really start with the pasta. I grew up with the pasta you're used to (I'm not even sure anything but existed in the 80's and 90's), but lately I've been loving alternates.
For this recipe I used Tresomega's Quinoa Fusilli Pasta and I can honestly say that you'd never be able to tell the difference. It has a wonderful texture that I love so much!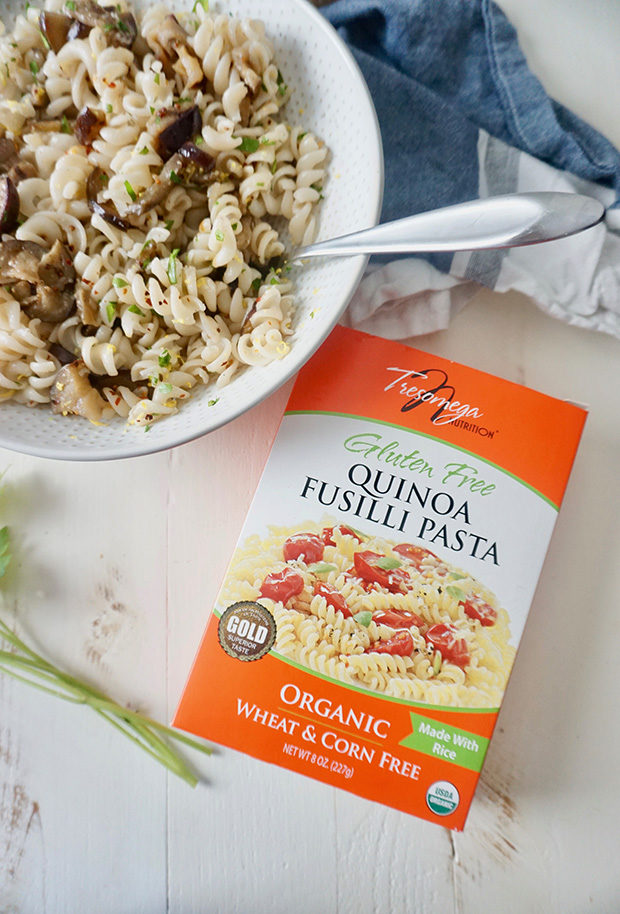 So here's what you do: grill, then marinate half an eggplant in sherry vinegar, olive oil and – a flavor I've always loved, but have been particularly obsessed with lately – stone ground mustard.
These flavors pair so well with eggplant that I'm not too sure I'll marinate my eggplant in anything but these ingredients ever again. The mustard is tart and deep, the sherry vinegar is wonderfully acidic and stands up well to the eggplant.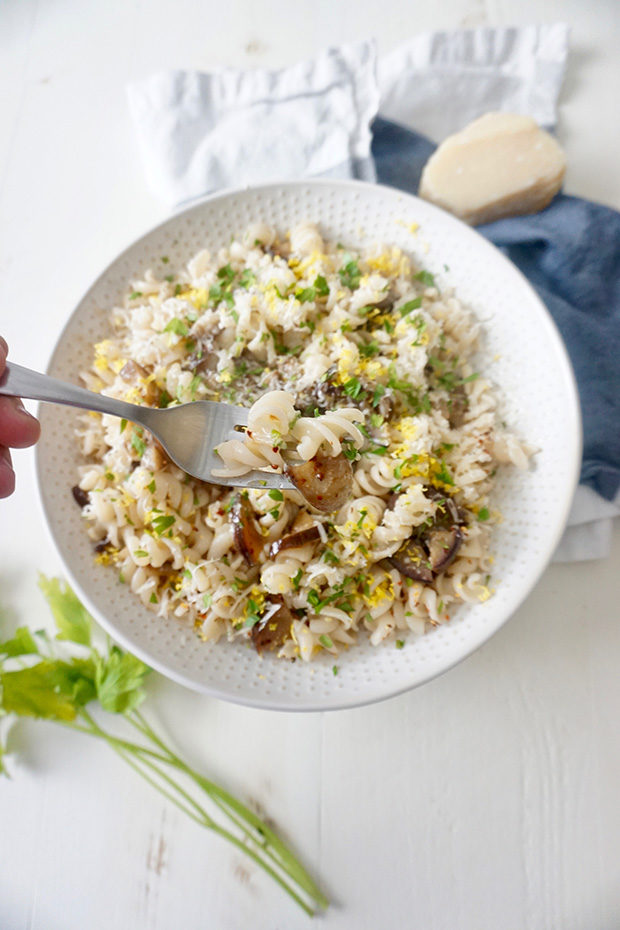 You honestly could just eat the eggplant on its own, but it's so much better tossed with the pasta and other ingredients, trust me.
After the eggplant marinates for about an hour, the dish comes together in almost no time at all. The ingredients are simple, with most of the flavor coming from that delicious eggplant, and with the lemon juice and zest, cheese and parsley making up the rest.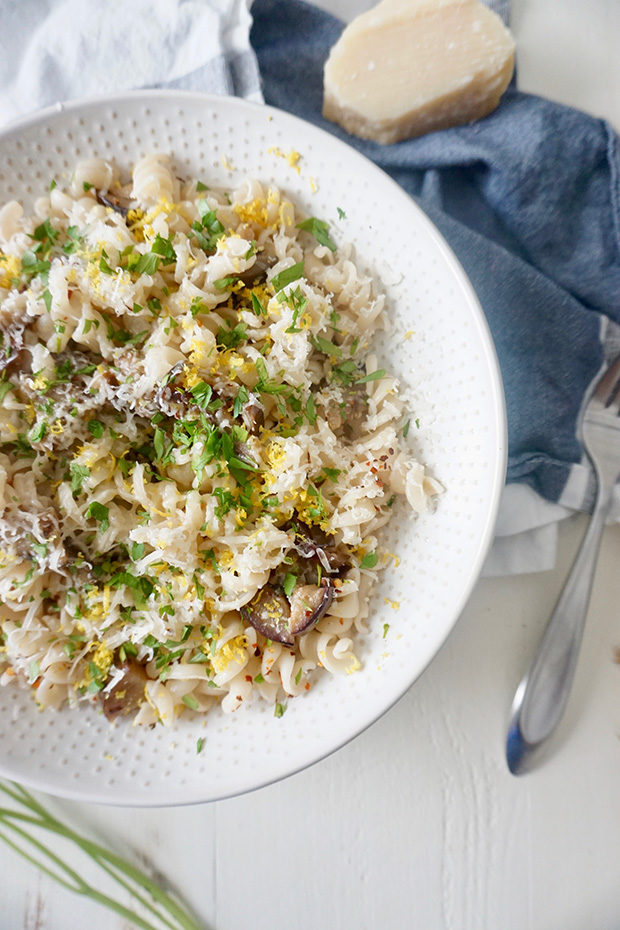 It's important, too, to save some of the pasta water because it'll adhere to everything and make a nice "sauce." It's also important to use up every last drop of eggplant marinade that's left over in the bowl. Because it's delicious, clearly.
Enjoy!
Tresomega Nutrition is on Facebook and Twitter. Or, visit their website! You can purchase their products at: Tresomega.com, Sams.com, Amazon.com and Walmart.com.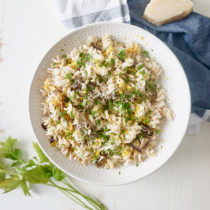 Fusilli Pasta with Sherry Marinated Eggplant
Ingredients:
8 ounces Tresomega Nutrition's Quinoa Fusilli Pasts
1/2 an eggplant, sliced into quarter-inch half moons
1/2 tablespoon avocado oil (or you can use olive oil here too)
1/4 tablespoon sherry vinegar
1/2 tablespoon extra-virgin olive oil
1/2 tablespoon stone ground mustard
Zest of 1 lemon *see note
Juice of 1 lemon
3 tablespoons Parmesan cheese
2 tablespoon parsley, chopped
Salt and pepper, to taste
Directions:
Toss eggplant slices with avocado oil and salt and pepper. (I used 2 pinches of salt and 1 of pepper.) Heat a grill skillet over medium heat, then add an even layer of eggplant slices, being careful not to overcrowd. You may have to do this in two batches. Grill slices for 4 minutes on the first side, then flip and grill for another 2 minutes on the other, then remove to a cutting board to cool.
Once cool, roughly chop the eggplant so there are still large pieces, then add to a bowl along. Toss with the sherry vinegar, extra-virgin olive oil and stone ground mustard. Set aside as room temperature for 1 hour.
In the last 15-20 minutes of marinating time, heat a pot of salted water to boil and cook the pasta according to package directions. Before draining, reserve 1 cup pasta water.
Drain pasta and add eggplant (and all remaining marinade from the bowl) to the hot pan. Heat over medium until heated through, then add the pasta back in along with the reserved pasta water, lemon juice, and Parmesan cheese; toss.
Remove from heat and into a serving bow. Top with lemon zest, additional cheese (if so desired), and parsley. Add salt and pepper to taste.
Make sure to zest the lemon and set aside before juicing. 🙂
Tresomega provided me with product, but all opinions are my own.
Leave a Comment