Lemon Spaghetti | Flavoring With Lemon Instead of Salt
Today's post is sponsored by Sunkist, but my love for the Sunkist S'alternative option is all my own.
Fun fact: I probably buy more Sunkist lemons than I do anything else in my kitchen. Eggs, flour, unsalted butter, pasta…these are all pretty up there on the list, but I love to pair lemons with almost everything, the zest and the juice.
So when I was contacted with some sodium facts, lemon love, and the opportunity to make a dish featuring lemons over salt to share with you all, it was a seamless opportunity. I already use the Sunkist S'alternative in my home.
I substitute lemons for salt in my everyday cooking. Pasta, vegetables, soup, and more. When we get a house, I have told my husband that I'm demanding a lemon tree (or maybe Sunkist would be totally okay with just sending me boatloads of lemons every month).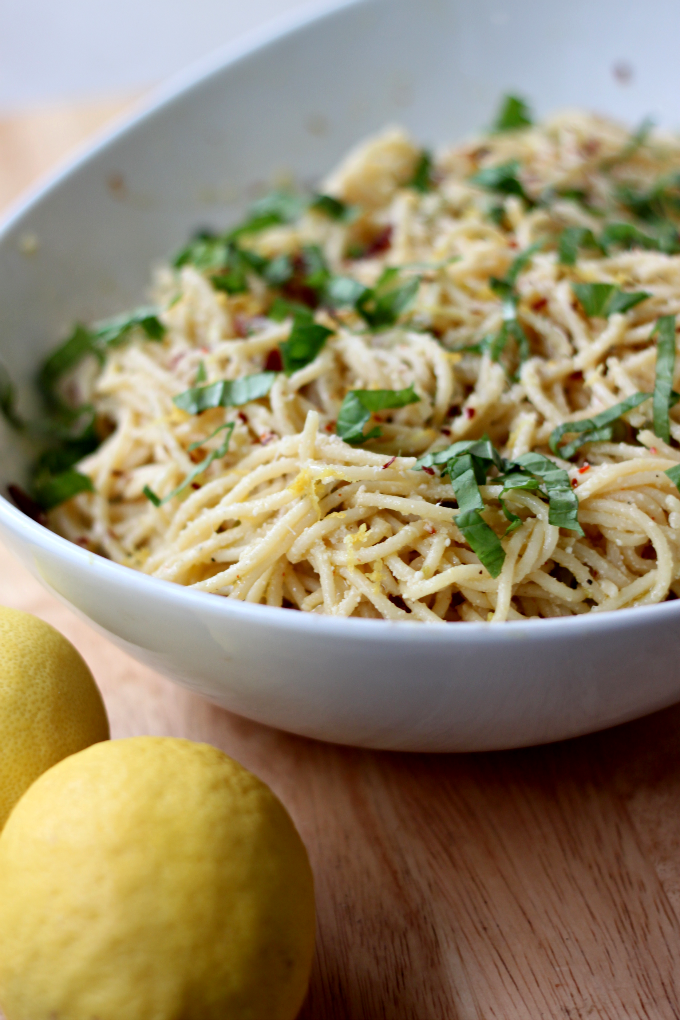 Today I'm sharing a lemon spaghetti recipe. I haven't flavored this dish with any additional salt. Even the boiling water for the pasta was flavored with lemon juice instead of the typical salt addition!
The fact is that we all consume so much sodium, more than we should, and it's not good for you. I'm really trying to incorporate healthier eating at home (necessary food holidays excluded because I have a project to complete!) and using lemons instead of salt is perfect.
Here are some facts about sodium intake and alternatives in a neat infographic (click the infographic for recipes, tips, a cooking guide, and more):

See how much you can reduce your sodium? The Dietary Guidelines for Healthy Americans recommends an intake of 1,500 mg – 2,300 mg per day depending on age, activity level, medical history, and genetic dispositions. The average amount of sodium intake every day is at 3,400 mg. Are you one of them? The Sunkist S'Alternative option can really help with these numbers and keep you from the physical ailments too much sodium can cause.
There was a study conducted by Johnson & Wales where they examined the use of Sunkist lemon juice and lemon zest as a flavoring utilized to reduce salt in a variety of culinary applications (chicken, fish, beef, pork, vegetables, soups, salads, and grains), with the intent of discovering best practices for the use and application of Sunkist lemons.
I'm happy to report that the conclusion was that the use of Sunkist lemons may allow for significant reduction of salt in recipes with no adverse effect of flavor! Seeeee??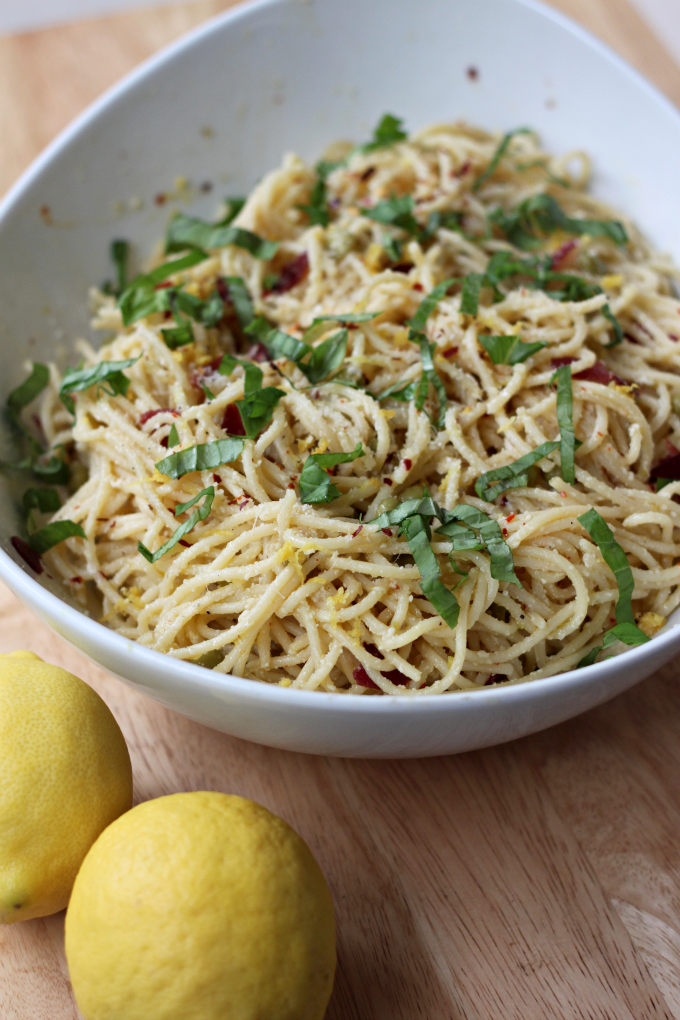 When it comes to pasta, you may use salt for the vegetables you put into it, or the water, or anything else. With my lemon spaghetti dish, it's all about the star of the show – Sunkist!
Sunkist lemons are grown in California and Arizona and available all year round. In addition to helping boost flavor and reduce sodium intake, lemons can be used in a number of ways – from household cleaning to healthy living. I know because I've done it! And I always buy lemon-scented cleaning products because they just smell so good!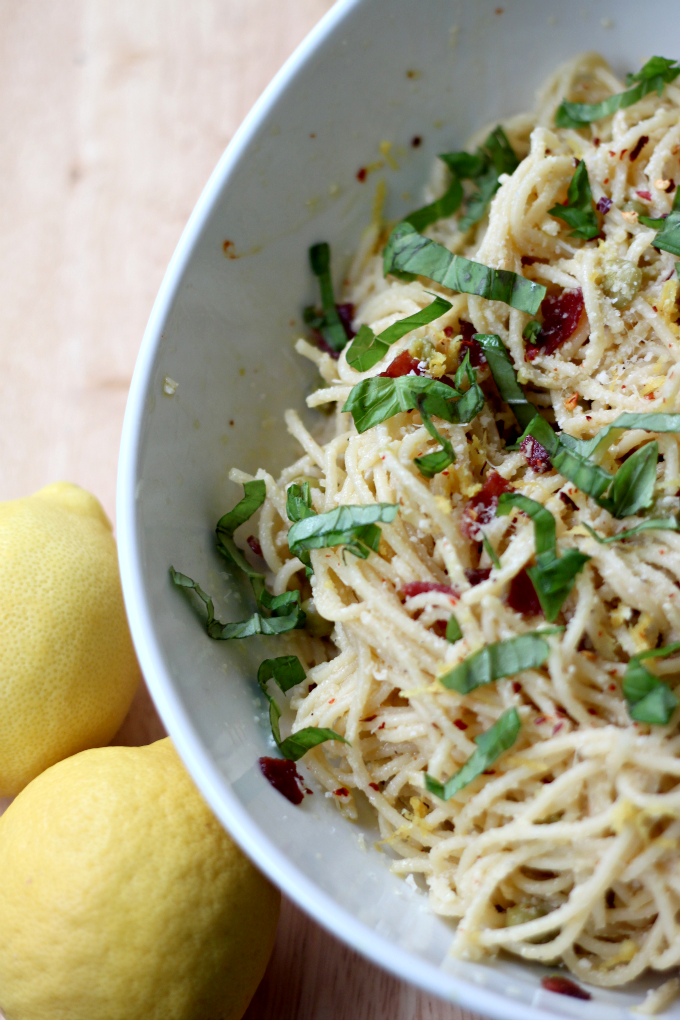 How will you be incorporating the Sunkist S'alternative into your favorite dish?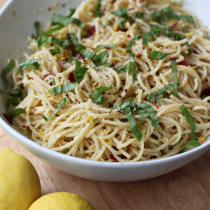 Lemon Spaghetti
Ingredients:
1 pound spaghetti
4 strips of turkey bacon
2/3 cup olive oil
2/3 cup grated Parmesan
1 Tbsp red pepper flakes
Juice from 3 lemons
Ground black pepper
Zest from 1 lemon
1/3 cup cooked peas
Chopped fresh basil leaves for sprinkling
Directions:
Cook the pasta in a large pot of boiling water that's been "salted" with lemons. Cook until pasta is al dente, about 8 minutes.
Cook the turkey bacon in a pan until crispy. Remove and tear into small pieces.
Meanwhile, in a large bowl, whisk the oil, Parmesan, red pepper flakes, and lemon juice to blend.
Drain the pasta and toss with the lemon juice mixture. Season with pepper. Mix again with the peas, turkey bacon pieces, and lemon zest.
Top with desired amount of fresh basil.
7 Responses to "Lemon Spaghetti | Flavoring With Lemon Instead of Salt"

Trackbacks/Pingbacks

Pingback: Lemon and Lime Recipes

Leave a Comment