Breakfast Casserole with Kale, Potatoes, Turkey Bacon and Tomatoes
This shop has been compensated by Collective Bias, Inc. and its advertiser. All opinions are mine alone. #HorizonHappiness #CollectiveBias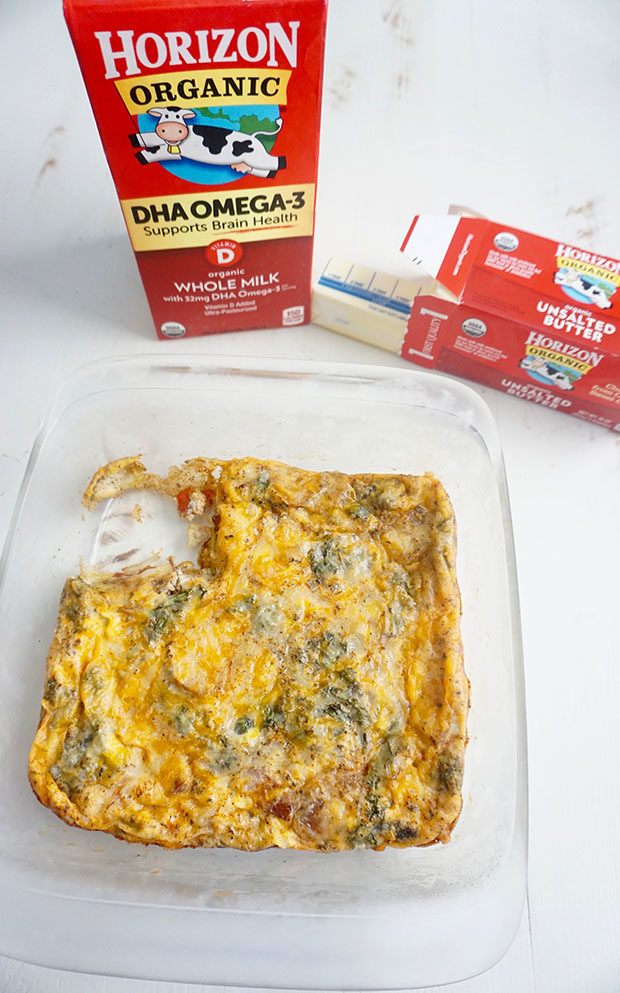 Welcome to back to school time. Are you excited? Are you ready to ship your kids off for the day for some lovely learning? Are you ready to just – ahh – relax?
Just kidding! I know the back to school time is sometimes way less relaxing than a whole summer of having the kids home all day long. Just when you get into the groove of summer, you have to switch gears and buy a trillion glue sticks and so many notebooks and tissues for the class (?)…
Your child may be excited for this new chapter, either starting school for the first time or going back for another year with their friends, but I imagine on the home front you don't even know when you'll recover from the whirlwind of getting the kids up earlier than they're used to, breakfast that doesn't elicit complaints, packing backpacks, the clothing struggle, rushing out the door and into the drop off line along with everyone else who has had a frazzled morning.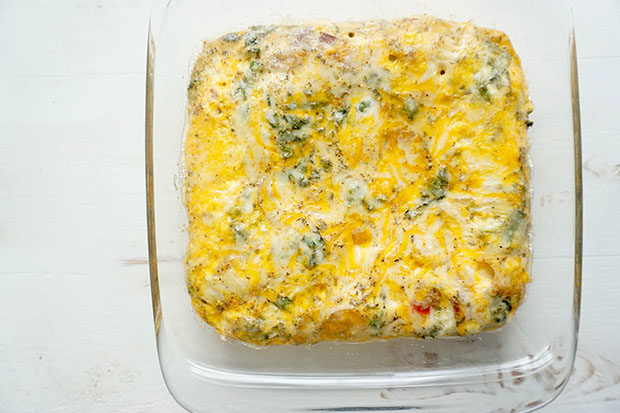 I can't solve all of these things – the beauty of parenthood abounds – but what I can help with is one part: breakfast! You know your child's likes and dislikes and this breakfast can be changed up to take those things into account. You can make it your own, or better yet, have your son or daughter help! Get those little hands dirty in the kitchen.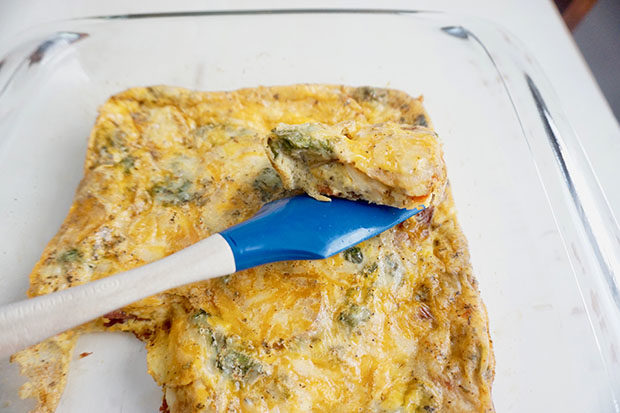 I like to make my breakfast casserole on a Sunday morning. It tends to set the precedent for the week if you spend some quality time together making, and then eating, breakfast. This breakfast casserole is simple, yet not simple enough for weekday mornings when there is already so much happening. Do yourself (including your future self) a favor and make this on the weekend for breakfasts all week long!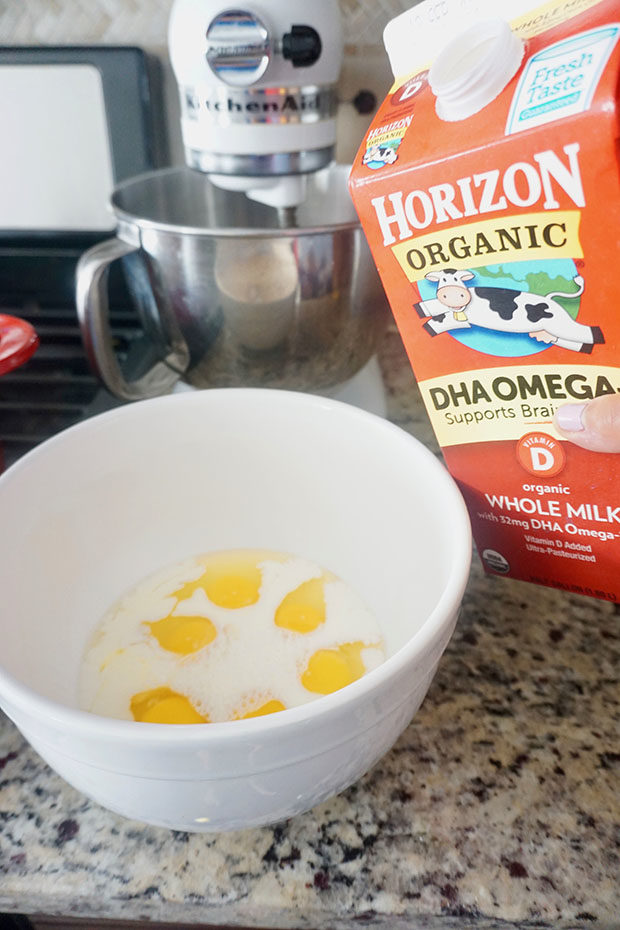 For this casserole I used all ingredients I love, including Horizon® Organic Milk and Horizon® Organic Unsalted Butter, both purchased from Walmart. I love the Horizon line of products because they have the necessities for an easy breakfast or lunch, including yogurt, half & half, and cheese. Plus, the Horizon organic milk comes from cows not given growth hormones or antibiotics. They are cows raised on farms that follow sustainable organic practices. This is exactly what I want to be feeding my children.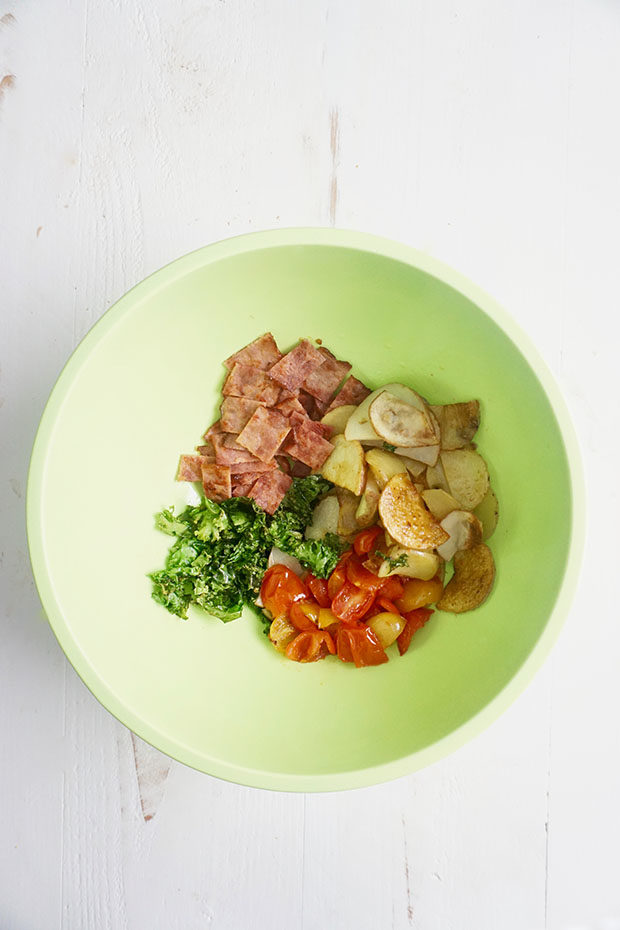 Okay so remember when I said that you can really do what you'd like with this casserole? I put in kale, tomatoes, potatoes and turkey bacon because that's what my son prefers, but you can add sausage and spinach, or zucchini and rosemary. It's the best edible playing field for you and your child and if they are going to be eating it all week to reduce the mornings-before-school hustle, might as well make sure it's made the way they like!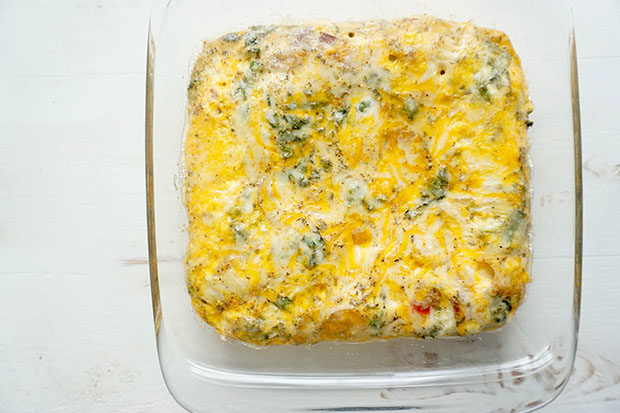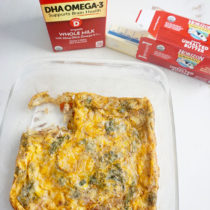 Breakfast Casserole with Kale, Potatoes, Turkey Bacon and Tomatoes
Ingredients:
8 eggs
1/2 cup Horizon Organic Milk
1/2 tablespoon Horizon Organic Unsalted Butter, melted
1/3 cup + 1 cup shredded cheese (I used a Mexican blend)
1/2 teaspoon salt
1/2 teaspoon black pepper
1/4 teaspoon Italian seasoning
1/4 teaspoon garlic powder
1/2 teaspoon paprika
1 cup shredded kale, stems removed
1/2 cup cherry tomatoes, halved
1 medium potato, cut into thin half moon shapes
2 slices turkey bacon, chopped
Directions:
Preheat oven to 350*F.
In a large skillet set over medium heat, heat up 1 tablespoon of olive oil. Add the kale and a small pinch of salt and cook until sautéed to your preference. Remove and set aside. In the same skillet, cook the tomatoes and a pinch of salt until blistered and wilted; remove. Cook the turkey bacon; remove and after cooling, chop them up into small square pieces. In the same skillet, add an even layer of the potato slices and a pinch of salt (you may need to do two batches depending on the size of your skillet). Turn once browned on one side. Once browned on both sides, remove from heat. At any part of this process you may need to add additional olive oil. (See note for alternative cooking method!)
In a large bowl, whisk together the eggs, milk, butter, 1/3 cup cheese, salt, black pepper, Italian seasoning, garlic powder, and paprika. Pour into a 8x8 baking dish that has been greased with butter.
Add in your cooked mix-ins and stir together with a fork to evenly distribute. Top with 1 cup shredded cheese. Bake uncovered for 30-40 minutes or until eggs are set and a toothpick inserted in the middle of the casserole comes out clean.
I chose to use the same skillet to cook all my mix-ins because dishes are the enemy, however I've also had success in cooking the kale, tomatoes and turkey bacon in the skillet at one time while baking the potatoes. To bake the potatoes, preheat the oven to 425*F and line a baking sheet with aluminum foil. Toss the potato slices with olive oil (the amount depends on how many potatoes you have, but a light coating on all works best) and a pinch of salt. Lay the thin half moon slices in an even layer on the baking sheet and bake for 20 minutes.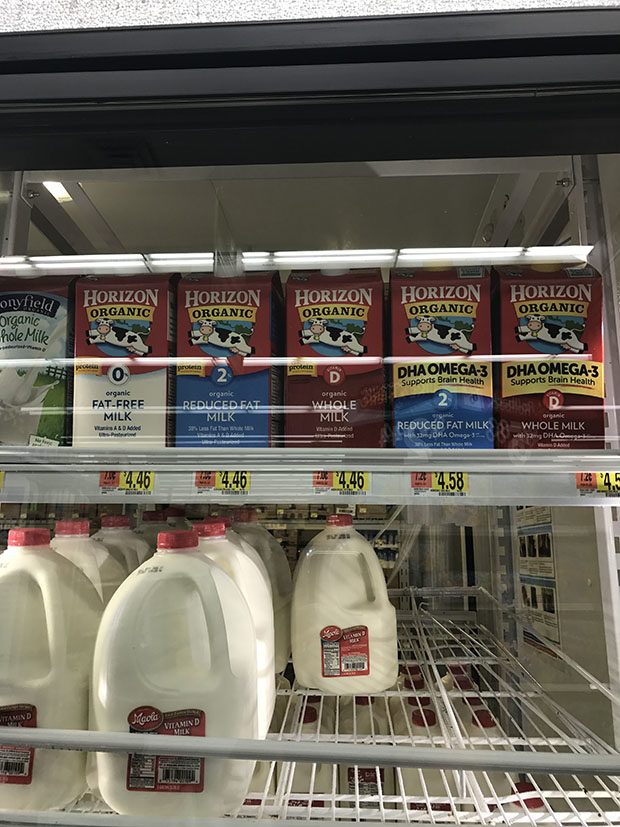 Leave a Comment