Spinach Dip in a Pumpernickel Bowl for #SundaySupper
For any get together with family or friends, I always offer to bring something to share. We've gotten to the point where I no longer ask what I can bring because the answer is always the same: Spinach Dip. This super simple spinach dip recipe was probably found in a book many years ago by my mom, who I got the recipe from. I can imagine a cookbook with no pictures and yellowed pages (my favorite kind of cookbook sometimes), or maybe she acquired the recipe from the back of a package of food. Both of these are entirely possible, and maybe when reading this she can clarify.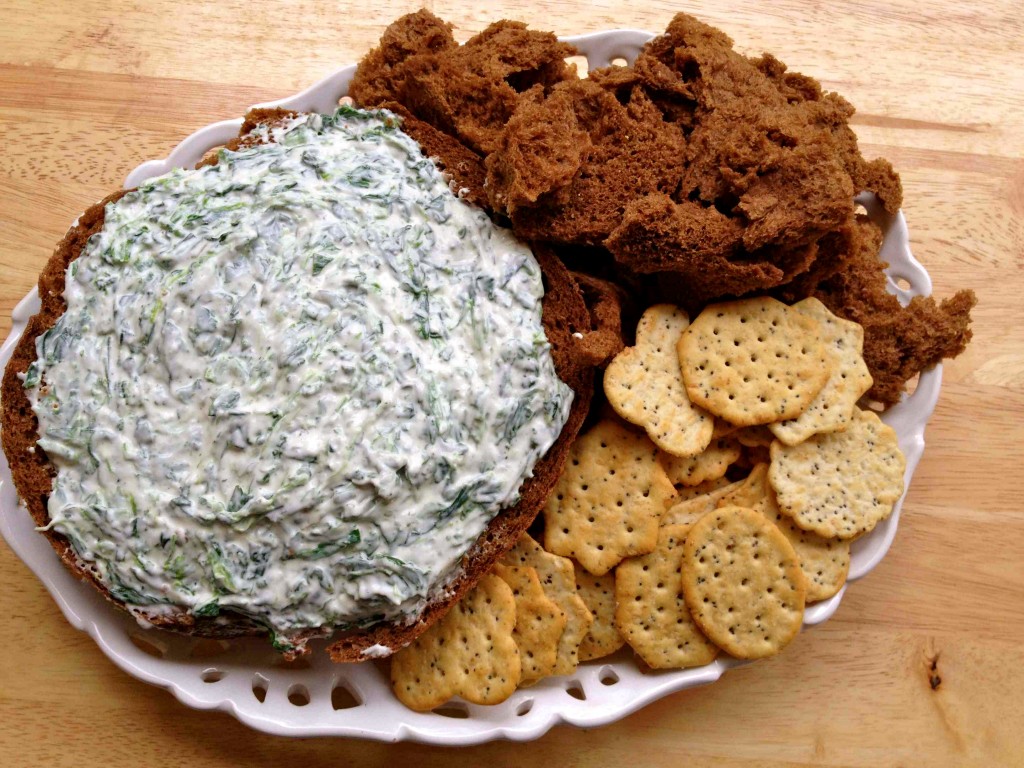 The theme for #SundaySupper this week is April Showers, celebration showers that you would normally bring your dish to. Not only do I bring spinach dip for simple nights with girlfriends and our favorite wines, but I bring spinach dip to baby showers, bridal showers, celebrations for new jobs and promotions, and more. I'm asked for this recipe more than any other and I'm happy to pass it on. Once those same friends and family members make this Spinach Dip at another celebration they go to, they are then sought after for the recipe. Simplicity is sometimes the most important key. Enjoy.
Spinach Dip
Ingredients:
1 10 oz package of frozen chopped spinach
1 .4 oz package of dry Ranch dressing seasoning
8 oz jar of mayo
8 oz container of sour cream
1 tsp lemon juice
1/2 tsp onion powder
1 lb unsliced pumpernickel loaf (optional)
Sociable crackers (optional, but the best option- trust me)
Directions:
Defrost spinach and squeeze all water out. Combine spinach with all other ingredients.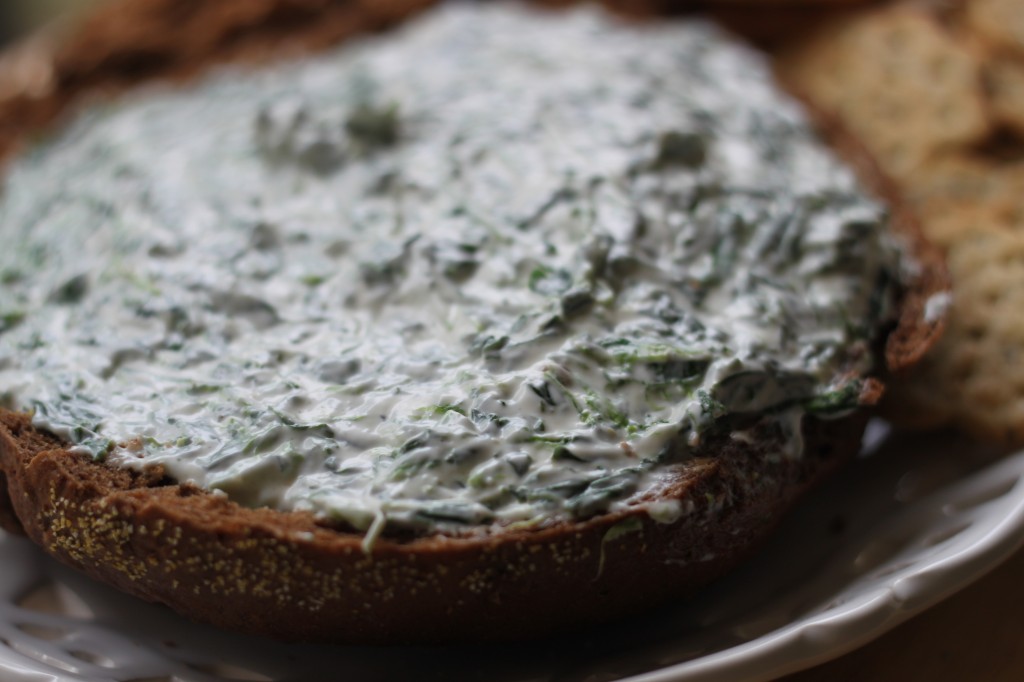 And there you go, it's that simple. The lemon juice and onion powder are just estimates and can be done to taste. (Unless baking, my family never uses exact measurements.) I serve my spinach dip in a pumpernickel bowl that comes unsliced from the bakery. I slice it in half, serve the dip in one half and tear apart the other half for dipping. Serve with my favorite crackers, Sociables, and you're all set.
Now let's celebrate the other food bloggers of Sunday Supper and check out what they are serving up on their sites:
Starters, Appetizers & Snacks
Soups, Salads & Sandwiches
Main Dishes
Cakes
Cookies, Brownies & Dessert Bars
Sweet Treats
Drink Recipes
79 Responses to "Spinach Dip in a Pumpernickel Bowl for #SundaySupper"