For this blog post, I received a complimentary meal from Carrabba's Italian Grill, but all my opinions are my own.
Carrabba's is one of those restaurants that, no matter where I live (we recently moved), we make it a regular for dinner. That's because we know it's going to be good, consistently. Plus, each location is warm, welcoming and so very familiar, no matter if you've been a thousand times, or if it's your first visit.
Carrabba's recently came out with a new menu and so, with no time wasted, I went to try it out.
Starting with the appetizers, new items include these Wood-Fired Italian Wings. "At Carrabba's?!", you ask. Yes, at Carrabba's. I'm telling the truth, and you'll be surprised by the flavor. Seasoned with spicy Italian chili pepper and served with a gorgonzola dipping sauce, plus served in a mini cast iron skillet…sold.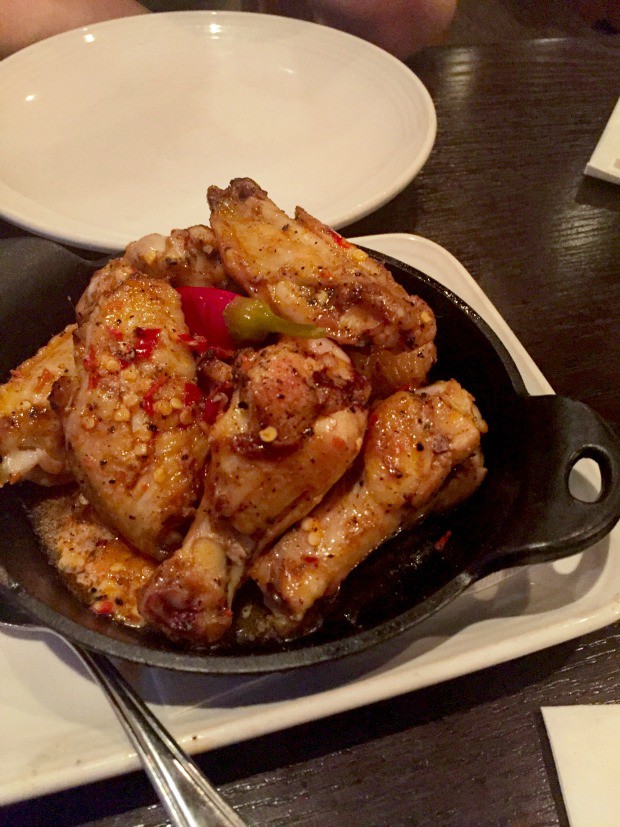 We then selected some small plates to share as well: Grilled Asparagus with Prosciutto (not pictured), Three-Cheese and Sausage Stuffed Mushrooms, and Italian Lettuce Wraps.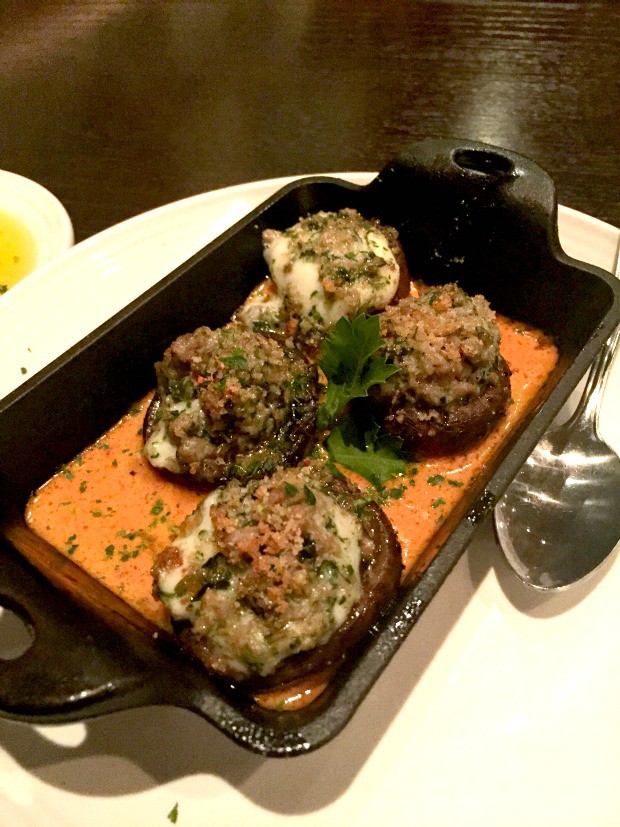 See the sauce underneath the mushrooms? That's the goods. Whenever I have pasta as a side at Carrabba's, I request the tomato cream sauce. It goes with everything, especially lots of cheese, which is exactly what these mushrooms have. Along with sausage and spinach, you'll find some romano, ricotta and mozzarella cheeses, all topped with breadcrumbs.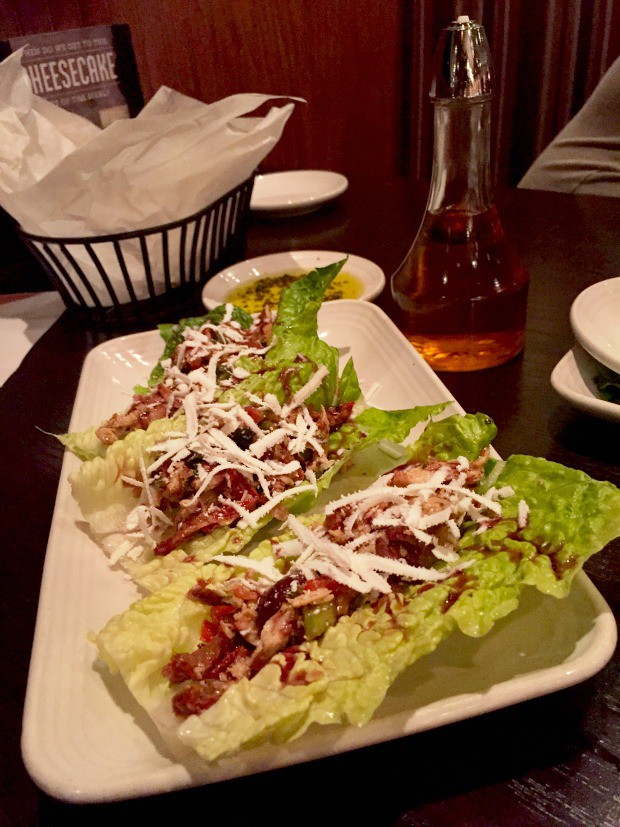 When it comes to the Italian Lettuce Wraps, they can definitely serve as a more healthful option. It's simple: grilled chicken is tossed with vegetables and ricotta salada, all in a Mediterranean lemon vinaigrette, and finally, drizzled with a port wine reduction. Each bite is crisp and flavorful.
By this point we were pretty stuffed, but at Carrabba's, there's always room for more. I couldn't possibly leave without having some entrees and dessert. It's, like, impossible. And you know what I'm talking about.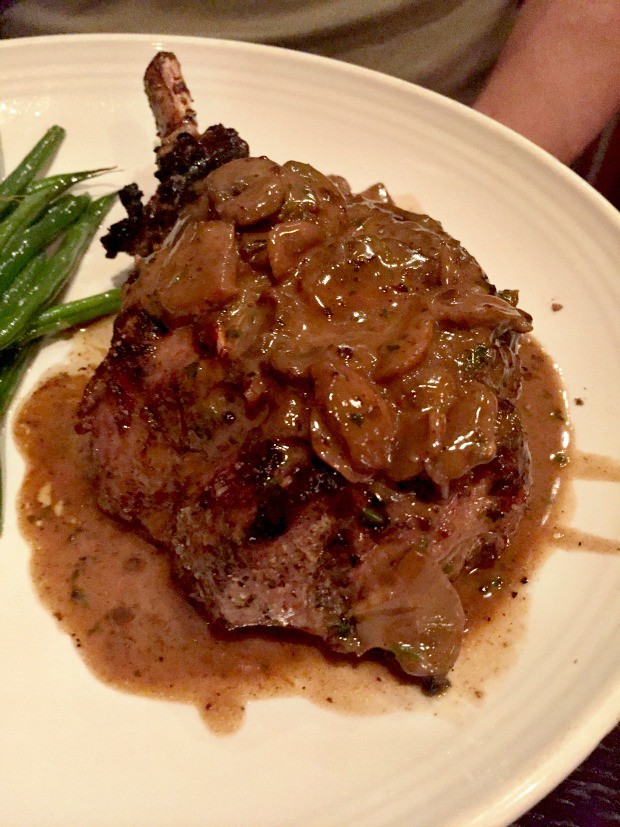 My husband selected the Tuscan-Grilled Veal Chop, a mammoth of meat that he asked for marsala sauce over. It looked really great. I mean, look at that thing. We also split the new Linguine Positano (pictured in the background below) which is made with grilled chicken, crushed tomatoes, garlic, olive oil, and basil. I love simple sauces that just let those fresh ingredients shine through.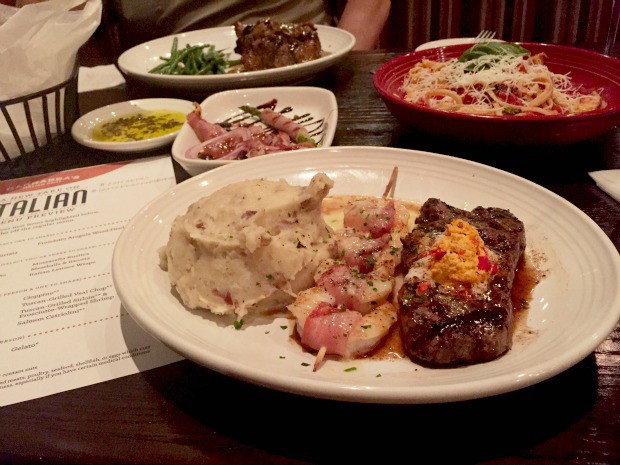 Now my turn, my turn! I've been wanting a nice juicy steak and so I ordered the Tuscan-Grilled Sirloin with Prosciutto-Wrapped Shrimp. On top of the steak is a spicy Sicilian butter. The shrimp skewer is topped with lemon butter, which seeped a little onto the mashed potatoes, only making them better…clearly.
When it comes to dessert at restaurants, I'm known for viewing the options, skipping out, and then grabbing some frozen yogurt on the way home. But at Carrabba's? No way. My husband and I ordered both the Brûlée Ricotta Cheesecake and Gelato.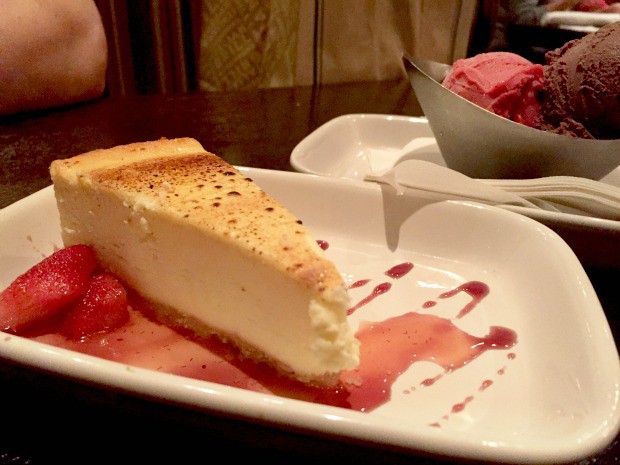 This cheesecake, lemme tell ya, is good enough that I would be happy with just this as my meal. As full as I was, there was zero trace of this cake on my plate. I devoured it, and those lovely strawberries next to it too. The gelato comes in three flavors: vanilla, chocolate hazelnut, and raspberry sorbetto. You get three scoops with this dessert order and we chose two raspberry and one chocolate hazelnut. Topped with an almond biscotti, we devoured this dessert too. I couldn't help it, you guys.
I strongly encourage you to visit your local Carrabba's to have some of these new items for yourself. The ones I showed aren't it either. There are over 20 new menu items, and you can also rest assured that your classics (CHICKEN BRYAN) aren't going anywhere. If you're reading this and saying, "I need to plan dinner out right now", you're in luck because Carrabba's is offering 20% off your bill just by signing up via email!